Tags
30th Philadelphia Film Festival, A Chiara, A Hero, Amira, Asghar Farhadi, Ballad of a White Cow, Belfast, Benedict Cumberbatch, Captain Volkonogov Escaped, Films, Hester Street, Luzzu, Mass, Memoria, Movies, Our American Family, Paper & Glue, The Braves, The Electrical Life of Louis Wain, The French Dispatch, The Worst Person in the World, Three Minutes-A Lengthening, Wes Anderson
From Ellen & Richard Miller:
Following our third vaccine, we ventured to Philadelphia for one of our favorite pre-pandemic annual events – The Philadelphia Film Festival. A long-time and dear friend was involved in launching this film festival many years ago, and we've used the film event to continue and extend our friendship.
Over the years, we become friends with their friends, gotten to know a bit of Philadelphia beyond the movies, and decided that this is a festival for us. The curating is superb, the logistics are easy and smooth, and the two major theaters where the films are shown are within a easy 20 minute walk of each other, giving us a chance to stretch our legs or get a bite to eat.
This year we stretched our usual four-day attendance to eight days, and invited one of our friends to join us. Generally, we didn't see more than three films a day…which was a pretty relaxed pace for us.
We saw a lot of very good films, as you'll see below, and we've briefly noted what we liked about them. We're not writing overall reviews of each film — we have provided links to professional reviews — but we did have a few over all takeaways which we are happy to share: not all movies have happy endings, in fact some movies seem to haves no endings at all. (At least one we saw was interminable.) We saw a number of truly wonderful films produced in Iran, Palestine, Italy, featuring strong female roles; deeply acted dramas about families, and a number of really terrific films featuring nonprofessional actors. We saw films from "masters of cinema" and first time directors. The geography of the films spanned a good part of the world. It was an impressive experience.
And what a delight to be back in movie theaters– socially distanced and masked, and with vaccination and IDs required to attend. It felt comfortable, familiar, and rejuvenating.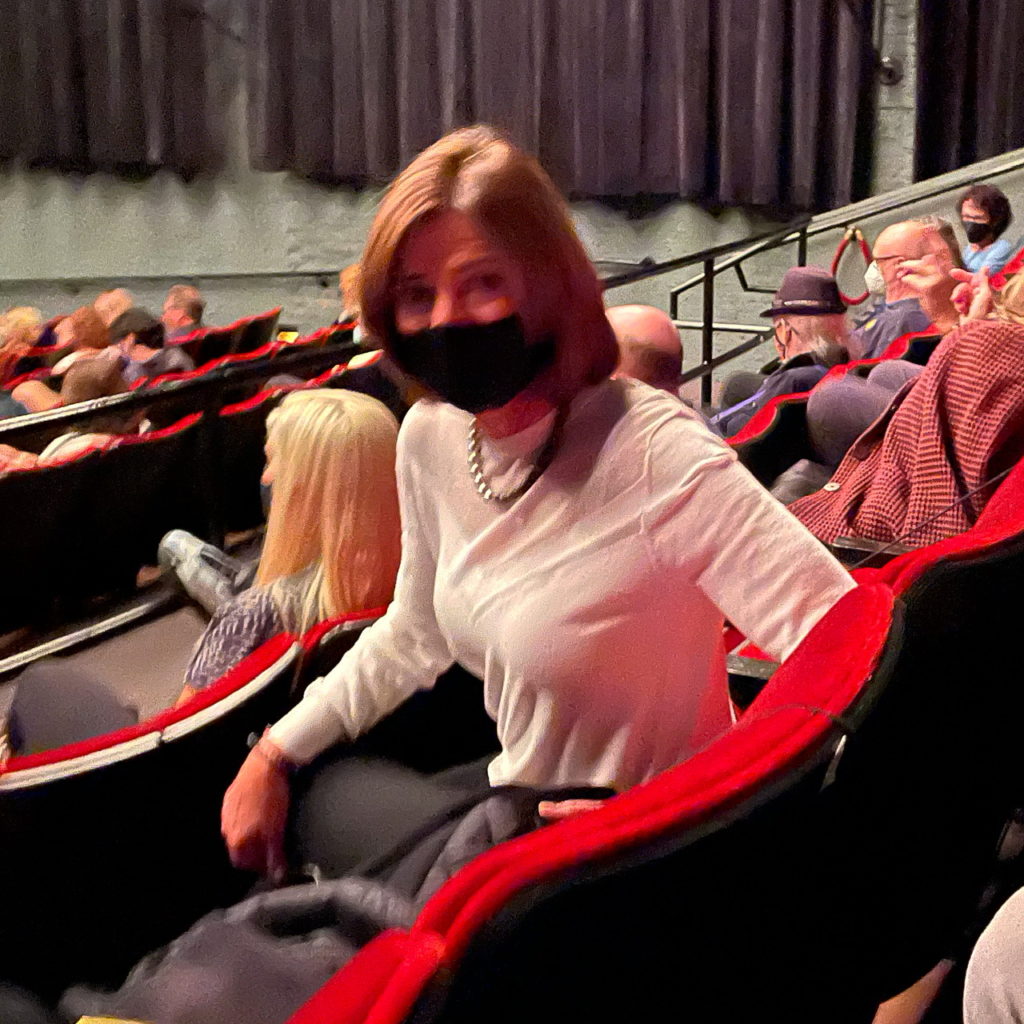 (Note: A number of these films are already available in theaters or on one of the various streaming services. Click on the title of any film below to read a critic's review.)
Best of the Best ( five stars from us both):
Belfast: Set in the city the title suggests, we see the impact of "the troubles" through the eyes of one family and particularly through the eyes and experiences of a nine-year old boy. Shot in black and white, nearly everything about this film is perfect: acting, direction, story, and filming.
Amira: This is a 'small' but moving film about a Palestinian girl coming of age who learns that her father is not a lauded terrorist who has been incarnated in prison for many years. It's a story that shakes the entire culture of her family and how she moves forward in life.
Ballad of a White Cow: An Iranian drama about a woman whose husband was wrongly executed, having been blamed for a crime against the state which he did not commit. You'll be riveted throughout the entire film.
A Chiara: An Italian drama about a teenager whose father is deeply involved in the world of the drug trade. Great story telling and good acting, largely with nonprofessional actors. This one is full of ethical questions and dilemmas the family and the teenager must face.
Paper & Glue: This is a remarkable documentary – truly a must see — about the work of the street artist JR and the impact of his art and activism throughout the world. Perhaps our favorite film of the Festival.
Mass: Another must see. This is an incredibly acted four-person drama. Two couples meet together to discuss the impacts on both families of a school shooting by the son of one couple which led to the death of the other couple's son. This is, as you can perhaps imagine, a highly emotional drama.
Hester Street: This is a restoration of this classic film about life on the Lower East Side at the turn of the 20th century. This version maybe hard to find, but it's not only a delight; it's also relevant to today's world.
The Braves: This is an inspiring story about the friendship of two young women struggling to become actresses, a story of mutual support, dedication, and friendship.
Almost as Good (four stars):
The French Dispatch: If you're a Wes Anderson fan, you'll love this. We found the story hard to follow, but that's not the point here. It's superb film making.
Captain Volkonogov Escaped: A good story, with good acting, and a look inside Russia's authoritarian and dark underbelly. Very usual subject matter, superbly filmed, and filled with suspense.
Bernstein's Wall: Somewhat of a bio-pic (a portrait actually) of Leonard Bernstein as told through his own eyes and own voice via clips, photographs, his own writing, and letters. We found it engaging and learned much we did not know about Bernstein.
A Hero: This film – with it sometimes confounding plot and multiplying ethical choices — was disappointing. It does, however, give the viewer quite a bit to discuss to try to sort it all out, which we're not sure we ever did! We had given Asghar Farhadi's previous full-length features five stars, but this one didn't match A Separation or The Salesman.
C'Mon C'Mon: A lovely, and already much praised film, superbly acted, about uncle and his nephew who form a bond with each other.
Luzzu: This is another 'small' film, with nonprofessional actors. The story involves a Maltese fisherman who struggles to hold on to his father and his ancestors' old ways as they clash with modern life and his marriage.
The Worst Person in the World: A strong female character searching for her way in life and love, beautifully filmed. But there might be only one likeable person in the entire film. The title of the film becomes very clear by the end of it.
Not on Our 'Must See' List (mostly three stars)
The Electrical Life of Louis Wain: Wonderful acting by Benedict Cumberbatch can't save this tale of Louis Wain, a British artist known for his drawings of cats. At times it seemed like a Disney-produced children's film.
Our American Family: This documentary is about five members of a Philadelphia family and their struggles with generational addiction. This film ends well.
Three Minutes-A Lengthening: This was an effort to create a larger story from a recently recovered three-minute segment of a 16mm homemade movie about a Polish town just before World War II. It's an attempt to piece together the lives of its 3,000 Jewish residents just prior to their deportation and deaths (which they do not know is coming.)
Brother's Keeper: This boarding school drama takes place in Eastern Turkey and illustrates the uncaring administration and staff of the school, when a boy becomes critically ill and his friend tries to save him.
Don't Bother:
Memoria: Critics and curators unanimously loved this. Audiences not at all. Ellen walked out half way through it.