Tags
", "A Private War", "A Star Is Born", "Capernaum", "Everybody Knows", "Free Solo", "Green Book", "Meru", "Monrovia, "Roma", "The Mother of the Maid", "The Wife", Alex Honnold, Ann Hornaday/Washington Post, Ben Is Back, Bjorn Runge, Bradley Cooper, DC Cinema Club, El Capitan Wall, Elizabeth Chai Vasanhelyi, Indiana", Jimmy Chin, Lady Gaga, Nadine Lebak, National Geographic, The Public Theater, Yosemite National Park
by Ellen Miller
If you're looking for some films to see over the next month or two, here are a few we can highly recommend. All those reviewed here, except for the first one, are in theaters now. And below these reviews are others that we have previously reviewed and are well worth an evening (late afternoon noon!) at the movies.
CAPERNAUM (Chaos):  Ellen *****  Richard *****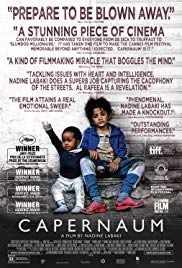 Director, Nadine Labak
The first thing I knew about this film, which we recently previewed at our DC Cinema Club, was that it was the winner of the Grand Jury Award at the Cannes Film Festival. I suspected I was bound to be disappointed.
But this film is one of the most stirring, mournful, gritty, and gripping films I have ever seen. It is also heartbreaking, even though it has an uplifting ending. The entire audience was glued to their seats, wondering at the marvel of what they watching, described by long time film critic Bob Mondello in a dialogue with the audience at the end, as a film that could have come from a Charles Dickens' script.
It is an epic story of a street-smart 12-year-old Lebanese boy who, after being worked hard, beaten, and denigrated by struggling parents and the society around him, leaves home, survives by his street smarts, and then tries to sue his parents for neglect. Along the way the boy becomes the caretaker of a toddler, the son of an illegal immigrant (an Ethiopian woman is arrested for lack of papers). For me, this was the most searing part of the film.
But it's not just the story of the film that is moving; it was also how it was made. There were no professional actors in any of the leading roles, and each person 'played' a personality somewhat like themselves, someone who had a similar life story. There was at times no fixed script -– characters were simply given the outlines of a scene and asked to speak and act as they would if they were in a similar situation. And with one exception, it was shot chronologically and over a period of six months. The poise and presence of each of the 'actors' (from the 15 month old to the parents of the boy) was incredible. Five hundred hours of film was shot and then edited into this exquisite work.
We haven't seen anything this powerful or this amazing in a long time.
Capernaum will be a nominee for Best Foreign Language Film. It has not yet opened in theaters in DC. Watch for it.
(Ed. Note: Capernaum will be in theaters starting Dec. 14. Put it on your calendar. Now.)
THE WIFE:  Ellen ****  Richard ****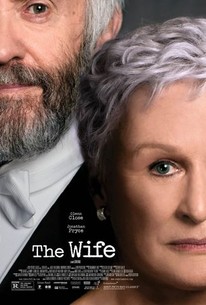 Directed by Björn Runge
We were actually late in seeing this film, but we were anxious to do so after seeing Glenn Close in New York, starring in The Mother of the Maid, now playing at The Public Theater. (That production was staged in a theater in the round venue, and we sat no more than 10 feet from Close at any time during two spellbinding hours. The play itself wasn't remarkable, but she was. We felt it a privilege to witness her work.)
And she's remarkable in this film too. We found the story a bit hard to believe. A writer is soon to be awarded the Nobel Prize. He (Jonathan Pryce) is the husband of the character played by Glenn Close and is being recognized for the entire body of his literature. His wife has long hidden her role in his writing and has tolerated his arrogance and infidelities of her husband out of overpowering love. When she decides she cannot suffer the indignities any longer, the film takes a sharp turn. The build up to claiming her own place in the long fraught relationship with her husband is what is most intriguing about this film. It's a timely film and a timely message. While my overall rating is a 4 stars, Glenn Close would get 10 stars if I could give that many.
A STAR IS BORN:  Ellen *****  Richard *****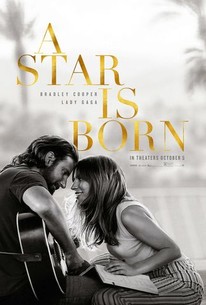 Director, Bradley Cooper
We were also late in seeing this film, and if friends hadn't given it such sterling ratings, we might have skipped it, as film with big stars like Lady Gaga and Bradley Cooper, are not usually our thing. But we both were captured by the story and Lady Gaga's performance.
It's a big film: big stars, big production, big story (singer on her way up; singer on his way down with compromises all around) set in the contemporary music world. The relationship between the two of them feels real. Each is drawn to the other for their own needs, but they stick together as their careers careen in different directions. The music is wonderful, and it was a pleasure to watch La Gaga perform up close and personal.
All in all, this was a particularly pleasurable "big film."
FREE SOLO: Ellen *****  Richard *****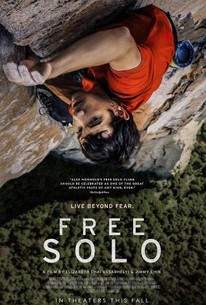 Directors, Elizabeth Chai Vasarhelyi, Jimmy Chin
With a couple of hours to spare in New York a few weeks ago, we dashed to a movie theater to see this remarkable documentary. We highly recommend it. Richard's review from an earlier post:
"This National Geographic documentary is an account of Alex Honnold's (age 33) attempts to free solo climb (i.e., no ropes) the 3,000 foot high El Capitan Wall in Yosemite Park, arguably the most difficult solo climb in the world.
"Free Solo is directed and filmed by the award winning duo of Jimmy Chinn, photographer and mountaineer, and Elizabeth Chai Vasashelyi, documentarian. Their previous film, Meru, told the story of three climbers attempting to scale Mt. Meru in the Himalayas. It won the Sundance Audience Award in 2015.
"You don't have to care about or have particular interest in rock climbing to be mesmerized by this film. It is both an intimate portrait of the climber and of the film making of this adventure. And it's a thriller told cinemagraphically. For all these reasons the film will stay with you long after you leave the theater."
Free Solo is in the theaters in the DC metro area now and in other theaters around the country. See it while it's available on the big screen. I suspect, unfortunately, it will not be around very long.
**          **          **          **          **
And if you can find any of the following films, you're in for a treat. Click on the film to see my earlier review from our weekend at the recent Philadelphia Film Festival:
Green Book, in theaters now.
A Private War, in theaters now.
Roma, in theaters now.
Ben Is Back, due in theaters Dec. 7.
Everybody Knows, due in theaters Feb. 8
The Guilty, released Oct. 19 but doesn't seem to be in the theaters yet.
And
Monrovia, Indiana, not reviewed previously on MillersTime but worth your consideration. See Ann Hornaday's review in the Washington Post. This film about a small, rural mid-western town is now in theaters though not easy to find.