Tags
2021 Wild Card Game, Aaron Judge, Alex Cora, Boston Red Sox, Langiappe, New York Yankees, Red Sox, Sox, Wild Card, Xander Bogaerts, Yankees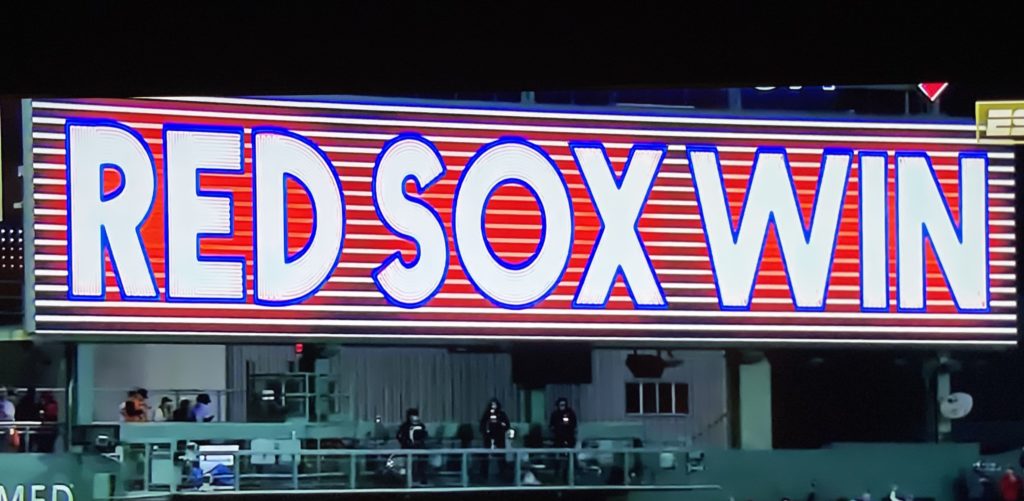 Whatever happens in the MLB playoffs from this morning forward is OK with me. The Sox don't have to win the ALDS, the ALCS, or the World Series.
I kid you not.
That my beloved Sox came from last place in the 2020-shortened 24-46 (.400) season to this year's 92-70 (.568) and a decisive Wild Card win last night is satisfying enough.
Of course, I'd be delighted if they go further into the 2021 playoffs and (unlikely) get to the World Series and even win it for the fifth time in the last 17 years.
But I'm not expecting it. Nor do I hunger for it.
In 2018 I wrote a post on MillersTime entitled For Me, The Sox Don't HAVE to Win the World Series. A number of you took exception to that article, but much like this year, the fact that the Sox made it to the WS then was satisfying. After all, the long nightmare (86 years) had ended with their WS win in 2004. No longer did I have to hear or think about "Wait 'Til Next Year."
So whatever happens against the Rays and any further playoff games would be a langiappe, the Cajun-French noun that means "a little extra."
And as for last night's victory over the Yankees, that came in the best way possible.
It was a total team victory: good pitching (Eovaldi was at his best and the bullpen was equally lights out; good hitting (starting with Bogaert's two run HR in the first); good defense (led by Hernandez, Bogaert, and Plawecki's throwing Judge out at home to squash a Yankee comeback); good coaching and managing (Cora made all the right moves in this one), and a fan base that kept Fenway Park loud and in support of the Sox.
PS – Although I doubt it made a significant difference, on Sunday, the Yankees had to choose whether they would want to play in Boston or Toronto. They chose Boston. The Sox knew of that decision.
PSS – I have to admit that for most of the time last night, I did not enjoy the game. Given my long obsession (70+ years) with the Sox and how that had left me with "if something bad can happen to the Sox, it will", I kept a rein on my emotions and only after the final out was I able to breathe normally.
That's kinda sad, I know.
But it's all part of being a Sox fan.
2021 was a much better year for my heroes than anyone, anyone, anyone had predicted or expected.
And the fact that they won the Wild Card game over the Yankees was also a langiappe.