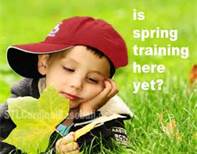 Yes it is.
And guess who is going to five games? Well, three actual MLB spring training games, plus one game between the Sox and the USA team, and one World Classic playoff game. (Have I mentioned how much I love retirement?)
In the meantime, feast your eyes and minds on the MillersTime Contests for 2017 and sharpen your pencils (some of you no doubt still use those things). Your predictions are due by the opening pitch of the season, April 2, 1:10 PM. (See new deadline below.)
So it's time to turn to the MillersTime Baseball Contests to test your baseball knowledge, hopes, luck, fears, prejudices, and ignorance. The contests have evolved from just Red Sox (and Evil Empire) focused questions to ones that involve all of MLB as the majority of contestants are no longer Sox fans (poor souls).
You don't have to enter all of the contests, and if you're not baseball obsessed (pity), you can easily just choose a couple of contests to enter (see #1, #2, #3, Extra Credit).
While it might be tempting to wait until late in Spring Training to submit your answers, you do run the risk of losing out to someone who submits a similar winning answer earlier.
Also, in addition to the prizes listed in each contest, all winners get the exclusive, one-of-a-kind "MillersTime Baseball Contest Winner" T-Shirt, a much 'valued' prize.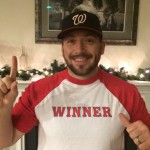 Justin B models
his 'prized' T-Shirt
Contest # 1:
Pick your favorite MLB team (or the team you know the most) and answer the following questions to prove whether you're just a homer ("Someone who shows blind loyalty to a team or organization, typically ignoring any shortcomings or faults they have") or whether you really know something about your team and can honestly evaluate its strengths and weaknesses.
a. What will your team's regular season 162 game record be in 2016?
b. Will they make the playoffs, and if so, how far will they go?
c.  What will be the most important factor (hitting, starting pitching, bullpen, an individual's performance, the manager, injuries, etc.) in determining their season?
Prize: Two tickets to a regular season game with your favorite team (details to be negotiated with moi.)
Contest #2:
Make a prediction about something that will happen during the 2017 MLB season.
Your prediction could be about a team, about a player, about a new record, about an 'event,' or about something, hopefully unique, you think will happen in 2017. One prediction only.
Of those that come true, MillersTime readers will determine which one is the best prediction. Voters generally have selected the most specific prediction, one that showed baseball knowledge, and/or one that predicted something unusual.
Prize: Join me to see a Nats' game next year in wonderful seats. If you don't live in this area, can't get here, or don't want to come to DC swamp, you can give your prize to someone who can get here, or you can choose one of the books cited in the prizes below.
Contest #3: True or False
A. The Chicago Cubs will follow Joe Maddon's advice again to "Be a good Cubbie and try not to suck" and will at least go to the World Series in 2017, as they did in 2016.
B. The Washington Nationals will NOT lead the NL East Division as they did in 2016.
C. One pitcher will throw two no hitters in 2017. (Only been accomplished five times: Johnny Vander Meer in 1938, Allie Reynolds in 1951, Virgil Trucks in 1952, Nolan Ryan in 1973, and Max Scherzer in 2015.)
D. Bryce Harper will rebound from his 2016 season — BA .243, HR-24, RBIs-86 – and finish in the top five the MVP voting. (Hint, but be wary: Harper hit a monster HR on his first swing in Spring Training this year)
E. A contract at over $400 million will be offered before the end of the 2017 season.
F. There will be five or more Triple Plays in the MLB this year. (Over the last seven years the average has been 4.1 per year.)
G. There will be more than three 20 game winners in 2017. (2016: Porcello -23, Happ – 20, Scherzer – 20)
H. No pitcher will have an ERA under 2.0 (Best in 2016 was Kyle Hendricks at 2.13)
I. At least one MLB batter will strike out 219 times or more in 2017 regular season play (Chris Davis, Orioles, did that in 2016.
J. One of Grand Papa's (your 'conductor' of these contests) grandchildren will witness in person (at an MLB game) either a grand slam, a triple play, a no hitter, or Teddy win the President's race at the Nats' stadium.
Prize: Your choice of one of these books: The 20 Best Books Ever Written About Baseball.
Contest #4:
A. Which MLB team will have the best improvement in their games won over 2016?
B. Which MLB team will have show the biggest decline (the most losses compared to their record in 2016) ?
Prize: A copy of A. Bartlett Giamatti's wonderful collection of baseball writings entitled A Great and Glorious Game.
Contest #5:
Will the American League continue its dominance over the National League in the All Star game in 2017? (AL won the last four ASG, 7 out of last 10, and 11 out of last 15).
Tie-Breaker: Name the AL and NL players who will each get the most votes to play in the All Star game.
Prize: Join me after the All Star break to see a Nats' game in wonderful seats. If you don't live in this area, can't get here, or don't want to come to DC, you can give your prize to someone who can get here, or I can take a kid to a game in your place.
Contest # 6:
Who will be the two teams in the World Series in 2017 and which team will win it all?
Tie-Breaker: Name the five teams in each league who will make the playoffs.
Prize: One ticket to the 2017 World Series.
Extra Credit:
Make up your own question about MLB in 2017 and then answer it.
Of those that come true, we'll put it up to MillersTime baseball readers to decide who wins the prize. And that question will be incorporated in next year's contests.
Prize: Your choice of one of these books: The 20 Best Books Ever Written About Baseball.
Additional Details:
All winners get the 'one-of-a-kind,' specially designed MillersTime Baseball Winner T-Shirt.
Enter as many or as few of the contests as you want.
Be sure to answer all parts of each contest you do enter.
If you get a friend (or a foe) to participate in these contests, and he/she wins and has mentioned your name in their submission, you will get a prize also.
Get your predictions in soon. In case of ties in any contest, the individual who submitted his/her prediction first will be the winner.
Submissions should be sent to me in an email – samesty84@gmail.com or can be sent to me by snail mail – Richard Miller – 2501 Tracy PL. NW, Washington, DC 20008.
New Deadline for Submissions: Nats's Opening Day: Apr. 3, 2017, 1:05 PM, EST.
Addendum: Consider a Joint Submission with a son, daughter, grandson, granddaughter, niece, nephew or with your father, mother, aunt or uncle, or grandfather or grandmother. If you and your 'generational companion' win, then both of you will get a 'prized' MillersTime Winner T-shirt and two tickets to a regular season game of your choice.