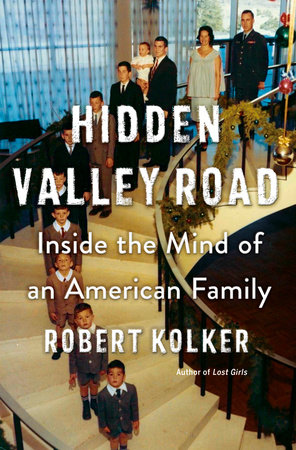 Hidden Valley Road: Inside the Mind of an American Family by Robert Kolker (NF)*****
This is fascinating and heart-wrenching account of a family where six of the 12 children had some form of schizophrenia and what it was like for them and their parents. I'm not sure how author Kolker got so many of them to talk to him so openly, perhaps, in part, because they wanted the rest of us to know what this insidious and devastating disease is all about?
Additionally, and with great clarity, Kokler weaves throughout his telling of this family's various experiences a clear account of the history of schizophrenia and what we know and don't know about this disease,
I think this narrative has value not only for anyone who works in the field of mental health and education but also for other readers as well. My wife Ellen, who reads widely (over 100 books a year), has insisted that I do a special post on this book. While it is not one of her usual choices of books to read, she was captivated by it and says,
This book offers an unusually clear and vivid picture of schizophrenia – how it has been mis-treated and mis-diagnosed for years along with the various possible causes. But this is not an academic treatise. What is most important about what you read is understanding the impact of schizophrenia through the life of this one family. And it's stunning.
This true account of the Galvin family of Colorado Springs, CO and their relationships is so well told and so riveting, and done with such empathy, that rather than being overwhelming and depressing, it will stay with you and inform you on many levels. It is a story told without judgement, and one for which we all should be thankful for its telling.
We owe a great deal of gratitude to Kokler for gathering and writing this narrative and even more thanks to the Galvin family for all agreeing to it being told and for their participation in its telling.