Mostly it's bad news for Red Sox fans, and it doesn't seem as if it's going to get too much better. Other than having a few young players who could be future stars — Xander Bogaerts, Mookie Betts, and Eduardo Rodriquez — there's not much to like about this season.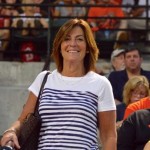 However, there is one bit of good news: Ellen Miller is getting interested in sports' photography. At least baseball photography.
We (foolishly) went to a Sox vs Orioles game the other night, with the usual result. But Ellen brought her camera and long lens, and here are a few examples of her first serious baseball pictures.