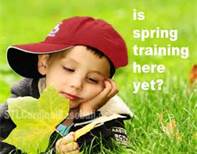 2019 MillersTime Baseball Contests
Contest #1:
Name the two teams who will play in the World Series in 2019?
Which team will win it all?
Tie-Breaker: What will be the total number of games played in the 2019 World Series – 4, 5, 6, or 7?
Prize: One ticket to the 2020 World Series.
Contest #2:
Pick your favorite MLB team (or the team you know the best) and answer the following questions to prove whether you're just a homer ("Someone who shows blind loyalty to a team or organization, typically ignoring any shortcomings or faults they have") or whether you really know something about your team and can honestly evaluate its strengths and weaknesses. Please answer all three parts of the question.
1. What will your team's regular season 162 game record be in 2019?
2. Will they make the playoffs, and if so, how far will they go?
3. What will be the most important SINGLE factor (hitting, starting pitching, bullpen, an individual's performance, the manager, injuries, etc.) in determining their season?
Prize: Two tickets to a regular season game with your favorite team (details to be negotiated with me.)
Contest #3: Questions to be decided by the 2019 All Star game, July 9.
Name which League will win the All Star game.
Name one AL team & one NL team who will be leading their Division July 9.
Tie-Breakers: (May take longer than July 9 to decide these)Name the first MLB player to hit 25 HRs.
3. Name the first MLB player to hit 25 HRs.
4. Name the first MLB pitcher win 12 games.
Contest 4: True or False:
Prize: Bring a friend and join me for a Nats' game in the second half of the 2019 season or a Nats' game of your choice next year (except for Opening Day). If you can't make it to DC, maybe I can make it to where you live, and we'll see a game together there.
A. The New York Yankees WILL win the AL East in 2019.
B. The Washington Nationals WILL win the NL East in 2019.
C. There will be at least one 20 game winning pitcher in each League in 2019. (There were two from the AL in 2018 – Snell – 21 & Kluber – 20; none in 2017, three in 2016 – Porcello – 22, Scherzer 20, Happ – 20). (from Chris Boutourline)
D. No pitcher in MLB will have two complete shutout games. (from Ben Sentura)
E. At least two teams in 2019 will lose 100 games or more. (Three did so in 2018 – Orioles lost 115, Royals lost 104 and White Sox lost 100. Five other teams lost between 95-99 games: Reds, Rangers, Padres, Marlins, & Tigers)
F. A manager will be fired by the All Star game in 2019? (from Brent Schultz)
G. In 2019 the two AL & the two NL wild card teams will each come from the same division in their League.
H. Either Manny Machado or Bryce Harper will fail to live up to expectations in 2019. In other words, one of the two will not perform well, will not have a particularly good year as defined by factors such as BA, HRs, RBIs, OPS, Fielding Average, etc.)
I. At least three teams will win 100 games or more in 2019. (Three teams did so in 2018: Red Sox – 108, Astros – 103, Yankees – 100).
J. One of Grand Papa's (c'est moi) grandchildren will witness in person (at an MLB game) at least one of the following: a grand slam, a triple play, a no hitter, Teddy winning the President's race at the Nats' stadium, will go home with a foul ball, will have his/her picture taken with an MLB team mascot, or will be on the TV screen at an MLB stadium.
Prize: Your choice of one of these books: The 10 Baseball Books Every Fan Should Read or a newer book, Power Ball: Anatomy of a Modern Baseball Game by Rob Nyer.
Contest # 5:
These questions are inspired by MillersTime baseball contestants Matt Galati, Nick Nyhart, and Maury Maniff. They are mostly for unrepentent baseball nerds, ones who have been known get up in the middle of the night to see how their favorite team did, check all the baseball scores, look at video of a game, etc. To gather information before answering, you might want to go to this site – http://proxy.espn.com/mlb/stats/team?stat=pitching – to see what the correct answers would have been before 2018:
For all of these five questions, choose the MLB team who in the 2019 regular season will:
1. Have the most wins? (Boston in 2018)
2. Have the worst BA? (Miami in 2018)
3. Have the most errors? (St. Louis in 2018)
4. Have the highest (pitching) save percentage? (Texas in 2018)
5. Have the lowest WHIP? (Houston in 2018)
Prize: Your choice of one of these books: The 10 Baseball Books Every Fan Should Read or a newer book Power Ball: Anatomy of a Modern Baseball Game by Rob Nyer.
Additional Details:
All winners get the 'one-of-a-kind,' specially designed and updated MillersTime Baseball Winner T-Shirt.
Enter as many or as few of the contests as you want.
Be sure to answer all parts of each contest you do enter.
If you get a friend (or a foe) to participate in these contests, and he/she wins and has mentioned your name in their submission, you will get a prize also.
First time entrants who are runners up in any contest will get THE T-shirt. Any two-generation submissions (mother/son, grandfather/granddaughter, etc.) who are runners up will also get THE T-Shirt
Get your predictions in soon. In case of ties in any contest, the individual who submitted his/her prediction first will be the winner.
Submissions should be sent to me at:
Samesty84@gmail.com or by snail mail – Richard Miller – 2501 Tracy PL NW, Washington, DC 20008.
Deadline for Submissions: Opening Day: Thursday, March 28, Noon, EDT