Tags
"A Star Is Born", "Bohemian Rhapsody", "Can You Ever Forgive Me?", "Capernaum", "Cold War", "Fere Solo", "If Beale Street Could Talk"", "On the Basis of Sex", "Roma", "The Invisibles", "They Shall Not Grow Old", "Woman at War", Ann Hornaday, DC Cinema Club, Freddie Mercury, Holocaust, Imperial War Museum, Lee Israel, Melissa McCarthy, Peter Jackson, Queen, Richard Grant
Reviews by Ellen Miller

They Shall Not Grow Old: Ellen ***** Richard *****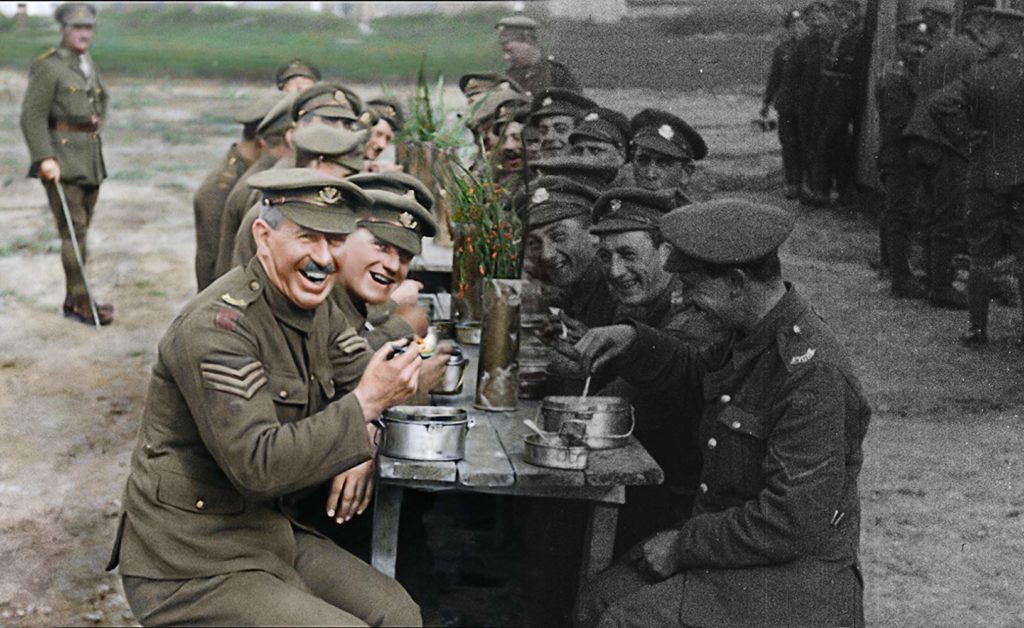 This is an extraordinary documentary film. It is unique in its story telling and the technology behind the production. You've never seen anything like it.
Noted director Peter Jackson (the New Zealand film director, screenwriter, and film producer best known for The Lord Rings films) was co-commissioned by 14-18 NOW and Imperial War Museums in association with the BBC to make a movie to celebrate the centennial of the Armistice, using original documentation. He was given over 100 hours of World War I archival clips and over 600 hours of audio interviews from Britain's Imperial War Museum (he used audio from 120 of them in the film) and set to making a film that answered the question: What was it like to be in the trenches. Through some technological wizardry to improve the quality of the archival film itself and overlaying of contemporaneous interviews with former soldiers – from the highest to lowest of rank – he has fashioned brisk, gripping historical record. At the end of the film he is interviewed about how he made the film and why he made the choices that he did. (Stay for this interview if you attend the film.)

Go see it. You won't be disappointed.
(In theaters now)
Bohemian Rhapsody: Ellen Miller ***** / Richard *****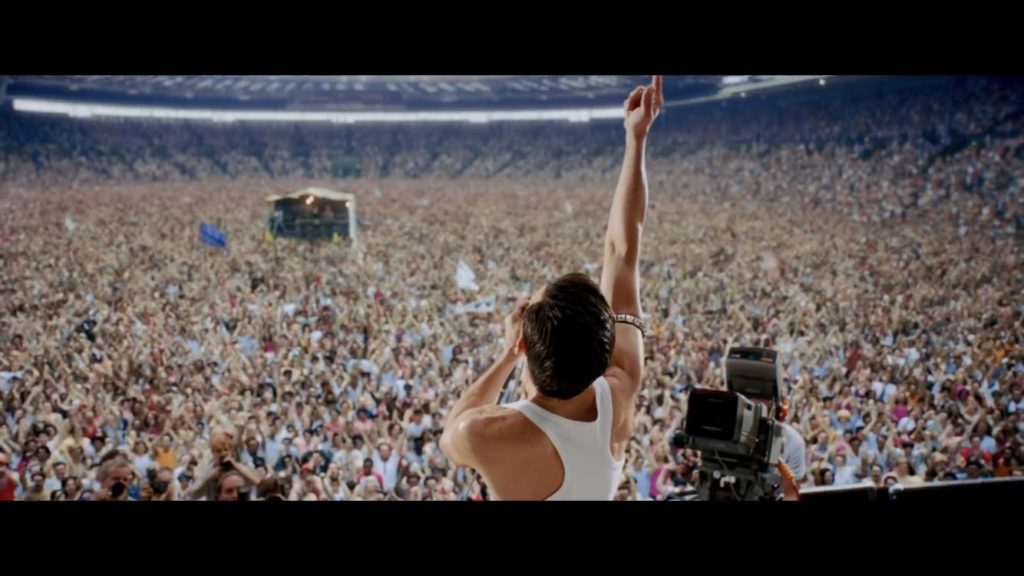 If you evaluate Richard and me by the movies we see, some of our readers might think we are rather dreary people. We do see many serious films, and we generally like them because they tell us something about the world that we do not know, or need to be reminded of. But sometimes we like to go to the movies just to be entertained. If you like to be entertained….go see this movie – Bohemian Rhapsody. This is a film that has been widely panned by the critics, but, in fact, it is a thoroughly engaging story of one man (Freddie Mercury) and the extremely popular band he helped to create – Queen – that rose to fame in the 1970's and 80's.
It is a classic bio epic, with a lot of fabulous music that those of a certain age will recall. The story is elaborately told, filmed, and acted — the passion, the family struggles, the relationships of band members, and the pressures of being under a microscope. (All of this is somewhat predictable). It's a movie about sex, drugs, and rock n' roll. You have heard, and maybe seen this story before, but what's terrific about it is the Hollywood gloss over the grime.
Ann Hornaday from the Washington Post wrote: "Bohemian Rhapsody is just that cinematic unicorn: the bad movie that works, even when it shouldn't."
Movies shouldn't all be examined by the same standard. This one will keep you engaged and entertained.
(In theaters now)
The Invisibles: Ellen ***** / Richard *****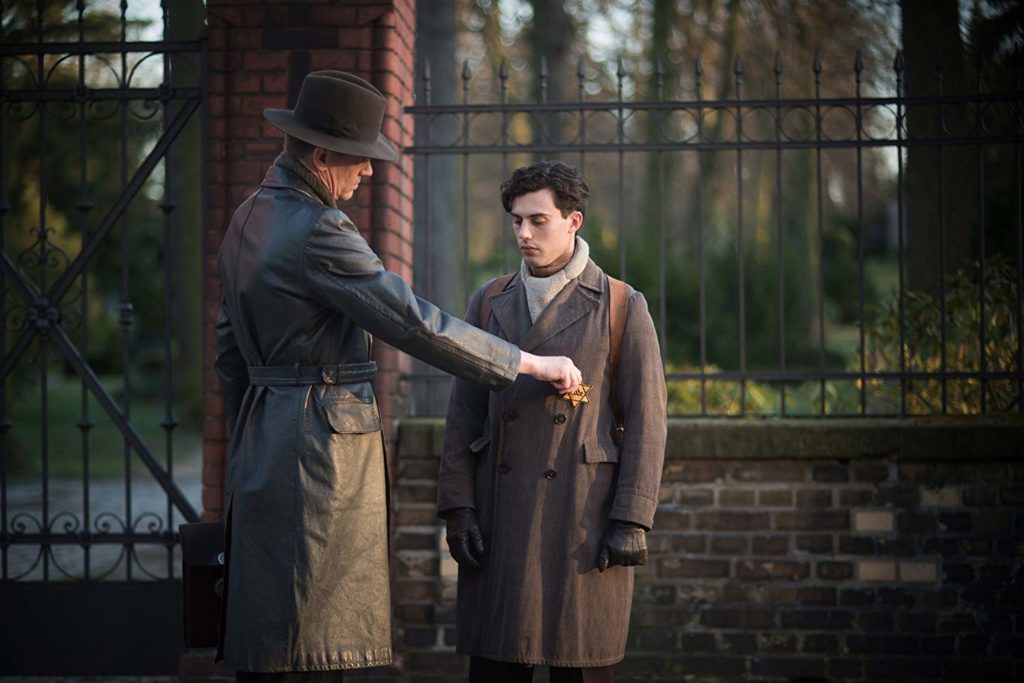 There's no such thing as too many movies (or books) about the Holocaust. There are great, good, and bad movies about any subject), but this film tells a Holocaust story in a way that is unique and effective. Don't miss this one when it comes out.
The film is described as a docu-drama, and its presentation feels unique. It involves nearly equal parts interviews, reenacted scenes, and documentary footage focusing on four Holocaust survivors who went underground in Berlin during World War II and survived by the grace of a network of sympathetic German families.
The first person stories are matched with dramatic reenactment of those people as they were in 1940's, adding to the impact of the personal statements and the dangers, tensions, and fears the invisible Jews faced.
The third element of the film is newsreel footage of Berlin at the time, which added a further element of realism to the movie.
This is a stunning film. You will learn things you didn't know (Goebbels declared Berlin "free of Jews" in 1943, yet there were some 7,000 of them hidden there at that time, and about 1,500 of them survived). You will meet Germans heroes who took enormous risks to shelter and feed the Jews, as well as other Germans who also supported these 'Invisibles' (by one account these number in the tens of thousands). Plus, you'll learn about the risks that the hidden Jews took to inform, liberate, and help others.
This is a stunning movie.
Woman At War: Ellen **** / Richard***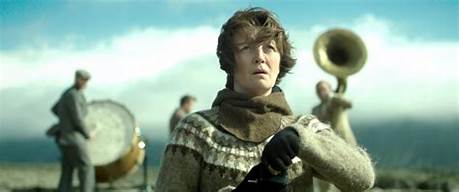 This is an Icelandic film through and through. By that I mean it has a kind of hard-life dreariness to it (and cold and foggy overlay) that so many Iceland films over the last few years seem to have. (Think Rams (2014).
In this very good film a 50-year-old independent woman leads a double life as an environmental activist fighting the establishment of an aluminum smelter plant to be developed in the mountains. She becomes increasingly desperate in her attempts but is stopped in her tracks when her desire to adopt a child becomes a possibility. There ensues a twist in the film that keeps you in your seat until the end.
One of the really interesting elements in this film is the music, which lends a surrealistic air to this unusual and a bit other worldly story. The acting is superb.
(Ed. Note.1: Tho I don't particularly agree that this is a film to recommend, our Sunday DC Cinema Club had a 'Recommend Rate' of over 95%, and almost 92% gave it either an "Excellent or Good" rating. Harrumph.)
Can You Ever Forgive Me? Ellen **** / Richard ****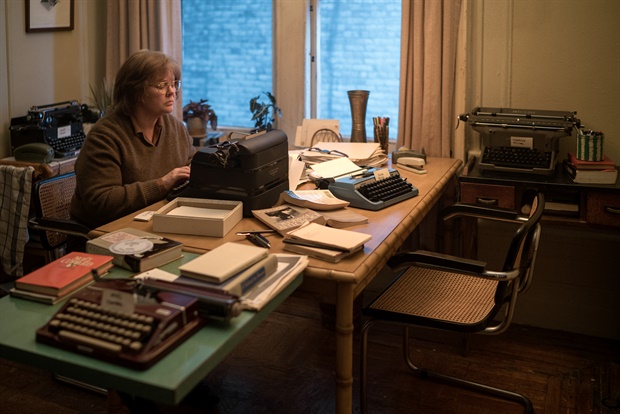 We missed this film when it first came out, though I had noted it as I am a big fan of Melissa McCarthy who plays the starring role. Here she portrays a best selling biographer – Lee Israel – who made her living as a biographer of celebrities in the 1970's and 1980s. The film is based on and follows closely Lee Israel's memoir by the same title. The story begins as Israel's writing goes out of fashion, in a desperate move she starts (with a friend Richard E Grant) to forge (or sometimes steal) correspondence of dead writers and sell the letters to rare-book dealers. She makes a good profit as it takes a while before the deception is found out. This is a moving story of a lonely and anxious middle-aged, single woman struggling to make ends meet but who uses her wit, but not to a good end.
It's an interesting story, for sure, but the reason to see this film is because of McCarthy's acting. It's simply perfect. That's why she's nominated for Best Actress in the Academy Awards this year.
(In theaters now)
(Ed. Note .2: I've noticed that in addition to the films above, a number of the films we've seen and mini-reviewed are currently in the theaters…at least in the greater DC area. Look for these which we highly recommend: Free Solo, Green Book, If Beale Street Could Talk, A Star Is Born, Cold War, Capernaum, On the Basis of Sex, Roma, and Stan & Ollie.)
(Ed. Note .3: For those of you who enjoy searching out new and possibly upcoming films, we came across this article from Thrillist – ht Louise M. : The Best Movies from Sundance 2019. We have not even heard of any of these 25!)