For my 80th birthday (3/31/43), Ellen asked where I'd like to go to 'celebrate' this (in)auspicious occasion. When I didn't come up with a plan, she had four or five suggestions, none of which seemed quite right.
"So WHERE do you want to go, then?" she brusquely asked.
We settled on a trip to The Lake District in northern England , a longtime favorite place of mine, and then spending some time in London for theater. While we were planning that trip, I came across a VBT bicycle trip from Oxford to Bath that sounded good. Ellen would meet me in Bath, a good place to recuperate if I needed it! Then we planned to rent a car and drive north to The Lake District.
The bike trip was advertised as easy/moderate, with gentle undulating hills. (Felt more like the Great Smoky Mountains to me). The weather was supposed to be good, although we had a full day of riding – 44 miles – in the pouring rain. (OK, gentle rain).
We were a group of 15 with two 'expert' trip leaders. They were quite good and very patient with the group, which was made up of six couples and three single bikers. It was mostly an older group, one man was 85, another 84, and on down to me at 80. There was one younger couple, clearly compatriots of Lance Armstrong. All had been on at least three or four VBT trips previously. This was just my second trip.
We were told "this is your vacation, we encourage you to ride at your own pace, stop when you want – relax and enjoy yourself." Clearly some of the bikers (often the women) seemed to be in a race to get to the first rest stop. We had e-bikes, which were supposed to help with the 'undulating hills,' and they did.
Sometimes.
The first day one of the single men fell, broke his shoulder, cracked some ribs, and punctured a lung. He was OK after a visit to a local hospital, but he had to remain in a hotel for two weeks because he couldn't fly home with a punctured lung.
Quite a start.
It certainly sobered the rest of the group (now 14). I was already 'sobered' and could usually be found far in the back of the pack, pedaling slowly, pretending to look at the wonderful countryside in the picturesque Cotswolds.
Generally, we started at about 9 AM, rode 10+ miles and met the support vehicle that 'accompanied' us. (I never saw it except at the snack breaks, so how it got to us I have no idea). We'd ride another 10-12 miles and have lunch in a local pub, or sometimes spend an hour or two at a cultural site (think Downton Abby and Blenheim Palace). We'd ride another 15-20 miles in the afternoon, arriving in a lovely small village by 5 PM.
Sometimes we ate together as a group in the evening or were on our own to discover a local restaurant/pub. Often that was Indian food for me, and then I headed early to bed. Need I say, "I slept well."
One day it did rain all day, but most of the time it was sunny and cool, and we generally rode on small, country roads, some that clearly had not been upgraded since the Romans were in England.
I loved being outside, riding at my own pace, which was easy to do because we had a GPS 'guide' on our phone strapped to the handlebars which would tell us every turn. If you missed a direction or got lost, the GPS would guide you back to the route, without making fun of you for getting lost, which everyone did numerous times.
The five days of riding passed quickly, and soon we reached Bath, having ridden 180 miles, assuming you never put your bike on the van, which of course I never did.
This biking was more difficult and longer than my previous trip, a mere 160 miles (see previous post: Yes, It's True…I Biked from Bruges to Amsterdam!). And while I enjoyed the canals, windmills, and riding on flat surfaces on that trip, there was something different about this second trip.
It was refreshing to know, trite as it sounds, the birthday I was celebrating –- 80 – proved to be just a number. Even at this august age, I can continue to stay in the world and explore it.
When we started out on the last day of riding, I thought to myself, "I really like being back on this bike and heading out for another day. I need to remember how energizing and enjoyable it can be to get out of my comfort every once in awhile."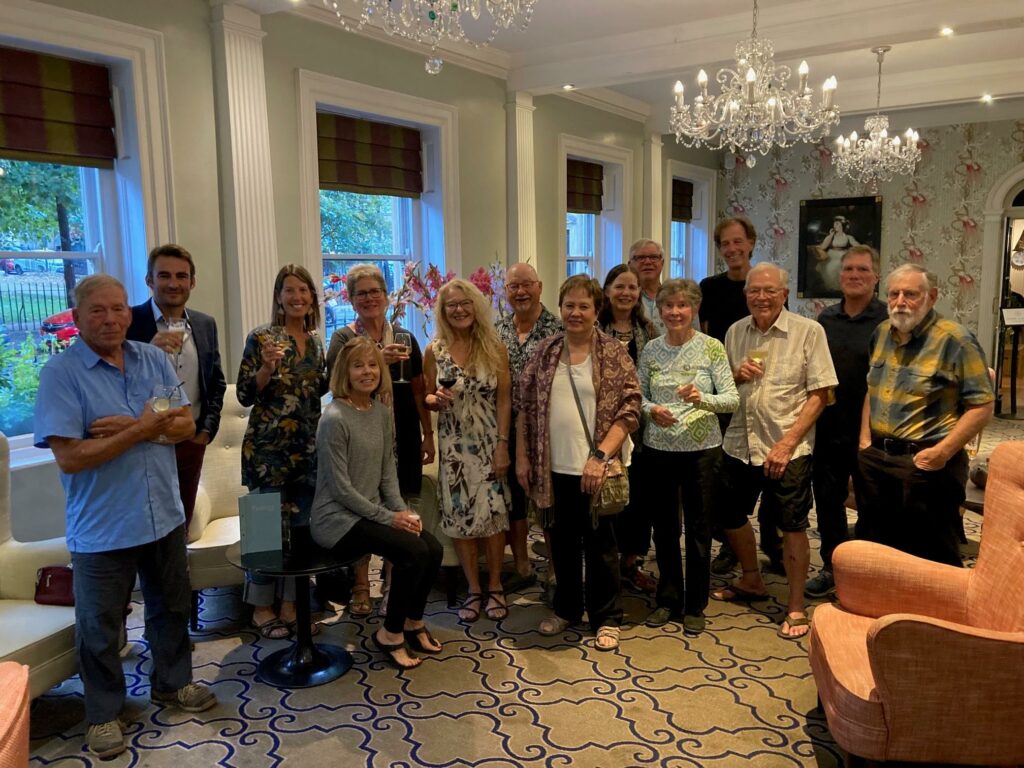 The VBT Biking Group