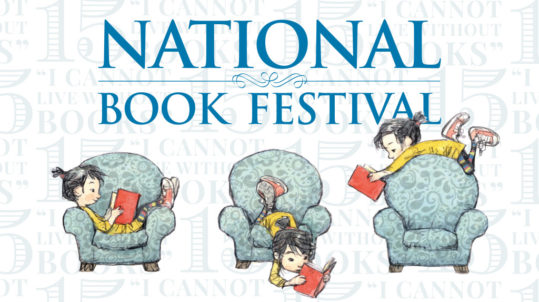 The one day National Book Festival is this Saturday, Sept. 2 at the Washington Convention Center. From 9 am until 7:30 PM you can see and hear more than 100 authors, attend events specifically designed for children and teens, get books signed by authors, and purchase books at the Politics & Prose Bookstore at the Festival.
And it's all free.
From the Politics & Prose website:
For book lovers, the National Book Festival has become an annual literary extravaganza, a star-studded, multi-stage show with authors and events drawing people from near and far for a day of festivities in Washington. This year the festival returns to the Convention Center on Saturday, September 2, with Politics and Prose again serving as the official bookseller.

Organized by the Library of Congress, the NBF has grown from humble origins 17 years ago—when a few dozen authors appeared in tents on the U.S. Capitol's East Lawn—into one of the largest events on the nation's literary calendar.

This year's gathering will offer talks by more than 110 authors, illustrators, and poets, spread among ten stages throughout the day. In addition to book signings, the festival features assorted programs for adults as well as kids, from story times and a hunt for Waldo to a poetry slam and a behind-the-scenes look at the Library of Congress, the nation's largest library. Family-friendly presentations include trivia sessions, an interactive maze illustration by master maze-maker Joe Wos, and an engaging session with illustrator and veteran New Yorker cartoonist Roz Chast.

Before going to the signing lines, fans will be able to purchase books by their favorite authors in the sales area run by P&P. Dozens of our staff members will be on hand to answer questions and offer expert advice and book recommendations.

Here are some of the festival's many highlights:

David McCullough opens the main stage at 10 a.m. with a talk about his latest work, The American Spirit, a collection of his speeches delivered over the past few decades reflecting this veteran historian's knowledge, humor, and enduring optimism.
Other writers scheduled for the main stage include Diana Gabaldon, J.D. Vance, Thomas Friedman, Michael Lewis, Condoleezza Rice, and David Baldacci.
The Contemporary Life stage will feature prominent figures in such fields as medicine, space exploration, and culture, including oncologist Siddhartha Mukherjee (The Gene) at 11 a.m., former astronaut Leland Melvin (Chasing Space) at 1 p.m., and author and essayist Roxane Gay (Hunger) at 4 p.m. On the Fiction stage will be Elizabeth Strout (Anything is Possible) at 10:20 a.m., Alice McDermott (The Ninth Hour) at 12:10 p.m., Jesmyn Ward (Sing Unburied Sing) at 3 p.m., Claire Messud (Burning Girl) at 4:55 p.m., and Amor Towles (Gentleman in Moscow) at 6:45 p.m.
The History & Biography stage will showcase Margot Lee Shetterly (Hidden Figures) at noon, Thomas Oliphant and Curtis Wilkie (The Road to Camelot) at 10 a.m., Sidney Blumenthal (Wrestling With His Angel) at 11 a.m., and Peter Cozzens (The Earth is Weeping) at 4 p.m. The Thrillers & Fantasy stage will present Don Winslow (The Force) at 10 a.m., Scott Turow (Testimony) at 1:40 p.m., and Megan Abbott (You Will Know Me) at 2:35 p.m.
On the Poetry and Prose stage at 10 a.m. will be an event dubbed "Poetry Out Loud" intended to encourage young people to learn about great poetry through memorization and recitation. And at 6 p.m. on the Teens stage, a youth poetry slam will host top groups from the nation's capital and around the country.
At "A Book That Shaped Me Contest," fifth- and sixth-grade winners of an essay-writing competition, sponsored by local public library systems in the Mid-Atlantic region, will read their submissions.

This is just a small sampling of what the NBF will be offering. The festival will run from 8:30 a.m. to 7:30 p.m. and is open to the public and free to everyone. For more information, please go to the NBF's website and start planning your visit now!.
NOTE: If you're considering attending, know that this event has grown and has become so popular that there are literally throngs of people at the event. But if you plan ahead and see the list of authors and the schedule for the day by spending some time on the Festival's Website, you can get to the events that most interest you.