Tags
Aborigines, Aboroginal Clans, Alice Springs, Alice Springs Reptile Center, Alice Springs School of the Air, Aussie, Australia, Ayers Rock, bug tails, Cairns, Daintree Rainforest, Darwin, Freycinet National Park, Hobart, Kakadu National Park, Kangaroos, Kata Tjuta, Katherine River, Kuranda Rainforest, Melbourne, MONA, Nitmiluk River Gorge, Outback, Oz, Port Arthur, Port Douglas, Royal Flying Doctor Service, Ski People, Sydney, Sydney Fish Market, Tasmania, Tassie, The Ghan, The Great Barrier Reef, The Great Ocean Drive, The Opera House, The Sydney Harbor Bridge, Uluru, Wine Glass Bay, Yellow Water Billabong
Counting the round trip flight to and from Washington-Dallas-Sydney and our travel around Australia itself (by planes, trains, buses, minibuses, rental cars, Land Rover, limousines, taxis, Uber, boats, ferries, cable cars, etc.), we've just completed a 30,000 mile trip, making it one of the longest we've taken in many years. Also, it was our "last" continent (to explore), although that was not the reason for this trip.
It was total delight, generally making connections and transfers like clockwork, surviving the west to east jet lag handily, and happily exploring the many cultures, climates, and adventures Australia has to offer. We hiked and snorkeled, we 'cruised' along the Tasmanian coast, and some of us even climbed the Sydney Harbor Bridge. We took in the opera, visited museums to see Aboriginal and modern art; ate first class cuisine, (gorging on oysters, loving our first tastes of kangaroo, wallaby, and bug tails); hiked trails in Tasmania and visited an off shore island; learned a new language they called English; and came to have a much deeper understanding about the country's history. We have random facts tucked away in our brains for future use, including but not limited to: why snake bites in Australia are rarely fatal, why you should never turn your back on a crocodile, the ratio of the wild kangaroo and camel populations to the (very small) human one, why so many Australian beaches are pristine, and why Vegemite must be an acquired taste (which we chose not to acquire).
Our itinerary was roughly this: With good traveling buddies Fruzsina and Ray (and under their experienced guidance and with the assistance of a wonderful travel agent based in Melbourne), we began in Sydney and then headed to Melbourne. From there, we were off to Tasmania where we drove to and spent several nights in the Freycinet Peninsula and returned to Hobart, a city that quickly became a favorite. We separated from our friends as they went off to New Zealand, and we flew to the Northern Territory — Darwin — where we spent a couple of days, exploring the Kakadu National Park. From there we boarded the famous train – The Ghan – to Alice Springs and then took a five hour bus ride to Yularu (Uluru/Ayers Rock). Finally, we took a long flight to Cairns and stayed four nights in Port Douglas to explore The Great Barrier Reef and the rainforests before heading back to Sydney and home.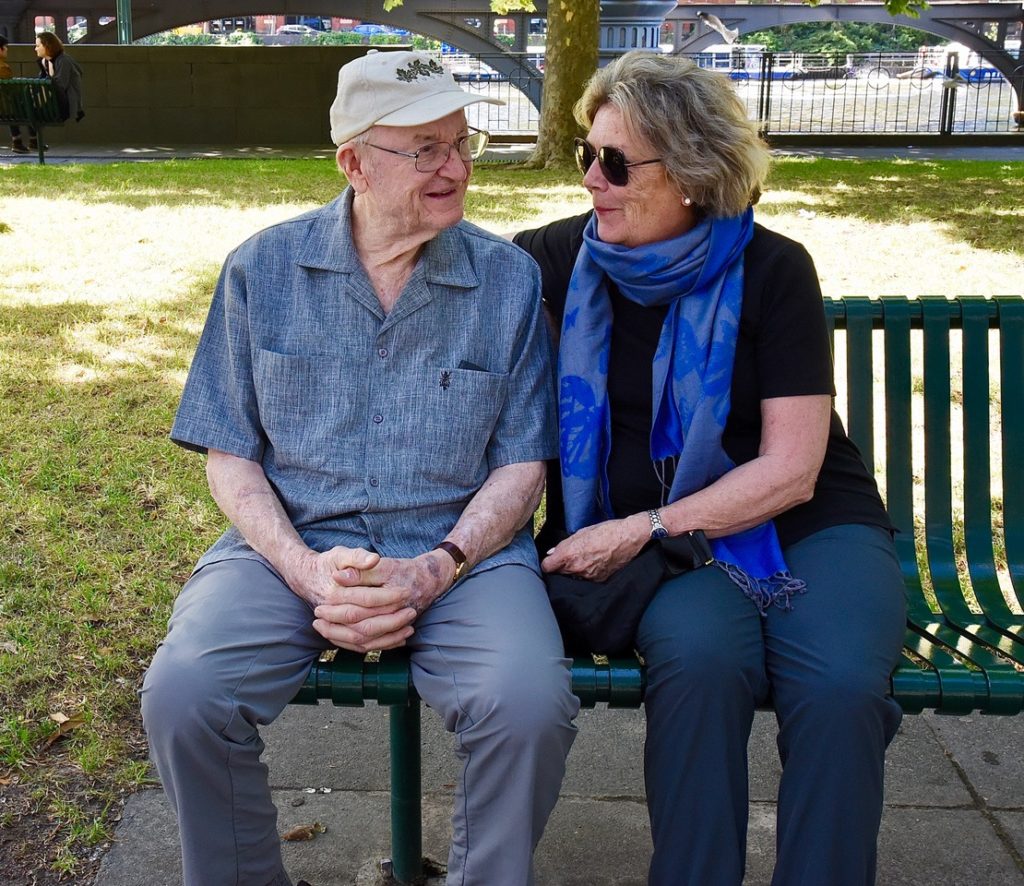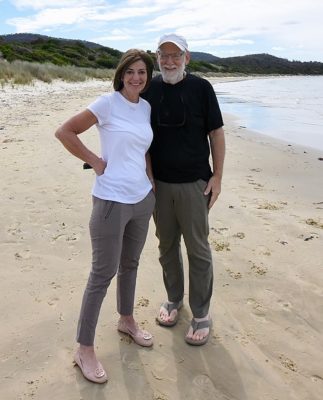 Each stop had so much to offer – natural beauty to fascinating history, unique museums, and gourmet food, wonderful walks and hikes, and, of course, the best of company – our wonderful friends and each other.
Despite 'choosing' the summer to visit Australia, we were lucky, oh-so-lucky with the weather. We skipped in and out of destinations avoiding the 100+ (F) temperatures for the most part and experienced more like 80 degree days and cooler evenings. In the Northern Territory it was hotter (highest recorded temperature on our own thermometer was 115 degrees F in the sun at Uluru). We generally avoided going out in the middle day and got up with the sunrise (or before) and scheduled our adventures for the early morning and late afternoons and evenings. Where it was the hottest, it was also the driest, and we did not suffer. January is probably not the optimum time to visit the country.
Here, then, are a dozen of Ellen's photos which help to illustrate some of the story of this trip. Unfortunately, or maybe fortunately, she did not have her camera during our snorkeling adventures. (At the end of this post, there will be a link to a slide show that focuses on Ellen's favorite photos – Australia: Thru Ellen's Lens).
And Some 'Footnotes':
Sydney doesn't disappoint, no matter how many pictures you've seen of the Harbor, Bridge, and Opera House or what you've heard about this cultured city. If a friend asks you to climb the Harbor Bridge with her, do it. You'll get a spectacular view of a spectacular harbor and be very proud of yourselves as being among the older people on the planet to have done it. We loved seeing La Boheme in the Opera House, and enjoyed our visits to Botany Bay, the Rocks area, the Harbor Cruise, and the many beaches around Sidney. Do not miss the Sydney Fish Market, and if it interests you, there's a lovely Chinese Classical garden near Darling Harbor (Note: Favorite restaurants in the city: Icebergs on Bondi Beach, Fred's, Rockpool, and Gogyo for Japanese burnt miso soup, though it was not quite as tasty as it was in Kyoto.)
Melbourne is a lovely city, more laid back than Sydney and in some ways more enticing. One disappointment there: the long Great Ocean Road day trip wasn't so great, except for the 12 Apostles…which turned out to be only eight. We loved the museums we saw and a long walk in the University area to a favorite bookstore of Fruzsina's and in search of the "best" of Australian coffee. (We've been spoiled by our own California coast scenic car trips), but the coffee in Australia is excellent, once you figure out what a "long black" and a "flat white" are. (Note: Favorite restaurants in the city: The Deck (in a shopping center along the river); ChinChin, fun, casual and unusual Asian dishes, and Cumulus).
Tasmania, a separate Australian state and an island. We stayed at an elegant northeast coast lodge as good — and expensive — as a lodge can be. The accommodations, food, and service were absolutely first rate as were the walks on private beaches, hikes in the Freycinet National Park, and a boat ride along the wild and colorful soaring cliffs to Wine Glass Bay. The primary city of Tasmania ("Tassie" to Australians) is Hobart, a lively town filled with wonderful restaurants, a busy harbor, a crowded Saturday market, and only a boat ride away to one of the most astonishing museums we have ever visited – MONA — Museum of Old and New Art. This contemporary, largely digital art museum, the collection and presentation of one man, is worth a trip to Hobart if you're anywhere within several thousand miles of it. You need a whole day to begin to digest it. Take a break at The Source restaurant. We visited charming Maria Island (an island off Tasmania and a former prisoner colony). There we were delighted to see 'mobs' of kangaroos (but alas, no wombats). Do not miss a day trip down to Port Arthur, the arrival point for British "criminals" deported to Australia and for 'difficult' prisoners sent from the mainland. (Where to eat? The Source at the MONA museum, Aloft, modern Asian, on the wharf, and Franklin in the city. If you're there long enough, search out Me Wah which was quite a special Chinese restaurant, especially if you think you know good Chinese food.)
Darwin felt like a summer in Miami when we first arrived – hot and humid. There's not much to see in the city, but it is very laid back and multicultural — filled with people from almost everywhere in Asia: Bangladesh, India, Nepal, Korea, Philippines, China, India. We went there because it is the gateway to Kakadu National Park and to the Aboriginal lands in the Northern Territory. This 7,000+ square mile park, Australia's largest park, was indeed spectacular. Since we were there in the rainy season, we saw many beautiful waterfalls, flooded landscapes, and various land formations, much of this we saw from our half day small airplane trip. (We were assured it was the safest four passenger plane on the planet!) We took a picturesque river cruise along the Yellow Water Billabong where the reflections of sky on water were beyond stunning, and we learned about the Aboriginal clans who have inhabited this area for at least 20,000 (and perhaps 40,000) years. (Restaurants in Darwin: Char for Australian wagyu beef and Hunaman for an Indian, Indonesian, Thai mix.)
Our overnight ride on the historic Ghan Railway was a comfortable 24-hour train trip from Darwin to Alice Springs (and onto Adelaide, if you have the time). For us, it was not a long enough a ride, even Ellen admitted to this. Not only did it give us an opportunity to absorb this part of Australia, but it also gave us time to meet and talk leisurely with other Australians and visitors to Australia. We had a two-hour stop at the outback town of Katherine (including a lovely afternoon boat ride on the Katherine River to view the Nitmiluk River Gorge) and a chance to see "the bush." It was a fun opportunity to step back into 19th century Australia and become acquainted with the Outback.
Alice Springs is the kind of place you go as a layover. It doesn't have much to offer other than a window into two very interesting institutions that serve the very limited population in the Outback — Alice Springs School of the Air and the Royal Flying Doctor Service. If you're there, don't miss tours of their facilities and the opportunity to learn about their activities. Likewise, do not miss the guide/owner at the Alice Springs Reptile Center who passed on very interesting (and reassuring) information about how to avoid or handle snakebites and why never to turn your back on a crocodile (though he did). If you plan to get to Uluru (Ayers Rock) from there, take the four to five hour bus ride to get a real sense of the Outback's wilderness. (Make sure it has air conditioning.)
Uluru (Ayers Rock) – a sacred place for the Aboriginal people – and it exceeds any expectations you might have had. It is stunning in size, history, stories, and beauty especially as you walk around as much of the 5.5 miles as you can. We made several trips there (early in the mornings and late in the afternoons/evenings). Each time we left delighted by what we learned and what we saw). Do also leave sufficient time for Kata Tjuta –'Many Heads' -– another sacred site made up of a group of large, ancient rock formations. It too is a sacred place.
Port Douglas is a mix of Key West and a bit of San Diego and is very much of a beach culture, despite the fact at this season that you can't swim because of death-dealing jellyfish and perhaps sharks. It is a good place to explore The Great Barrier Reef, a 30-mile boat ride from the Port Douglas, and the northeast rainforests. We spent four days ensconced in a wonderful apartment there. Despite the fact that we hadn't snorkeled in more than 25 years, we had a great experience just floating along in the warm water ('noodles' kept us afloat and 'sting suits' kept us safe from jellyfish), and the coral reef(s) are outstanding. We also spent time in the Daintree Rainforest with a wonderful scientist and guide, took a cable car ride and a train trip over the top and through the Kuranda Rainforest. (Good food in Port Douglas at a bookstore cafe – Whileaway and two terrific restaurants, Salsa and Nautilus.)
A Few DO's and DON'Ts:
* If you are considering whether or not to climb the Sydney Harbor Bridge (because of the degree of difficulty or a fear of heights), DO it anyway. You're clipped into a harness, there are railings all the way, and the views are fantastic. Trust Fruzsina on this one.
* If you plan to snorkel on The Great Barrier Reef, DO some upper body work (back, arms, and even legs) before your trip. (Ellen says, "I told you so.") The water's warm and inviting, but there are some currents, winds, and waves that require some actual body strength, (e.g. more than walking on a treadmill and sitting in a chair reading.)
* DO try eating bug tails (despite the name); the taste is something close to a cross between lobster and crab. DON'T wait until the end of your trip to do this, and DON'T shy away from eating Wallaby or Kangaroo even if they are raw or seared. Trust us on this.
* DON'T spit if you're wearing a mosquito net over your face!
* DON'T take any dirt, sand, or rocks home from Uluru, especially heavy rocks. Trouble will descend upon you as a consequence once you're home. (Some sand did 'sneak' its way into Ellen's suitcase, and perhaps that's why we're experiencing the polar vortex and why the Chiefs lost to the Patriots.)
* DON'T even consider going outside for more than a few minutes in the Outback between 11 am – 5 pm in the summer. And sunscreen and hats really are a good idea.
* DON'T move if you see a snake near you. Australian snakes can't smell and won't notice you even if you are inches away. DO back away slowly.
* DO avoid swimming in rivers. Crocodiles are not friendly creatures. (There are crocodiles in the oceans too.) Just don't do it.
* DO find the very best guides available to help you understand this most interesting country. If you're considering a trip to Australia and want the best possible help, DO consider contacting Tony Freedman (Melbourne travel agent). He's simply terrific to work with and his knowledge of and contacts throughout Australia are "bang on" (local dialect). You can contact him at tony_freedman@travelassociates.com
Some Things We Didn't Know:
* Australia has 1.2 million feral camels wandering around, the largest camel population in the world. First imported from Afghanistan and now exported there. (We never saw one.)
* There are at least two kangaroos for every person (25 million) in Australia. (We saw about a dozen roos on one hike.) The many Aboriginal clans were not just (or are not only) hunter-gathers. They had permanent and semi permanent settlements, they planted crops, they had 'aquafarms,' and they were peaceful people.
* There is now evidence of Aboriginal people living in Australia as long as 60,000 (that's 60 thousand) years ago, and it's not clear where they came from.
* Most of Australia at one time was rainforest. (So much for global warming and European farming techniques.)
*Australian beaches are pristine because most people are afraid to swim there. (Ellen's 'observation.')
*An overwhelming percentage (83-86% ) of the population of Australia lives on the coasts and about 50 % of the total population can be found just in Sydney and Melbourne.
*Wombat scat is cube shaped.
*The Australians do speak a form of English most of the time, and, according to one source, "Australians have developed a highly efficient method of speaking that involves opening the mouth just enough to speak the words while minimizing the risk of flies intruding into the mouth cavity." I suspect that also accounts for shortening many words.
Here's a brief guide to just a few of the words they use frequently: Brekky = breakfast; Uni = university; Roo = kangaroo; Kiwi = New Zealander; Billabong = water hole; Back in the Time = roughly any time prior to last week; Boomerang = something lent that needs to be returned; NBG = no bloody good; Ski People = (people) spending kids' inheritance; Oz = Australia or Australian; Aussie (pron. Ozzie) = Australian; and Ta = thank you. And yes, they actually say Gday…just the way they do in the movies.)
** ** **
Ellen has also created a slide show, focusing not on our itinerary but primarily on her favorite photos.
1. Click on this: Australia: Thru Ellen's Lens.
2. For the best viewing, click on the tiny, tiny arrow in the very small rectangular box at the top right of the opening page of the link to start the slide show.
3. See all the photos in the largest size possible format (i.e., use a laptop or desktop computer if you have access to either).