Tags
2020 MLB Rule Changes, 2020 MLB Season, 2020 Opening Day, 2020 Opening Night, MillersTime Baseball Contests, MillersTime Baseball Fans Predictions, MLB Baseball, Nats v Yanks, No Fans, Sox v Os, Takeaways for 60 Game Season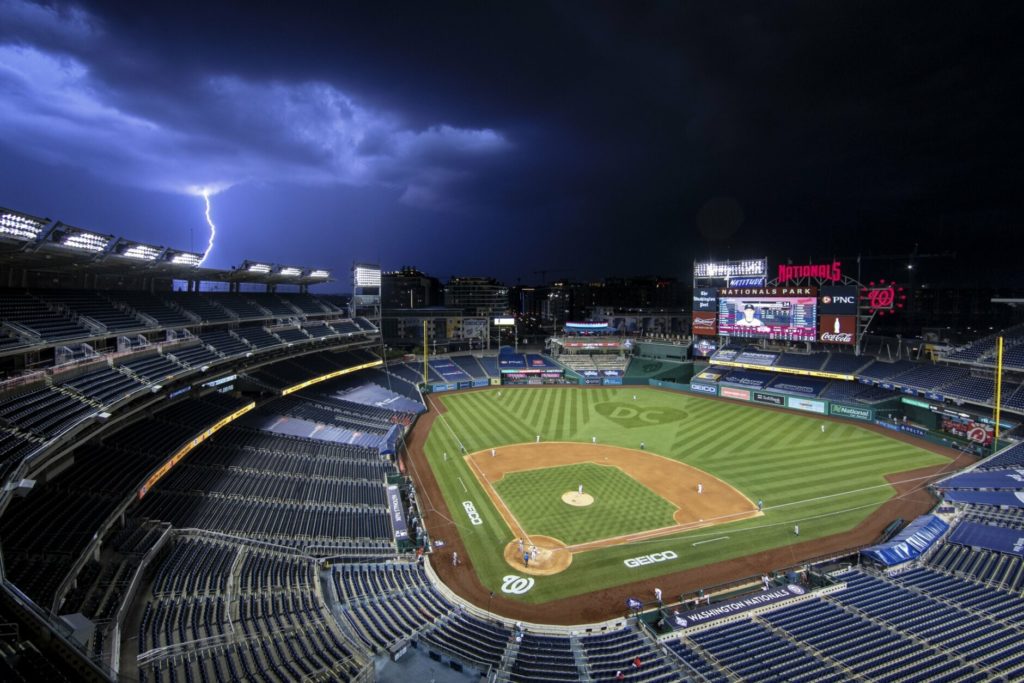 Good News: Major League baseball is back.
Bad News: 41,339 fans were missing from National' Park in DC and 37,731 missing fans from Fenway Park.
Good News: More than four million baseball fans watched Nats v Yankees Opening night game on TV, the highest number since 2011. Add to that 2.7 million fans watched the Giants v Dodgers Opening game the same night, thus making this the most ever watched Opening Day in baseball.
Good News/ Bad News: Just prior to the start of the Nats v Yankees opener, it was announced that the MLB playoffs – assuming they occur – will be expanded from 10 to 16 teams, eight in each league. The first AND second place teams in each Division will all make the playoffs, plus the two teams with the next best records in each league. (See Winners & Losers for what this new playoff schedule may mean).
Good News/Bad News: The Red Sox and Yankees are both undefeated as of this morning, July 26, and are tied for first place in the AL East. (H/T Nick Nyhart)
And what can we expect according to the ever savy MillersTime Baseball Contests submissions?
Overwhelmingly these 'prognosticators' believe the Dodgers and Yankees will be in the World Series, with the Dodgers slightly favored to win it all.
The Nats and the Astros are the next most likely WS contestants.
Two contestants said the playoffs and WS would not occur.
And the usual delusional Chris Eacho believes the Orioles will win it all.
For those of you with nothing better to do, here is a partial list of what the MillersTime Baseball fans believe will be the takeaways from the 2020 season:
NL designated hitter will prove to be a good idea that should be permanently adopted.
It was a really bad idea to play the season (numerous variations of this takeaway).
Play without fans sucks (numerous variations of this takeaway).
People are still hungry for baseball which will draw very high numbers to telecasts.
No need to play 162 games ((numerous variations of this takeaway).
Short season means "every game matters" (numerous variations of this takeaway).
There will be a team nobody expects who will come out hot and get on a roll.
There will be a team everybody expects to win who will fall flat out of the gate and can't make it up.
All Division races will be closer than typical.
Regular season will be virtually meaningless. Season will forever have an asterik (numerous variations of this takeaway).
DH rules aside in NL, more offense than defense, more runs/game and bloated ERAs (numerous variations of this takeaway).
Pitching adjusts better than batting to shorter season (numerous variations of this takeaway).
One contestant said his wife will hate him a little more than before the season started.
Spouses of baseball fans will not be as aggravated as usual.
Not a responsible thing to have done.
Fewer games, more at stake, so fans will be more engaged, and playoffs will draw more interest (numerous variations of this takeaway).
Creating fake fan noise will replace live fans.
Baseball fans will be healthier due to lack of access to baseball park food.
Fans matter (numerous variations of this takeaway).
Runner on 2nd in extra innings should be tried in 162 game season but not in the playoffs.
Aaron Judge will finally stop being treated like a star because he isn't and never was.
Astros win it all, proving that sign stealing or no sign stealing, they can flat play.
Long term reduction in number of games in the future. Early April too early to start the season.
Because of no fans, no home team advantage, no sounds of baseball, quality of play slacks, but no cheating (too easy to get caught).
Short season will be used to explain many teams' performances.
PS – I watched the entire Sox v O's Opening game on a big TV and thoroughly enjoyed it, in part because the Sox won easily but also just to be able to spend 3 hours and 18 minutes with no concerns other than the usual ones that every Sox fan knows has learned to accept.