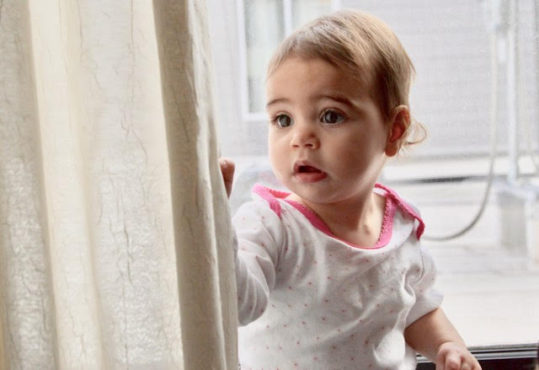 Samantha, age 11 months, was left in the care of her maternal grand parents (Nonna – Ellen and GrandPapa – Richard) for a three day weekend with the following 'instructions.'
Samantha's Perfect Day
7  AM  – Wake and six ounces (milk)
8  AM  – Breakfast (yogurt or oatmeal, 1/4 cup & 1/4 cup water)
9  AM  – Nap (sleep suit, noise machine, close curtain)
10:30  AM  – Snack (fruit, avocado, cheese, no sippy)
Noon  – 4 oz + lunch (veggies, toast with almond butter, baby pouch)
1  PM  – Nap (sleep suit, noise machines, close curtains)
3  PM  –  Snack (cheese, avocado, cherrios, no sippy)
5:15ish – Dinner (left overs from previous night's adult dinner)
6:15  PM  – Bedtime
  6 ounces in sippy (in bedroom)
  Change into pajamas
  New Diaper & Cream
  Discuss What You're Thankful For
  Leg Cream
  Into Sleep Suit
  Songs
  Read Books
  Noise Machines On
  Into Crib, Close Door
  "Goodnight Samantha. I Love You!"
  "GOOD GIRLS SLEEP ALL NIGHT!"
  6:45  PM  –  Asleep
When I read these instructions, I knew immediately that I had a MillersTime post in the making. All I had to do was to type in the instructions, and then add in what really happened, perhaps with an occasional exaggeration for a laugh.
But a funny thing happened.
Samantha followed the script exactly, at least for the first 48 hours. She got up on schedule after 12 or 13 hours sleeping at night, napped at the right times, ate when she was 'supposed' to, etc. I had nothing to write about.
(Disclosure: Actually, in the third and final evening there was a bit of a hiccup as Samantha was unhappy about going to bed a bit early. She had been fussy throughout the late afternoon, and we'd been told by her mother that it was OK to put her to bed a bit earlier than the schedule indicated if it seemed necessary. Hah. Thirty minutes of screaming in the only 'meltdown' of the weekend. But after a short 'intervention' on our part, she went to sleep, about her regular time, and slept another 12 hours.)
I guess she just has a good parental unit.
But then, of course, her parents had good parental units too. So I guess it's not a surprise that she would 'perform' as intended.
Thus, instead of my snarky comments, all you get are photos from Ellen.