Tags
2018 MLB Attendance, 2018 MLB Season, Angels, Astros, baseball, Blue Jays, Diamondback, Dodgers, Judge, Kershaw, Kluber, Mets, MillersTime Baseball Contests, MLB, Nats, Phillies, Red Sox, Scherzer, Stanton, USA Today Sports, Yankees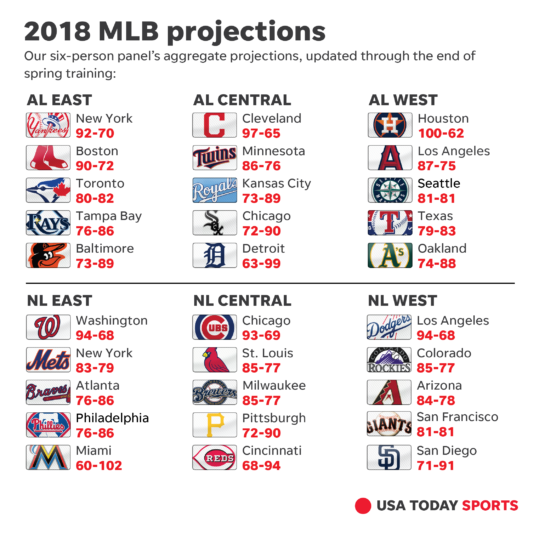 Finally, and happily for some of us, we're about 10% into the 2018 baseball season, and there are some early indications of what is ahead of us.
First, however, a look at what MillersTime readers, as gleaned from their entries into the annual contest, have predicted for the season:
1. It will be a Dodgers vs Yankees World Series and a toss up as to which team will win it all.
2. The Astros and the Nats will get close but not go all the way.
3. The American League will again win the All Star game ('"Duh," as my daughter writes).
4. Giancarlo Stanton will beat Aaron Judge as the first to hit 30 HRs, and Clayton Kershaw will beat Corey Kluber and Max Scherzer to 12 wins.
5. Nats fans think they'll win 96 games but most don't believe they'll get to or win the WS.
6. Sox fans (ever the pessimists) predict 93 wins but little chance of making it into or winning the WS.
7. Yankee fans think their heroes will win 96 and have a good shot at winning it all.
8. Dodger fans say 98.6 wins and have a 33% chance of winning the WS.
9. Pitching seems to be what most of you believe will be the determining factor in how your team fares.
10. Most of you think there will be at least one 20 game winner but no (starting) pitchers with an ERA under 2.0.
11. Most don't believe Stanton and Judge will hit as many HRs as last year (111) and certainly not 115.
12. Those who believe there will be at least three teams with 100 wins or more slightly out number the doubters.
13. And almost everyone believes that one of my grand kids will witness in person an MLB grand slam, a triple play, a no hitter, an extra inning game, or Teddy winning the President's race. If one of little tykes had been with me the other night, they would have seen two of those events.
As to how much we can know from the first 10% of the season, it does look as if the Nats are not the shoe-ins many predicted, and the Dodgers are off to a bad start, tho they seem to be trying to overcome that. The Yankees are struggling a bit, and unless their pitching improves, they may not even make it into post season.
On the other hand, the Blue Jays, Diamondbacks, and Angels are doing better than predicted, as are the Mets and the Phillies (watch out Nats).
And then there are my heroes, the Sox. As a true Boston fan, I swing back and forth between believing/fearing what's happening (16-2) is not going to last and hoping that everyone stays healthy and they continue to pitch, hit, and field at the rate they are now doing.
Finally, one big concern: the attendance at MLB is down markedly (see this article). It's not clear if that is weather related (probably not) or some other factors are at play. So, go to a game. Take a kid. Or a friend or two.