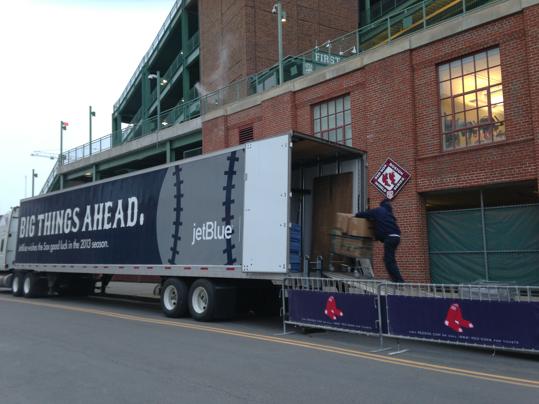 (Workers on Tuesday are loading a truck with the Red Sox' gear for spring training. Marie Torto photo)
2013 MillersTime Baseball Contests
A few changes for this year's contests in response to some readers' suggestions.
Primarily, I have de-emphasized the Sox and Yankees (only one contest involves these two teams), and I have tried to allow for your specific interest in a favorite team, a favorite player, and/or your baseball knowledge (or lack of it also) in general.
Contest #1:
Make a prediction about the 2013 MLB baseball season.
Your prediction could be about a team, a player, a record, an event, or whatever you think has a chance of happening in 2013. Lots of possibilities (what team will have the worst record, how many no hitters will be thrown, how many home runs will Bryce Harper hit, etc.?). One prediction only.
Of the predictions that come true, MillersTime readers will determine which one is the best prediction (and, therefore, who wins the prize).
Prize: All expense(s) paid over night car trip with me to Cooperstown between the end of the 2013 MLB season and Opening Day in 2014.
Contest #2:
Pick your favorite team and predict what their regular season record will be in 2013. Also, will they make the playoffs, and how far will they go if they do?
Prize: Two tickets to a regular season game your team plays in 2014. I'll try to get a particular game if possible.
Contest #3:
For the last several years now the All-Star game has had meaning as the winning League gets home field advantage in the World Series.  Which League will win the All-Star game in 2013, what will the score be, and who will be the MVP?
Prize: One ticket to join me at the 2014 All-Star game, but all three questions must be answered correctly.
Contest #4:
Two years ago the Washington Nationals' record was 80-81. Last year it was 98-64, and they made the playoffs.  Will they make the playoffs again this year? If you say "No," explain with specifics why they won't make it. If you say "Yes," how far will they go in the playoffs?
Prize: Two great seats/tickets to a Nationals' game in 2014 (will try to get the specific game the winner wants to attend).
Contest #5:
The Red Sox and the Yankees play 19 games this year. Last year they played 18, and the Yankees won 13 of them.  What will the split be in 2013?  Who will be the outstanding player for each team, and who will be the dud on each team this year?
Prize: Two tickets to a Sox-Yankee game in 2014. Winner can choose the park and whether or not I join (use the second ticket).
Contest #6:
Who will be in the World Series? Who will win it all?  Tiebreaker: Who will be the WS MVP?
Prize: Two WS tickets for 2014.
While it may be a bit early for some of you to focus on the best seven months of the year, remember, in case of a tie on any contest, the individual who submitted his/her prediction first will be the winner. Also, be sure to answer all parts of a question, including Tie-Breakers as some of the contests winners will no doubt depend on the Tie-Breakers.
If you get a friend or foe to participate in these contests and he/she wins and has mentioned your name in the email to me making the picks, you will join in the prize also.
You don't have to participate in all six contests.
Send your picks to me at Samesty84@gmail.com before 1:05 (ET), April 1, Opening Day.