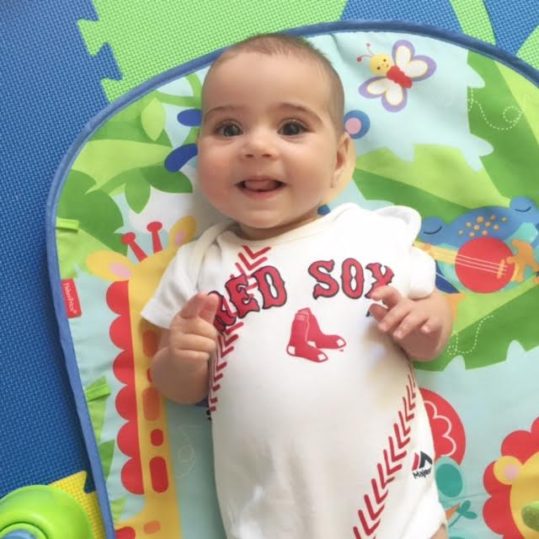 Dear Samantha,
From time to time I've written a 'letter' to your oldest cousin, Eli, usually to tell him something about an obsession of mine — baseball — which is a game that has many similarities to life (more about that another time).
While I know you can't read just yet, as you're not even seven months old, I still think it's never too early for me to begin talking to you about some of the important things a grandfather has learned and can pass on to his grandchildren. (You may remember in the first week of your life I talked to you about the importance of pitching over hitting, another subject to which I will return to in the future.)
This letter today, which I trust your good mother or good father will read to you, is similar to one I wrote to Eli in April of 2015 (see Letter to Eli: Never Leave Until It's Over). What prompts me to write you at this time is something that happened last night in Boston.
Our heroes, the Boston Red Sox (also known as the Sox) were on the verge of losing to our most despicable opponent, the New York Yunkees. The odds makers said that the Sox chance of winning this game was now less than 2%. It was an important game as the Sox were barely in first place in the American League East Division, and the Orioles, the Blue Jays, and the Yunkees were closing in on them. (Ask your parental unit about any of these details that you don't totally yet understand.)
The Yunks were ahead of us 5-2 in the bottom of the ninth, and there were two outs. One more out and we'd lose and then our grip on first place would be in further jeopardy. The Yunks had their closer in the game, a guy who throws the ball at 100 miles per hour. Things looked dire for the Sox.
Then, David Ortiz (ask your cousin Eli abut him) got a hit and drove in a run, but  the Sox were still behind (5-3 now) with two outs. Mookie Betts, (Eli knows about him too), the young Sox phenom, then got a hit, and the score closed to 5-4.
Still, just one out would have clinched the game for the Yunks.
With two men on base, and with a batting count of two balls and one strike, Sox first baseman Hanley Ramirez crushed a 99.3 mph fastball 426 feet to straight away center field, and the Sox walked off (ran off) the field with a 7-5 win.
An amazing comeback and probably the best win of the year for the Sox and a disaster for the Yunks, who now, rather being only three games out of first, were five games behind our heroes. (See this article if you want more details about the game.)
The lesson, of course, that I want to emphasize about this victory is that the Sox didn't give up, even when everything looked hopeless. The Boston fans (the game was at Fenway) all stayed until the very end. And of course I stayed with the game hoping for a miracle come-from-behind-win.
So, never, ever, leave a game until the final out, no matter how bad it seems. Even with two outs and facing a flame throwing pitcher who is good at getting strikeouts, there is always a chance for victory.
(I know, when you were two months old, your mother dragged you away from your first baseball game in KC after the second inning because she was concerned about the effect of loud noise on your ears. So it's probably OK, if on a rare occasion, for reasons beyond YOUR control, you may have to leave a game early. For example, there could be a medical emergency in your immediate family that only you can solve. You may have promised your spouse that this time you'd be home before midnight. Or your presence might be required at some other emergency involving your child or your work. Those may be understandable and partially excusable reasons for leaving a game early.)
But never, ever leave because you think the game is all but over and your team doesn't have a chance of winning.
The game, in baseball, as in other areas of your life, is not over until the final out is recorded.
Love,
GrandPapa