Tags
"Dina", "Lucky", "The Florida Project", Bria Vinaite, Brooklynn Prince, Columbus, Films, Haley Lou Richardson, Harry Dean Stanton, John Cho, Kagonada, Movies, Sean Baker, Willem Dafoe
Mini-Reviews by Ellen Miller:
I graduated from college in the late 1960's and majored in sociology. Though my working career focused on political accountability, I've learned since my retirement that I never really gave up that early interest of addressing social problems and thinking about how society and institutions work (or don't work). In fact, these interests drove much of my interest in "politics." (But I digress)
I also find that the books and films I most enjoy most these days focus on these topics. To wit, the last two films presented by the DC Cinema Club  — Lucky and The Florida Project. Both of these are stunning – five star, must-sees, one-of-a kind, leave-you-stunned-in-your-seat-kind-of-movies. (And, unusually, Richard agrees with my 5 star ratings on both these films.)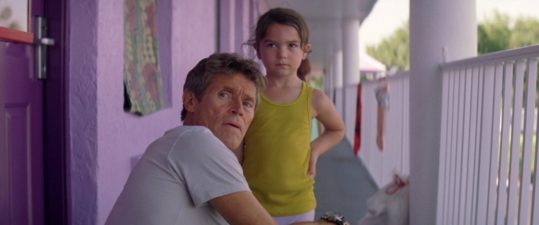 The Florida Project***** is set in a budget motel ("The Magic Castle") outside of Disney World in Florida. This narrative driven film focuses on the chaotic life of a six-year old girl and her rebellious 23-year old mother (played by Bria Vinaite). Although it is a fictionalized recounting of the lives of people living on the edge, it feels at times like a documentary. The acting is genius, particularly that of Willem Dafoe – the caretaker of the hotel –and the young girl Moonee (played by actor Brooklynn Kimberly Price). It is a life that would be hard to imagine any of the children escaping from unscathed, and so it's also a very sad film. The story is gripping until the very end.
The Florida Project is an accomplished film from director Sean Baker who has produced two other films (Starlet 2012) and Tangerine (2015) which also focus on people most of us don't know (or often don't care about). After you see the well-reviewed The Florida Project, you won't forget the children, the parents, nor the "community" that surrounds them.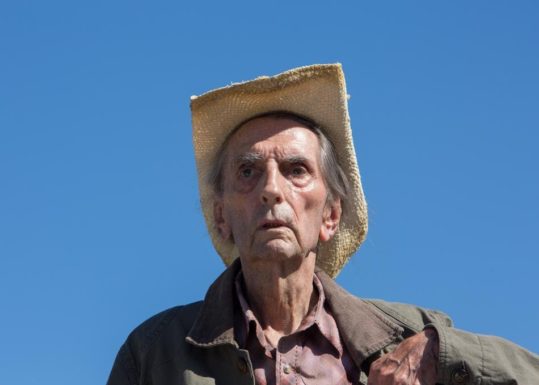 Lucky *****is a different sort of film, this one character driven. It is the story of an old man, one who essentially plays himself at age 93, and the quirky characters who live in his desert town.  The performance of Harry Dean Stanton (a long time accomplished actor who died just a few months after the film was complete) is a masterpiece – a tour de force. I'm not sure that Richard and I have ever seen anything quite like it before. One reviewer called it … "at once a love letter to the life and career of Harry Dean Stanton as well as a meditation on morality, loneliness, spirituality, and human connection."  This is a poignant film that doesn't overdue its theme.  It is also one that will stay with you.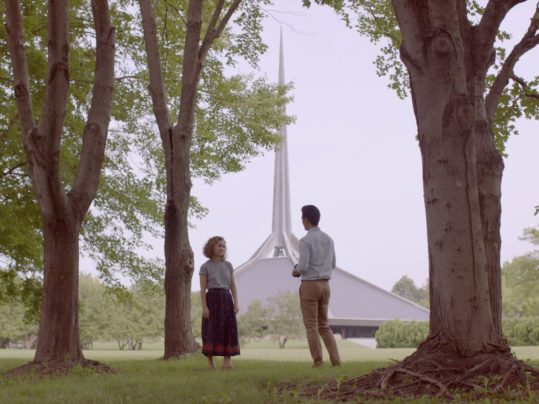 Columbus***** is another 5-star, award-winning film we have seen in the last month  that is must see. The story sounds kind of wonky: the son of a Korean-American well-known architect (played by John Cho) comes to Columbus, Indiana (a small Midwestern town known for its modern architecture). While waiting for his ailing (and estranged) father to recover from a sudden illness, the son develops a friendship with a young woman (played by Haley Lou Richardson) who is biding her post high-school career working at the local library and still living with her mother who increasingly depends on daughter for emotional support. The story is underpinned by exquisite cinematography and perfect pace. There is much talk of life, independence, architecture, and families. It is a film about the power of intellect and friendship. This is the directorial film debut for Kogonada, and it's stunning.
All three of the above films are now showing (or will be shortly) in the DC area. Put 'em on your list, and let others know what you think if you get to see them.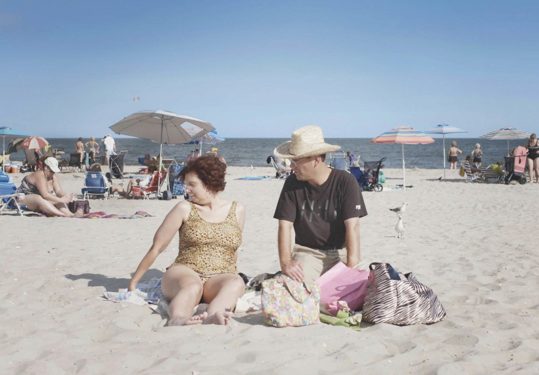 A fourth film we've seen in recent weeks is Dina*** (Richard ****) which has gotten better reviews than I give it. This is the story of the life of a woman on the autism spectrum, focusing mostly on her relationship with the man she marries. The cinematography is pale and wan which lends the film a sober feeling. As one might expect, Dina's life is a difficult life – always a bit out of sync with the world, her friends, her community. She is a sympathetic character – at times both funny and sad – without the ability to read nonverbal clues of those in her life. The movie is well-acted, but leaves you feeling a bit dreary. I wouldn't rush to see this one: Two of my three three stars are for effort. Richard rates it a bit higher, probably because he has worked with a similar population at some points in his career and says, "the depiction of the character is quite true to life."