Tags
"(T)error", "Anomalisa", "Dheepan", "Ixcanul Volcano", "Mustang", "Our Brand Is Crisis", "RAMS", "Remember", "The Club", "The Lobster", "The Pearl Button", "The White Knights, 24th Philadelphia Film Festival, Dalessandro's, Langiappe, PFF, Philly Cheesesteaks, The Best Philly Cheesesteak
Thanks to the encouragement and planning of long time friends, Ellen and I returned last weekend to Philly for its annual Film Festival. This time, between Thursday evening and late Sunday evening, we saw 12 films.
Many of these films are just now being shown in theaters across the country or will appear over the next six months. Many are subtitled, foreign films, some are documentary or documentary-like, and most are about women, families, or relationships that provided sobering assessments of the world, even though they were captivating films.
Here are brief notes on the 12, along with ratings by both Ellen and myself (five stars generally means an outstanding film, and anything rated below three stars, we clearly did not enjoy). We did not see each others' ratings until I completed this post, but we did talk about the films with each other and with our friends throughout the weekend.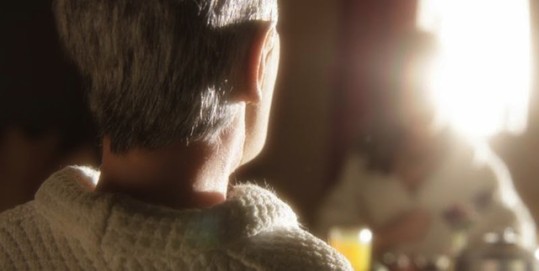 Anomalisa – This opening night film, directed by the well regarded Charlie Kaufman (and Duke Johnson), was highly touted by the artistic director of the festival and was the winner of the Grand Jury Prize in Venice. It's a stop frame/animation about loneliness and the inability to connect and/or stay connected. I've never been much of a fan of animation and initially thought it was too odd a film, but, as Ellen said the next morning, "The more I think about it, the more I think about it."  The story is an often and sometimes over told one. What's new here is how the story is told, and I guess that's the point. Using Washington Post film critic Ann Hornaday's three guidelines (what's the director trying to do, how well does he do it, and is it worth doing), Kaufman is successful in what he set out to do. While the movie grows on you once it's over, I found I had to work too hard to like it.
Richard's rating *** (2 stars when I left the theater, raised to 3 the more I thought about it.)
Ellen's rating *** ("Just as most of the hype about Boyhood was about how it was made, the same can be said about Anomalisa.")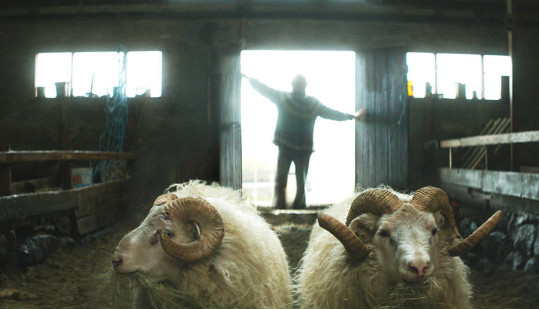 Rams – Set in the hinterlands of Iceland, this film is the story of two brothers — both sheep farmers who live next door to each other on large ranches — who haven't spoken to each other for 40 years. But new problems make their relationship even more strained and then ultimately force them together. Each scene is beautifully composed, and the acting is wonderful. This is less a film about Iceland as one about the relationship between the two lonely, stubborn, hard working men in a largely isolated part of the world.
Richard ****1/2
Ellen ****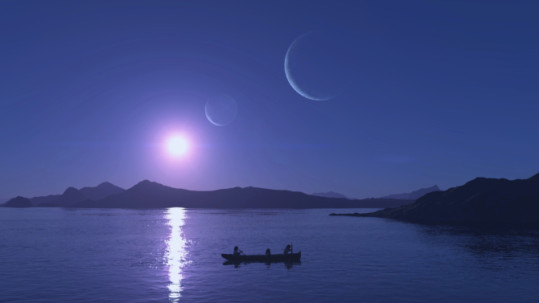 The Pearl Button – Winner of the Best Screenplay at this year's Berlin Film Festival, it sounded good from the description — "Stunning new documentary from the great Chilean filmmaker Patricio Guzman. The Pearl Button chronicles the history of the indigenous peoples of Chilean Patagonia."  But aside from many wonderful visual presentations, the message — why and how colonization and brutalization wiped out the indigenous Patagonian population — was confused and unfocused. This is one of the two films we could have/should have skipped.
Richard **
Ellen *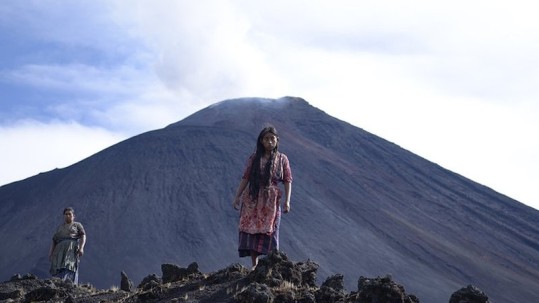 Ixcanul Volcano – Guatemala's first ever submission for the Oscar's Best Foreign Film and a very good one. This film concerns a young Mayan girl, Maria, her family, and their difficult life in a mountainous region of Guatemala. When Maria makes an adolescent choice, the families' life becomes even more tenuous. Although the film is fiction, it feels like a documentary and was made with actors who are local people — not professionals. Particularly wonderful is the mother, both as a character in the story and how she portrays that character. This film was the winner of the Silver Bear (second best award) at the Berlin Film Festival. I suspect Ixcanul Volcano may be too small of a film to be widely distributed in the US. That would be a shame.
Richard *****
Ellen ****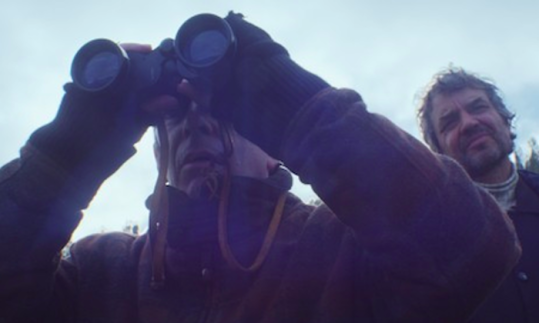 The Club – This is a very "dark" film about a small group of priests living together in isolation because of their past transgressions in the Catholic Church. The history of these men is gradually revealed in stunning and horrific detail. When a new priest joins their group and as their presence becomes an issue in the small Chilean town of La Boca, their previous quiet existence is threatened. The muted photography adds to the mystery, tension, and darkness of the story. It's a memorable film and was the winner of Grand Jury prize at Berlin.
Richard ****
Ellen *****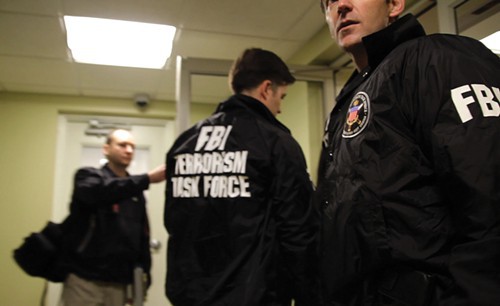 (T)error – A documentary of an FBI undercover informant who is working an anti-terrorism "beat" and who allows filmmakers to follow him during a 'sting'. Described as a "real-life thriller examining domestic safety in a post 9/11 world," it is not so much a thriller as it is a fascinating inside story of the relationship of an informer, a suspected Muslim terrorist, and the FBI. Largely told from the point of view of the informer and, to a lesser degree, the suspected terrorist, no real heroes emerge, and all three parties seem disreputable and tarnished by the end of the documentary.
Richard ***1/2
Ellen ****
The White Knights – A Belgian-French film directed by Joachim Lafosse and based in part on a real life story about a nonprofit organization that sought to 'rescue' orphan children in Chad for adoption in Europe. What initially seems an idealistic agenda quickly becomes a quagmire. And ultimately the children are once again the victims. The film raises a series of ethically challenging questions for the charity, the intermediaries in Chad, and even those seeking to adopt the orphans. A well told and well presented story, The White Knight feels like a documentary and leaves the audience with much to think and talk about.
Richard *****
Ellen *****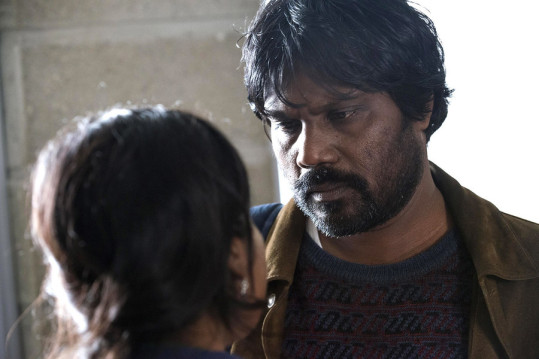 Dheepan – Though too long and in need of some editing, this film is an absorbing and consuming look at what the refugee experience is like for three, unconnected refugees from Sri Lanka. These individuals flee their war-torn country and end up in another conflict zone, this time in suburbs of Paris. I'm not sure the ending was in concert with the rest of the film or was largely just an attempt to make the audience feel good. Still, this is an engrossing, well acted, and well done film. Given the current events with refugees fleeing Syria and trying to get to Europe, Dheepan is not only timely but also gives insight to what it must be like for individuals and families who must leave their homes and their history in order to stay alive.
Richard ****
Ellen ****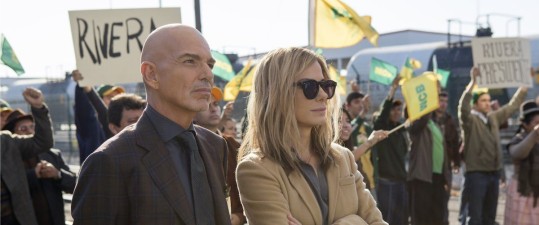 Our Brand Is Crisis – An engaging political drama loosely based on the true story of the 2002 presidential elections in Bolivia. Two consultants peddle the worst aspects of American elections to the candidates and the local electorate. It might have been a better film if the post election ending didn't feel so contrived. This is a big box office film starring Sandra Bullock and Billy Bob Thornton. If you like or hate 'dirty politics', this one is for you.
Richard ***1/2
Ellen ****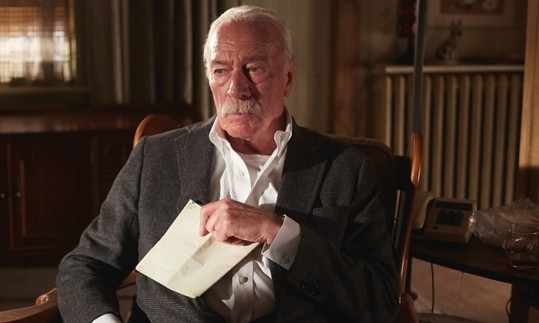 Remember – A 90-year old man seeks revenge for the death of his and a friend's family at Auschwitz. It's a tightly told story that engages — and then surprises — to the very end. Yet another — and very different — take on the Holocaust, with a likely award winning performance by Christopher Plummer. We were all captivated by the story and the acting.
Richard ****
Ellen *****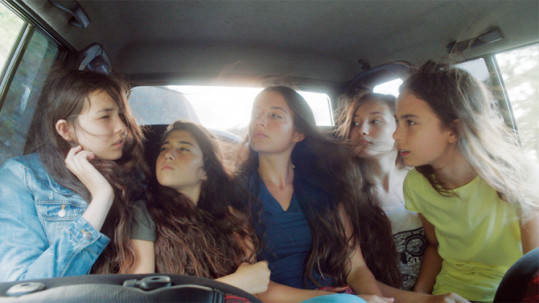 Mustang – Set in Turkey, five orphaned girls are being raised by a grandmother and uncle in a small town. It's a coming of age story set in a traditional society that wants to maintain its traditional ways for its young women. Mustang is a very engaging story and portrayal as very different generations struggle against each other and a changing world. And it doesn't work out well for the five sisters nor for the grandmother or uncle.
Richard ****
Ellen *****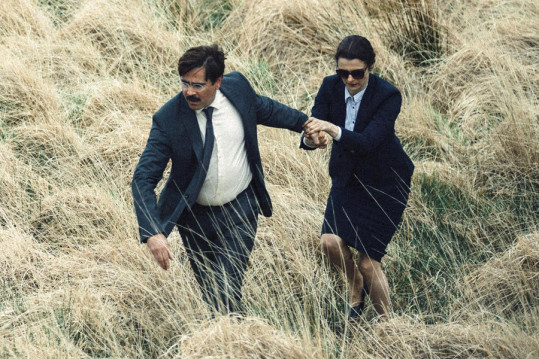 The Lobster – This film was highly touted by the festival organizers and was apparently a big hit in Toronto. I couldn't find much worthy in this one and was never sure what the director intended. Described as a dystopian, dark, comedic love story, it didn't hold together and was simply weird. It was shocking to us that it was the winner of the Jury Prize at this year's Cannes Festival. Maybe we just weren't smart enough to 'get it.' (I should have followed my instincts and not the crowd, avoided this one, and gone to see something — anything — else instead.)
Richard *
Ellen No Stars ("The more I think about this film, the less I think about it.")
Finally, a note about the Philadelphia Film Festival itself and what it's like to spend three plus days seeing one film after another.
For a mere $120 you can get a pass for the opening weekend of the festival. If you wish, you could see up to five films a day, with no difficulty with getting into every film you want to see (the pass gives you first entree into every film). The theaters where the films are shown are mostly within walking distance of each other, and there's usually enough time between films (which start about noon and continue through late evening) to get to the next one, to stand in line with others, and to chat about what you've just seen, what others have seen or what is the latest buzz about other films. There's even enough time to go to one of the area's good, small restaurants to continue your discussions about the films and what you might see next.
We were fortunate enough to be in the company of two other couples who live in Philly and who have long been attendees at the festival. They often knew 'inside' stories about the various films. Plus, the festival program is well designed and gives you a good deal of information about each film.
While seeing up to four films a day sounds daunting, it actually wasn't. There was just enough time to find a bathroom, get a snack, review what we just saw and get ready for the next film.
We highly recommend the experience, especially because unlike some of the larger and more well known festivals, it is easy to get from film to film and to see every one you want. Occasionally, we had difficulty choosing between two films showing at the same time. If we lived in Philly, that wouldn't be a problem as most of the films are shown twice, often a week apart as the festival covers 11 days.
#  #  #  #  #  #  #  #
Lagniappe (something extra — origin: south, especially New Orleans) for those of you who have made it this far in today's post:
Philly Cheese Steaks – While I would never claim to be even moderately capable of judging what is the best Philly cheesesteak, I do have a second cousin (Dave Goodsmith, the son of my first cousin) who has written recently about a study he undertook to try to answer that age old question (see: Scientifically: Who Makes the Best Cheesestake, by Michael Klein, Philly.com/Friday, October 2, 2015, 11:19 PM).
So, of course, before we left Philly to return to DC, we made a trip to Dalessandro's (600 Wendover St., Roxborough area). While I can't compare this hole in the wall with the others on his list, I can say that if you think you know who has the best cheesesteak in Philly, you'd better check out Dalessandro's. From my admittedly limited experience, it was the best one I've had.
Bring cash (not too much) and know what you want to order. There are a half dozen or so stools at the counter and three outside tables.