Tags
"A Man Calleld Ove", "A Separation", "About Elly", "Do Not Resist", "Fire at Sea", "Graduation", "I, "I Am Not Your Negro", "La La Land", "Moonlight", "OJ: Made in America", "Queen of Katwe", "The Oath", "The Past", "The Unknown Girl", "Things to Come", 25th Film Festival, Adrian Titieni, Andre Holland, Asghar Farhadi, Barry Jenkins, Best Documentary - Tribeca Film Festival, Craig Atkinson, Cristian Mungiu, Daniel Blake", Dardenne brothers, Dave Johns, David Oyelowo, Emma Stone, Ezra Edelman, Gianfranco Rosi, Hannes Holm, Haylet Squires, Iceland, Isabelle Huppert, James Baldwin, Janielle Monae, Ken Loach, Lupita Nyong'o, Madine Nalwanga, Mahershala Ali, Malcolm X. Martin Luther King, Medgar Evers, Mia Hansen-Love, Mira Nair, Modern Musical, Naomie Harris, PFF, Philadelphia Film Festival, psychological thriller, Rolf Lassgard, Ryan Gosling, Samuel L. Jackson, Shahab Hosseini, Taraneh Alidoorti, Tarell McCraney, Trevante Rhodes
For this post, you're gonna need a pencil and piece of paper (or whatever you use these days to jot things down, i.e., movie titles that you want to remember or want to add to your 'to see list.')
Of the 15 films mini-reviewed below, almost half of them are now out in the theaters or will be out within the next month or two. Most of these we saw recently at a film festival in Philadelphia.
25th Philadelphia Film Festival:
For each of the past three years we have attended this festival (PFF) with long time friends who have been involved with it since it began 25 years ago. It has grown on us, and we look forward to it in large part because in a short period of time we are able to see almost a dozen films. It is easy to get into each film, and there always seem to be more films than we can fit into this four day weekend.  It's fun to go through the well organized program of almost 100 films (most of which are shown twice over the 10-day festival) and then compare with our friends which ones we should choose to see. Additionally, it's enjoyable to talk with other film enthusiasts we meet in line prior to the beginning of each film about what they've seen, enjoyed, and plan to see. We buy a weekend package for $105 a person (that package price ranges from $105 to $170, depending on when you purchase it), and it gives us first access to every film being shown over the four day opening weekend.
In the order in which we saw these 12 films:
La La Land **** (Ellen *****)
This film opened the PFF and had won awards at two other film festivals (Toronto – People's Choice Award – and Venice – Best Actress and nomination for Best Film). It's done in the style of an old-fashioned Hollywood musical —  a love story of an aspiring young actress (Emma Stone) who works in a coffee shop at Warner Bros. and a young jazz pianist (Ryan Gosling) whose dream is to open his own jazz club. The film opens with a 'single shot' musical number on a ramp to an LA freeway, and songs and dancing continue as the story develops.
I'm not much of a musical theater/movie kind of a guy (except for a few classics and something as wonderful as Hamilton), but once I got into the story, the film grew on me as the acting and the cinematography were enough to carry me along. Ellen rated it higher than I did, saying, "The more I think about it, the more I think of it."
Things to Come ***1/2 (Ellen ***)
This French film is the story of middle aged, dedicated philosophy professor (Natalie) at a high school in Paris whose life begins to fall apart as she faces a series of losses. Under the direction of Mia Hansen-Love, Isabelle Huppert portrays a woman whose life unravels and how she copes with these losses.
For us, despite a strong acting performance by Huppert, there didn't seem to be much new in the story nor much to take away.
Fire at Sea *** (Ellen ***)
This documentary won the Golden Bear Award (Best Film) at the Berlin film festival, and we had looked forward to seeing it. Because a previous film ran over, we missed the first 15 minutes of Fire at Sea and found ourselves a bit lost as we watched it. However, others who saw the film from the beginning felt the same way.
There were two stories being presented: one about a horrific journey of refugees coming from Africa and the Middle East to a small Italian island (Lampedusa) between North Africa and Sicily and a second story about life on that island.
There is no commentary in the film and what the audience sees and learns is simply what the camera shows. (Subsequently, we learned that at the opening of the film, there was an introductory note explaining that over 20 years 400,000 immigrants had come by boat on their way to Europe and at least 15,000 had died in the short journey.)
The cinematography is terrific, but there is little obvious connection between the scenes. Hence we were often at a loss to connect the various segments presented. The filming of the desperate journey and the lives and deaths of the refugees is powerful and unforgettable and documentarian Gianfranco Rosi's filming is as compelling as anything I've seen on this subject.
But at least half of the film is spent documenting the everyday life and tranquil existence of a young boy and several others who live on the island and who seem to have no connection to the refugee crisis.
Whether we just didn't get what Rosi was trying to convey, or perhaps because he gave us few clues of why he was presenting two different stories, we found ourselves confused. We kept looking for the connection and couldn't find any.
In retrospect, the juxtaposition of the two stories was the intent of the film, and perhaps we just weren't clever enough to understand that connection.
The Unknown Girl **** (Ellen ****)
This Belgian film (in French) is from the directors, the Dardenne brothers (The Kid on the Bike and Two Days and One Night), and is a story about a young doctor who is troubled by the death of an unidentified immigrant. Wonderfully acted by Adele Haenei, we are treated to two stories: one is the doctor's search to find out more about the victim and who or what caused her death, and the second story is about this doctor's struggle with what it means to take care of patients and to save lives.
Perhaps not as outstanding or as memorable as either The Kid on the Bike or Two Days and One Night, it nevertheless captured us because we were enthralled by the character of the doctor and Haenei's portrayal of what the best kind of doctoring can be.
The Oath **** (Ellen **** 1/2)
We saw this "taut psychological thriller" after having seen three other films the same day. We were drawn by the setting, wintry Iceland, and by the idea of simply being entertained and lost in a story that maybe we didn't have to think about too deeply.
It is the story of a father, a surgeon, and his attempts to protect his daughter from a drug dealing boyfriend. The plot is engaging, the film was well made, and we enjoyed seeing an Iceland that we had recently experienced.
If you're interested in an escapist thriller that starts out with the concerns that any father (parent) might have about a daughter (or son) but quickly becomes more than that as this father gets sucked into a world he never knew, you might like The Oath.
Frantz ***** (Ellen *****)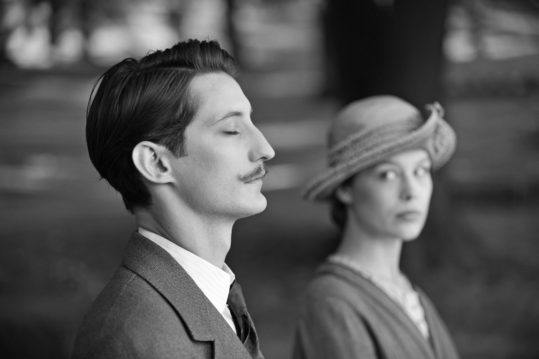 Unquestionably our favorite film of the entire festival. This is a romantic film about love, loss, family and late stage of coming of age. It takes place just after WWI focusing on the fiance of a dead German soldier (and his family) and a mysterious French soldier whose lives intertwine in unimaginable ways.
From every aspect — the story, the photography, the acting, the directing, and the production, we both couldn't imagine a better film.
Graduation **** (Ellen ****)
Winner of the Best Direction (Cristian Mungiu) at Cannes, this film is the second one we saw where the story focuses on how far a father, also a physician, will go to help his daughter.
Less dark and more realistic than The Oath (see above), Graduation is as much a story about a dysfunctional society (modern Romania) as it is about a father who desperately wants his daughter to succeed (academically). It's a story of corruption and morality, and the two plus hours it takes to tell the story goes by quickly.
Adrian Titeieni, as the father, is one reason this film works so well, and his performance, along with the direction of Mungiu and a credible plot all make for a satisfying and successful film.
I Am Not Your Negro ***1/2 (Ellen ***)
This film is based on a 30-page 'outline' of a manuscript in the making, written by James Baldwin in 1979. His plan was to write about the lives and deaths of three of his friends — Medgar Evers, Malcolm X, and Martin Luther King, Jr. — and about his own experiences growing up in the US and his own place in the civil rights movement.
It is presented as a kind of 'tone poem' with a series of images and archival footage — linked by Samuel L. Jackson's reading of portions of Baldwin's manuscript — in an attempt to connect the civil rights movement  culture of the 50's and 60's. Unfortunately, for us, the film felt choppy and unfocused.
However, the best, and definitely the most successful part of this film, is that the audience is (re)introduced to James Baldwin. With Samuel L. Jackson 'reading' from Baldwin's 'essay' and with the footage of Baldwin himself talking about race in America, we understand (once again) the relevance and brilliance of James Baldwin. That alone may be a reason to see this film.
Do Not Resist *** (Ellen ****)
Director Craig Atkinson spent two years traveling through 11 states, starting with Ferguson, MO, to examine increasing militarization of the police in cites and towns throughout the US. Much of what he finds and reports is familiar and disturbing.
The film, though, is a polemic, at the same time it presents a disturbing narrative about the militarization of the police and its consequences. It is unlikely to convince people to think differently than they already do, and it is likely to reinforce positions you might already hold this issue. But we think it's a must-see.
Do Not Resist won the award for Best Documentary film at the recent Tribeca Film Festival.
OJ: Made in America ***** (Ellen *****)
When we initially saw that this five part documentary was being shown at the festival, our reaction was "why spend almost eight hours on this and what could possibly be new to say?" Then we read the description in the PFF program which raved about the film and the directiors. Once in Philly, we heard a good deal of 'buzz' about it, and our friends as well had seen Part 1 on Hulu and raved, saying they would watch the other four parts also (each part is 2 hours).
So we decided to see Part I & a bit of Part II and let that determine if we would later want to see the entire documentary. What we saw was a mesmerizing review of the early years of OJ's life filled with information we had not known. After two plus hours, we knew we wanted to see more and will do so.
Briefly, this 2016 documentary by ESPN films, produced and directed by Ezra Edelman, is a detailed history of OJ's career, his alleged crimes, and also a captivating account of race relations in America over the past 50+ years. It's been described as "a true crime thriller," and it is also much more than that.
After just two hours, we knew we wanted to see all of it. A must see.
I, Daniel Blake ***** (Ellen *****)
This film was another one of our favorites and apparently of others too as it won the 2016 Palme d'Or (top prize awarded at Cannes).
The prolific British director Ken Loach tells the story of a 59 year old Newcastle carpenter Daniel Blake (Dave Johns) who has recently had a heart attack and has been told by his doctor that he cannot work. Thus begins a struggle to survive financially (and emotionally) as he enters the 'no man's land' of the British social services. A (platonic) friendship develops between Blake and a single mom (Hayley Squires) as both try to survive in a world and a system of shrinking opportunity and assistance.
Loach tells the story plainly and sparingly, the acting is excellent, and you'll find your self cheering for Blake and identifying with him if you've ever been wronged by "the system."
The Salesman **** (Ellen ****)
By the Iranian writer and director of A Separation, the 2011 Academy Award winner for the Best Foreign Film, The Salesman is Iran's submission for the 2017 Academy Awards.
In this film Asghar Farhadi continues to focus on the roles of husbands and wives in modern day Iran. A young couple is forced to move apartments because of an earthquake and soon after relocating an incident occurs that shakes their lives and their marriage in a challenging way.
(There is a subplot that concurrently involves this couple as they are playing the two leading roles in a stage production of Arthur Miller's A Death of a Salesman.  I'm not sure this part of Farhadi's story works well, though there's food for thought in trying to make the connection.)
The two leading actors, Shahab Hosseini and Taranh Alidoorti, are outstanding, particularly Hosseini, and together with a good story and an unpredictable plot, the film has already won a number of awards, both for acting and for the screenplay. A Salesman doesn't reach the heights of A Separation but nevertheless will stay with you after you've left the theater.
Other Films Seen Recently:
A Man Called Ove **** (Ellen ****)
If you've read this 2014 best selling novel by Frederick Backman, I suspect there is no real need to see the film.
But if not, and if you're looking for an entertaining two-hour film, you'll probably enjoy A Man Called Ove.  We did.
With a few similarities to I, Daniel Blake, it's the story of a (cranky) 59 year old man who recently became a widow and soon loses his job. His one remaining activity other than visiting his wife's grave is his self-appointed job of daily watching over ('policing') his small community and largely being a pain to all his neighbors. With not much reason to live, Ove (well portrayed by Rolf Lassgard) is in the process of ending his life. Several things happen to interrupt this 'chain of events' and lead to a reevaluation of where he's headed.
There's sadness and humor, and a message about sharing one's life and the value of community. With good direction by Hanes Holm and good acting by Lassgard, A Man Called Ove is a feel good story that gives pause to Ove's feeling that life is no longer worth living.
The film is Sweden's official entry for Best Foreign Film for the 2017 Academy Awards.
Moonlight **** (Ellen ****1/2)
We didn't get to see this film at either the PFF or in our Sunday Cinema Club, but since it has been released nationally, we saw it last weekend. It is a film that has been highly praised since its release (see Ann Hornaday's Washington Post review where she writes viewers "will see a perfect film.").
Based upon Tarell McCraney's play In Moonlight Black Boys Look Blue, it is both a coming of age story and a love story. Divided into three parts, we see Chiron as a young boy of nine ("Little"), then as a teenager ("Chiron"), and finally as a grown man ("Black"). Three different actors play Chiron.
Set largely in Miami, we follow a shy withdrawn black boy who is bullied because of who he is and who he may be. Raised by a drug-addicted  single mother Paula (Naomie Harris), he is befriended by Juan (Mahershala Ali) a drug dealer and his girlfriend. Chiron also makes friends with Kevin, his only grade school friend. Each of the primary actors is played by three different actors as the story moves from childhood through adolescence and into adulthood.
The themes are universal — identity, sexuality, masculinity, family, relationships, love — and the direction, cinematography, music, and fine acting together somehow make for a fresh look at these issues, in part, but not wholly, because it is a story of African American characters.
Queen of Katwe ****1/2 (Ellen *****)
I'm not sure this film has had much publicity, but we both loved it and recommend it.
That's partially because it's a feel good movie, but even more so because it is a true story captured by three marvelous performances, beautifully and colorfully filmed, all under the wonderful direction of Mira Nair (Salaam Bombay, Monsoon Wedding).
It's about a nine year old Ugandan girl, Phiona Mutesi (Madine Nalwanga), who lives with her widowed mother (Lupita Nyong'o) in a crowded Kampala Uganda slum. With the encouragement of a young missionary do-gooder (David Oyelowo) who works with young people, Phiona gets interested in playing chess. Her world changes as she learns the game and decides she wants to be an international chess champion. With support from her family and community and with her intelligence  and determination, she works toward her goal and through a number of various challenges.
A lovely story, well told.
**          **          **          **          **          **          **
Summary, listed in order of our favorites:
Frantz ***** (Ellen *****)
OJ: Made in America ***** (Ellen *****)
Queen of Katwe **** 1/2 (Ellen *****)
La La Land **** (Ellen *****)
I, Daniel Blake **** (Ellen *****)
A Man Called Ove **** (Ellen ****)
Moonlight **** (Ellen **** 1/2)
The Unknown Girl **** (Ellen ****)
The Salesman **** (Ellen ****)
The Oath **** (Ellen ****1/2)
Graduation **** (Ellen ****)
I Am Not Your Negro *** 1/2 (Ellen ***)
Things to Come ***1/2 (Ellen ***)
Fire at Sea *** (Ellen ***)
Do Not Resist *** (Ellen ***)