Six mini-reviews: three by Ellen and three by Richard
Ellen:
Good movies transport you…. back into history, to stories of unimaginable horrors, or into the every day lives of famous people. This 'suspend-my-real-life-and take-me-on-a-trip' quality is why I so enjoy them. Each of these three movies Richard and I have seen in the last couple of weeks all contain the elements most important for my enjoyment — strong narratives, first-class acting (and great characters), and strong screenplays.
Marshall – Ellen **** Richard ****
Marshall is the simple, straightforward retelling of a 1940's criminal trial in Connecticut early in the career of Thurgood Marshall (Chadwich Boseman). Marshall is representing the NAACP in defending a Black man charged with rape and attempted murder of a white society woman. No local counsel would take the case, so the NAACP stepped in to help, but the Judge outrageously barred Marshall from actually handling the case. So Marshall bullied, cajoled and "stage managed" a local insurance lawyer to be the lead counsel. The hostile environment and characters – and the eventual friendship between the key lawyers, play out along expected lines yet this is a deeply satisfying story of good vs. evil. (No spoiler alert. You've got to see it to see who wins the case.)
The story is the strength of this film and the portrayal of Marshall and the local lawyer, the tension of the trial itself make for a compelling drama. (It is based on an actual case in the 1940's in Bridgeport, Connecticut.) The lawyers' instinct in understanding how cultural attitudes shape jury selection and their sympathies to their client, and the racial, religious and gender discrimination undertones of the times — add immensely to story of the legal maneuverings.
Note that this is not bio epic of Thurgood Marshall but offers a glimpse into the beginnings of his historic career. This movie isn't a 5 star, but it's more than worth seeing!
I, Tonya – Ellen *****  Richard ****1/2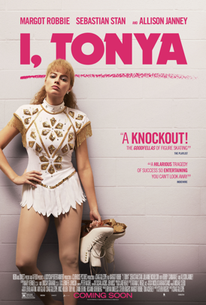 This film headlined the Philadelphia Film Festival (which we missed), and now I understand why. It's horrifying and satisfying, breathtaking and sad. The acting, filming, and direction are superb and there's not a moment of boredom in it. It should be opening soon near you. Go see it.
The film explores the full story of Tonya Harding (figure skating star in the 1990's) — her highs and her lows — along with accusations of her attacking and disabling a rival skater.
Production and direction is key to this film's success. In the preparation of the screenplay, the directors (Steven Rogers and Craig Gillespie) interviewed all the major players: Harding herself (Margot Robbie) ; Tonya's mother (played exquisitely by Allison Janney); Jeff Gillooly (Sebastian Stan) and his sidekick Shawn Eckhart (Paul Walter Hauser). The actors act out portions of those interviews throughout the film, and the film cuts back and forth between them and the exposition of Harding's life, her skating achievements and disappointments, her lifelong abuse from her mother and her husband and her inability to step away from any of it, and her dreams. It also delves deeply into the classism of the figure skating world.
This is a difficult movie to watch at times, but it is a must-see.
Three Billboards Outside Ebbing, Missouri – Ellen ***** Richard*****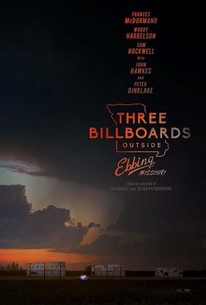 Another must-see film. I think it's one of the best-acted, directed and written films we have seen all year. Ahem. Think best actress for the star (Frances McDormand) and best screen play for the writer/director Martin McDonagh.
The script is both clever, tough, and yes, even funny.
The story unfolds nine months after the murder and rape of Mildred's Hayes' (McDormand) daughter. The police are not trying hard enough – the murder or a teenager has no priority for them she claims – and so she takes unusual actions to drive their attention to the case. This small town in rural Missouri is filled with as many interesting characters (the Sherriff is played by Woody Harrelson and one of his deputies is played by Sam Rockwell) as it is by its multiple prejudices. The acting is near perfection.
Three Billboards is not an easy movie to watch. The anger which drives the film is palpable long after the film is over. Don't miss this one either.
**               **               **               **               **               **
And three more mini-reviews, ones I saw while Ellen was out of town.
Richard:
I'm a sucker for a good story, well told, and for me that usually takes precedence over all the other reasons for enjoying and loving a particular movie. Only one of the three below makes it to my top category.
Wonder – Richard*****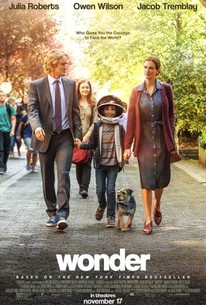 On the recommendation of three MillersTime readers, I read this novel several years ago, and it became one of my favorite reads that year. Authored by R.J. Palacio, pen name for Raquel Jaramillo, it's the story of a young boy, severely facially dis-formed at birth, and his ensuing struggle to attend school, which he enters in the fifth grade. Although I generally will choose a nonfiction over a fiction treatment of these type of stories (Ghost Boy, for instance), there is something quite appealing about Wonder. It not only tells the story Auggie, the boy struggling with his physical deformity but also delves into what those around him, his parents, his sister, a number of other fifth graders, their parents, and the school authorities see, experience, and do.
It is rare, I believe, for a film to be equal to or better than a book. However, Wonder, as a film, captured me and despite its 'tidiness' (SPOILER: everything eventually works out well, too well?), the screenplay had me choked up at least a dozen times and brought tears a number of times also, not only because of the boy's struggles but also because of how well it told not only his story but also his sister's and his parents' struggles too. The performances, particularly Jacob Tremblay as the boy Auggie, Izabel Vidovic as his sister Via, Julie Roberts as his mother, and Owen Wilson as his father, are just right.
Take your upper primary or middle school child, or, if you're a grandparent, your grandchild to see it. We did. I saw it a second time with Ellen yesterday and our third and first grade grandchildren. Their ratings – Abby *****, Eli ****, Ellen *****
Roman J Israel, Esq. – Richard ***1/2

Despite mixed reviews and a good deal of critical reporting about an unfocused story, I went to see Roman J Israel, Esq., largely because the story still sounded promising, and Denzel Washington, a favorite of mine, played the lead character.
It's not the Denzel you know from his other performances. In fact, he's almost not recognizable (which is a positive if you sometimes get distracted watching a familiar actor/actress).
Somehow he inhabits the lead character, and you can't help but cheer for that character who struggles to maintain his values and his outrage with a world that is often hostile and generally unforgiving to a person with values
If you can put up with a story that doesn't quite work (though it doesn't miss by a lot), then Denzel's performance is worth your time and money.
Murder on the Orient Express. Richard ***
I must admit I had never read this wonderful Agatha Christie thriller, nor had I seen the highly praised 1974 Sidney Lumet film. But before seeing this new version by Director Kenneth Branagh, I listened to the audible reading of the mystery by Branagh — a murder on a train and detective Hercule Poirot's investigation to determine the killer. I was enthralled.
However, in this instance, the film fails to match the book/audiobook. Despite some lovely scenery, both on and from the train, and a cast that includes Penelope Cruz, Willem Dafoe, Judi Dench, Johnny Depp, Michelle Pfeiffer, Daisy Ridley, and Josh Gad, the story is not well told. It's choppy, hard to follow, and too dominated by Branagh himself who in addition to directing the film, overplays the character of Poirot.
Save your time and money.  It's just not very good.
In fact, take that time and money and either read the original story, listen to it on tape, or find the 1974 film version starring Albert Finney, Lauren Bacall, Martin Balsam, Ingrid Bergman, John Gielgud, Anthony Perkins, Vanessa Redgrave, etc.