Tags
"Amsterdam", "Call Me by Your Name", "Faces Places", "Jane", "Lady Bird", "Loving Vincent", "The Square", "Vogh: A New Way of Seeing", Agnes Varda, Brett Morgen, Film Reviews, Gombe Stream National Park, Hugo Van Lawick, Jane Goodall, Movies, National Geographic Films., Philip Glass, Ruben Ostlund, Van Gogh Museum
Reviews by Ellen Miler
Given the fact that we traveled for two plus weeks in China this month, we managed to see some very excellent films since our return. All of these are very much worth seeing, with a few caveats included in the reviews. Read carefully!
Call Me by Your Name:  Ellen *****  Richard ****
This is a remarkable two-hour plus drama, set "somewhere" in northern Italy in the long hot summer of 1983. The main character of this story is the precocious 17-year old son of a professor of ancient Greco-Roman culture and his wife. The film focuses on Elio's (Timothee Chalamet) late adolescence and his experimentation with his sexuality.
What is unusual about the film is the astonishing sensitivity with which it deals with the issues. The relationships between father and son, the mother and son, Elio and his first girlfriend, and ultimately between Elio and his love — the handsome, debonair graduate student (Armie Hammer) who is studying with the professor (Michael Stuhlbarg) -– are tender, emotional, delightful, and fraught with tension. The story is well-told. With perfect pace, you sympathetically watching Elio fall deeply in love with Oliver and watch him suffer the consequences of the affair's predictable end.
But there is no tragedy here. This is a deeply satisfying film of love and life, which is exquisitely acted by all the main characters, exquisitely paced, filmed, and produced. The film was much heralded at the Toronto Film Festival. Roger Ebert has said that this film is "far and away the best movie of the year." It's a must see.
Lady Bird: Ellen *****  Richard ****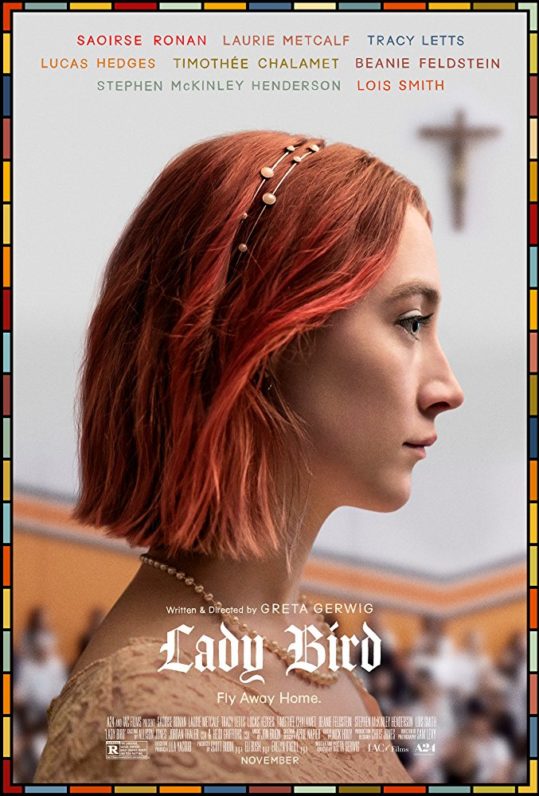 Lady Bird is another a coming-of-age story which focuses on the relationship and the natures of the two lead characters. Lady Bird (Saoirse Ronan), as she likes to be known, is a high school senior not of the mainstream. She is independent, unpredictable, and thinks she knows 'it' all. Her mother Marion (Laurie Metcalf), a nurse, knows that her daughter doesn't. Lady Bird wants to leave her home in Sacramento after she graduates, and her mother – who is responsible for the family's financial wherewithal (the father has 'been retired' by his previous job.) – consistently discourages her ambitions. Their relationship is filled with tension throughout the film. Additionally, there are also several interesting side stories of teenage angst as Lady Bird becomes sexually active.
For me the highlights of this film are the scenes between the mother and daughter (all superbly acted) that are the most instructive. Sometimes you identify with the daughter, sometimes with the mother – and when you do the later, you will cringe about how their relationship and conversations might have at time been similar to ones with your own children. This is a film with finely tuned characters, a terrific screenplay, and pitch perfect acting. It's a winner on all fronts.
Lady Bird also has been well-heralded nationally, and the audience at our
film club gave it a 96 per cent approval rating.
Faces Places: Ellen ****  Richard ****1/2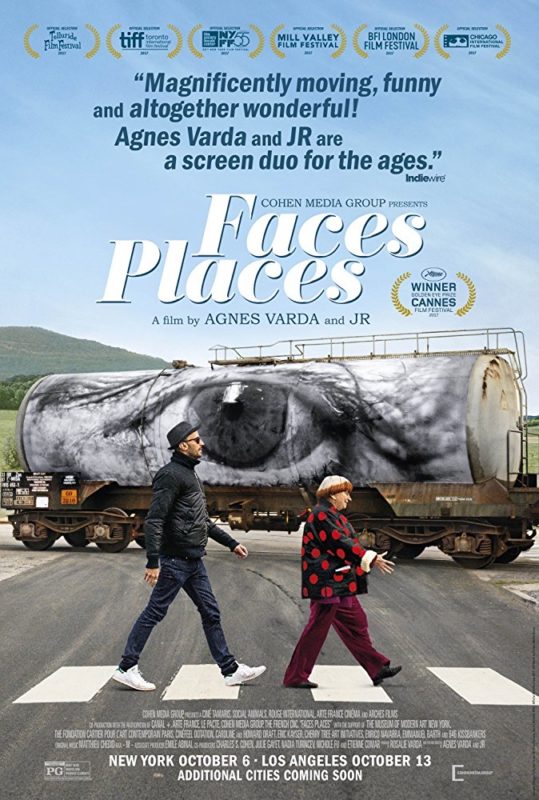 This film is a different twist on the coming-of-age story: an 88 year old filmmaker (Agnes Varda) and young photographer JR, known for creating open air photography galleries, come together to document the making of a film. The movie they make is about their road trip throughout southern France as the two of them photograph and display these photographs.
Along the way they meet a variety of people who inspire them and whose stories often develop into individual "projects". One of my favorite of these is of a woman they meet who is still living in a deserted flat that had once been reserved for miners during a boon time. After hearing this one woman's story, Agnes and JR find other former residents in the area, and, as a way of celebrating their lives and their dedication to their jobs, they photograph perhaps 50 of these individuals. They then plaster 12-foot high photos (printed out of JR's truck) on the old flats for everyone to admire.
All of the Agnes' and JR's projects involve large-scale photography, which they display in unusual ways — on water towers, sides of buildings, on the sides of huge transportation containers, on rocks, or billboards, etc. — for communities to enjoy.
This is a sweet, quirky little film both about people in local communities and about the relationship between the two artists.
The Square: Ellen ***  Richard **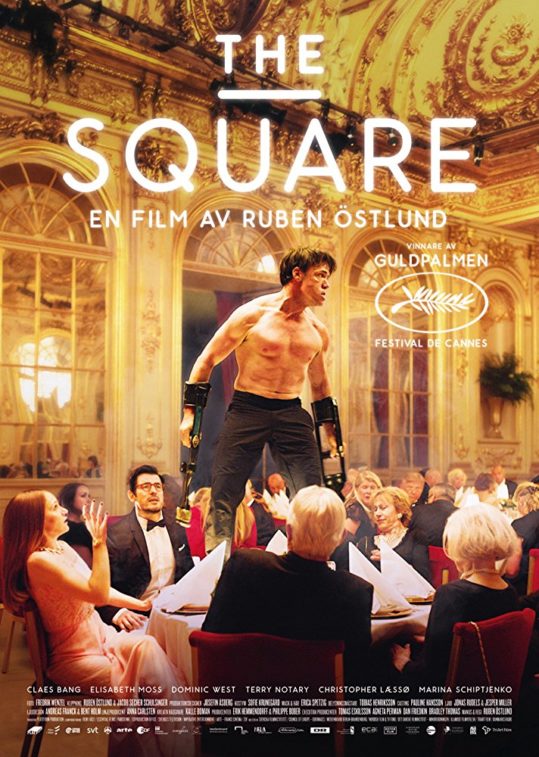 If you enjoy (and can laugh at cutting edge contemporary art when it is ridiculous),
you will love this film. Otherwise, you might want skip it. I could appreciate it and
dubbed it a "critic's film" (though it wasn't universally well-received by the film
elite). But I didn't really like it. It has its funny moments – even at times LOL funny — but is overdrawn and absurd in others, and because of that it is unsatisfying. (A series of funny gags does not a movie make.) The characters are not likeable; the story line is uneven, but its commentary of the cutting edge of modern art world feels pretty accurate.
Lost somewhere deep in this film are themes raised about modern values which, if explored, could have been a connective theme and perhaps made this movie meaningful. The Swedish writer and director of this film is Ruben Ostlund who also directed Force Majeure that contained many of the same elements and flaws.
Jane: Ellen *****  Richard *****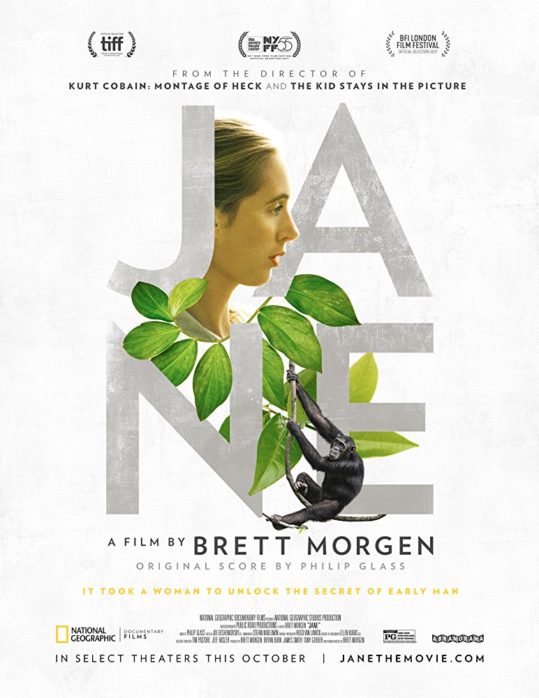 Over 100 of hours of lost film (tucked apparently away in the files of the National Geographic archives) recording the early work of the then 26 year young Jane Goodall were found and have been crafted to provide a unique insight and overview of her astonishing career.
The photography — most of which was shot in the 1960's by the man who was to become her husband, Hugo Van Lawick (one of the most renowned photographers of African wildlife)– is captivating, and the first hand views of her initial attempts to study chimpanzees in Gombe Stream National Park (located in Tanzania) offer unique insights to what she did and how she did it. The film focuses on the early period of her work-life in some detail, including her marriage and the birth and raising of her son.
The film also intersperses the found footage and contemporary interviews with Dr. Goodall and is supported with beautiful music by Philip Glass. The writer and director is the much-acclaimed Brett Morgen from National Geographic Films.
This is a very satisfying and solid documentary. A must see.
Loving Vincent: Ellen ***** – Richard ****1/2
I've saved the best for (nearly) last.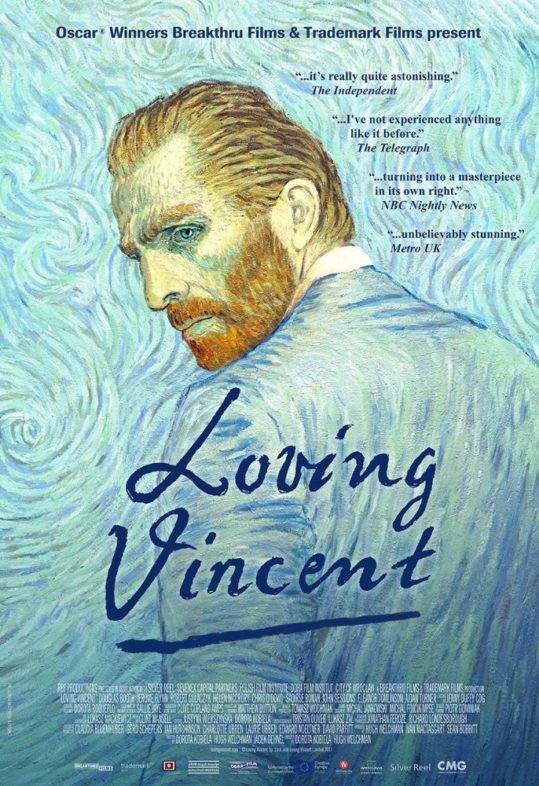 Loving Vincent is one of the most creative, fascinating, and mesmerizing films I have
seen in recent times.
Warning: this is an animated film, and thus it may not be for everyone.
It is made up of tens of thousands of carefully painted images that make the animation for the film.
The story is a retelling of Van Gogh's life and death, using characters from his paintings. The characters and scenes — built off some of his most well-known paintings — are familiar. Think landscapes (The Starry Night, Wheatfield with Crows); the town of Arles (Café Terrance at Night, The Night Cafe); the postman (Postman Joseph Roulin); the doctor (Portrait of Dr. Gachet); Van Gogh's paint supplier (Portrait of Pere Tanguy); a barmaid (The Barmaid ); along with many others.
The paintings are all brought to life (as is Van Gogh himself –- his self-portraits appear often) as the 'subjects' interact with each other. The animation is as fantastical as Van Gogh's paintings themselves and that is what you come to see. You already know the story and how it ends.
Or, (teaser) maybe you don't.
Vincent Van Gogh: A New Way of Seeing: Ellen **** – Richard ****1/2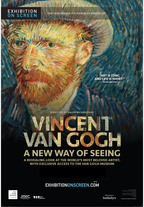 And because we couldn't get enough, we managed to snag, at special showing (think 10:30 AM! on a Tuesday morning) this wonderful documentary from Amsterdam's Van Gogh Museum It was a rich and delicious addition to Living Vincent.
This film also tells the story of his life (and yes, there were some discrepancies between this and Living Vincent) by looking at his paintings and through a series of thoughtful interviews with curators from the museum. The film was workman like, serious, thoughtful, and well-presented, and it further deepened our appreciation of the artist.
Keep your eyes open at your favorite independent theater to see any special
announcements concerning the availability of this film. (Ed. I think the actual public release of Vincent Van Gogh: A New Way of Seeing is currently scheduled for Mrch of 2018.)