Summer seems like the worst season for new films, particularly the month of August. We probably saw fewer films this month than any other this year (in part because we were on grandparent watch for two plus weeks), and in part because what there was to see just didn't appeal. (Big box office hits just aren't our thing.) But we soldiered on and tried to pick the best out there. We didn't like The Big Sick, The Trip to Spain, or Tulip Fever. All of these failed in some basic way: narrative, screen play, cinematography, or acting – some of them failed on all four of these criteria.
Enough said about those three somewhat popular films.
Four films did standout, and Richard and I recommend all of them to you. In order that we saw them:
Detroit  (Ellen ****    Richard ****1/2)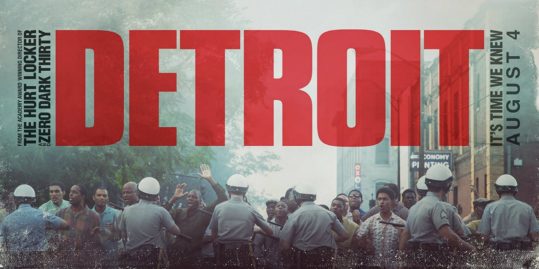 This is a stunning film about the Detroit riots of 1967 – a mixture of original news footage and reenactments of the police brutality that aided and abetted the violence. It is a horrific story, and it's based on facts. It's a story that didn't end in Detroit.  It's a complex film — and it's not perfect — but we very much recommend it. You will walk  away from it shaken and with a better understanding of the forces at work in Detroit in 1967 and today. The director of this film directed two other dramatic films (The Hurt Locker and Zero Dark Thirty), and Detroit is engaging in the same manner.
Wind River  (Ellen ***** Richard ****1/2)

This film tells a gripping story centering around a murder on a Native American reservation in Wyoming. The lead actor (Elizabeth Olson) is a rookie FBI agent sent to investigate the crime. She enters a world of misogynist white men. and the story delves deep into a multitude of prejudices against women and Native Americans. The film keeps you glued to the edge your seat with great story telling, beautiful scenery, and throbbing pace. It's gorgeously photographed and very well acted. All together it is a very compelling and moving thriller.
Step  (Ellen **** Richard ***1/2)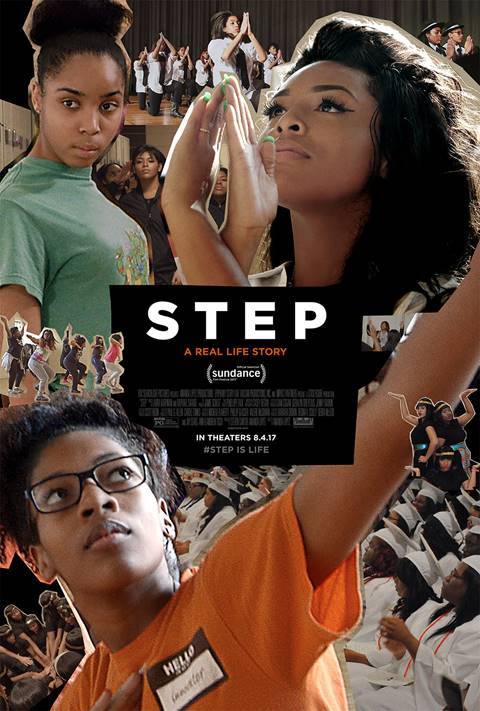 This film is a close-to-home documentary that focuses on the lives of young Black women in Baltimore who attend a Charter school. The goal for the first graduating class is to have 100% of the students be accepted to college, most of whom would be the first in their families to attend college. In addition to their rigorous classwork, supportive counseling, and many other services and opportunities available to these teens is the "Step Team" — a metaphor for their life. The film is filled with intimate interviews with three of the young women on that Step Team and their families; Step competitions; and the young women's struggles to succeed. It is straightforward, hopeful reporting.
Columbus  (Ellen *****   Richard *****)
This is a brilliant film, perhaps the best we have seen all summer. It takes place in a small mid-western town (Columbus, Indiana) noted for its architectural diversity, modernity, and excellence. The story is about relationships: a son and his father (a well-known architectural scholar who has fallen ill in this city); a young woman and her mother (the daughter fears leaving this town because of the support she provides her mother); and the unlikely relationship of this son and this daughter.  An overarching theme is what one sees and understands about architecture and how "physical space can affect emotions," according to one reviewer. The pace is purposely slow and steady, and it unfolds in one beautiful scene after another. The photography is magnificent. The acting is moving, particularly that of Hailey Lu Richardson as Casey, the daughter. From beginning to end Columbus is an entirely satisfying and beautiful film. (Note: this film is a directorial debut for the South Korean based Kogonda, who is also the screenwriter.)
Notes from the Editor:
1. With this post I am pleased to report that Ellen Miller has agreed to become the prime film reviewer for MillersTime. Because of the overwhelming positive reception to an earlier film review posting by Ellen and because I find film reviewing the least enjoyable part of this blog, I am delighted to be relieved of what has become a chore for me. Know that while Ellen and I generally agree about the films we see, there are some differences, though they are not significant (see the star ratings which we give without knowing each other's rating). Plus, I will no doubt add some thoughts on occasion.
2. If you check out the Rotten Tomatoes' scoring of films as one way to judge if a film may have interest for you, I highly recommend the article, Rotten Tomatoes, Explained. I found it quite informative and believe it will change I look at their ratings, both the ones by Critics and by Audiences.