Tags
"Death in Sarajevo", "Goldstone", "Past Life", "Searchers", "Solitaire", "The African Doctor", biography, Comedy, Crime, Drama, Films, Movie, Sunday Cinema Club, Thriller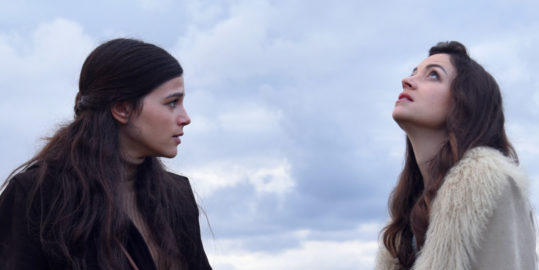 Past Life: ***** (Ellen *****)
So it happened again, this time at Sunday's DC Cinema Club film: I knew nothing about the film — Past Life — we were going to see, and then I was totally captivated by it. (As I've written before, often my expectations overwhelm the reality of a play, a book, or a film, and I am left disappointed.) As the lights were dimmed, we read a synopsis:
Inspired by true events, Past Life tracks the daring 1977 trans-European odyssey of two sisters — one an introverted ambitious classical music composer, and the other a combative liberal magazine editor. As they try to unravel a disturbing wartime mystery that has cast a foreboding shadow on their entire lives, they realized that freedom from the shackles of the past requires painful sacrifices, as does the struggle to discover one's unique voice.
What followed was 109 minutes of being transfixed. The story largely focuses on three characters, a father and his two daughters and is about the Holocaust and its after-effects. Set in 1977 and based on true events, it's told almost as a suspense story and through the eyes of each of the three main characters and several minor ones too. (I am curious to know just how closely and how accurately the writer-director Avi Nesher depicts the actual events, and I've ordered the diary upon which it is based.)
All three of the main characters are intriguing individuals, and each of their stories, as well as the interrelationships of these characters, is engrossing. The performances of all three (Joy Rieger as Sephi Milch, Nell Tagar as Nana Milch-Kotler, and Doron Tavory as Baruch Milch) are convincing and compelling. The story moves along so quickly that you barely have time to catch your breath and understand what just happened before you're confronted with new information.
Had I been told before hand that this was "Holocaust film,' I might have avoided it, or at least 'approached' it differently. But knowing nothing in advance, I simply absorbed what director Nesher presented. Once again I learned there is always one more heart-breaking story about that horrific time and that it continues to affect long after the actual events occurred.
Add this well-told Israel-Polish film to your 'to see' list, though I'm not sure it will make it to the major theaters. Maybe you can catch it at one of the Jewish film festivals that now take place in many cities throughout the country.
*****************************************************************
We've seen a number of films over the past couple of months which I have not mentioned on MillersTime. Too much else going on, perhaps. Nothing stands out as must sees, but here are five that we saw last week at the D.C. International Film Fest. (Yes. We have film festival here) We rate the films independently, using a scale of one to five stars.
The African Doctor **** (Ellen ****) This is a "feel good" movie, also based upon a true story, about a Congolese doctor who moves his family to a small village outside of Paris and about their struggles to earn the villagers' trust. Biography. Comedy. Drama.
Death in Sarajevo *** (Ellen****) This is an award winning film, full of clever, fast dialogue and good acting, that looks at life in Sarajevo in 2015 on the 100th anniversary of the killing of Archduke Franz Ferdinand. Drama.
Goldstone *** (Ellen**** ) This is also an award winning film (Australian) and is about an Aboriginal federal cop who comes to a frontier town in Queensland searching for a lost girl. There are two interrelated stories. Ellen found the film and the production first rate. Myself, not so much. Crime. Thriller.

Searchers (Maliglutit) **** (Ellen**** ) This is a Canadian film about an Inuk man seeking revenge for the kidnapping of his wife and daughter in the Arctic. Mesmerizing photography and story, with subtitles. Drama.

Solitaire *** (Ellen ****) This is a "Guess Who's Coming to Dinner" story of a Lebanese girl and her Syrian boyfriend and what happens when their two families meet. Again, Ellen liked it more than I. Comedy. Drama.