As some of you may know, our daughter Elizabeth (Beth) and son-in-law Brandt are the parents for a second time with the birth almost two weeks ago of Brooklyn (Brooke) Shapira Tilis.
Brooke has had a lovely first several weeks, what with adoring grandparents (two sets) around and with various other family and parental friends attending also. Her sister's (Samantha) most frequent 'words' (after 'mom ma') are 'ba ba' as she refers to this new addition to the family. Whether she understands that Brooke is a permanent addition or not is yet to be determined, but so far, the whole family seems to be adjusting well.
And who does Brooke look like?
See if you can tell.
After the family hospital picture below, you will find 10 photos, of both Brooke and Samantha taken during their first two weeks of life. Do not assume there are five of each. See if you can distinguish between them. The correct answers will appear in the Comment section of this post on Thursday.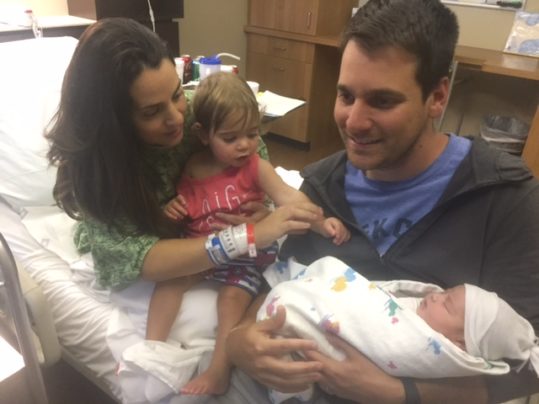 Photo # 1: