…to get them started.
(Turn up the sound on your computer and click on the headline below; you won't be sorry.)
                              Grandson Knows What's Important
Actually, on further reflection, I guess sometimes it may be too early to start the grand kid's education. As can be seen in the photo below, when Grandpapa attempted to introduce three-day old Samantha Lauren to the importance of pitching over hitting, she slept through the entire lesson.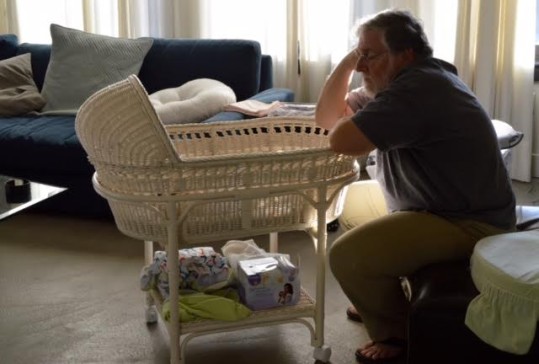 Now, before you get all upset and consider calling Child Protective Services, know that I did something similar with my own daughters. And read what the mother of our newest grandchild wrote when she herself was 21 in 2004 (when the Sox won the World Series for the first time since 1918):
I guess it started with Mike Greenwell. And Roger Clemens. And Wade Boggs. Two of three of whom went on to serve the evil empire in their quest for baseball domination. Not an auspicious beginning, I'll admit.  I'd come down for breakfast to study the previous nights scores because I knew I'd probably be quizzed on the box score on my way to school. It was my father's fault. Some would call it indoctrination; hell, it's probably a form of propaganda. But I didn't care. I just wanted them to win. And sometimes I'd watch them win; sometimes I'd watch them lose. As long as they played, it didn't really seem to matter to me.

But I soon realized that by virtue of being a Sox fan I'd have to accept heartache. And not just in an "oh our team sucks every year" kind of way, but in "oh our team is so close every year" kind of way. Trust me — it's a lot easier to finish 15 games out of 1st place than watch Aaron Boone clock one of the left field wall.

It's hoping you never have to say "next year".

It's not being comfortable with a six-run lead in the 7th inning.

It's knowing that bullpen by committee was dead from the start.

It's knowing when vintage Pedro comes to pitch, he will fuck you up.

It's knowing that the most contentious issue in your parents' relationship is the fact that your father listens to the game full blast in the study late at night.

It's checking bostondirtdogs.com every day in the off-season.

Being a Sox fan prepared me for disappointment; it taught me that there are some things that no matter how badly you want something, sometimes you just can't make it happen. I think my perspective on life has truly been shaped by the virtue of my fanaticism for baseball. It's taught me that life isn't fair, you don't get what you want, and other people can just be downright heartless.

So this year, can I finally rejoice in our successes? (And I say "our" because I feel as though I've truly deserved a spot on the roster). Yes, but I couldn't do so without a little acknowledgement to my father. It would not be an exaggeration to say I owe it to my father. I mean I blamed him for the heartache for all the years right, so if I don't give credit now, I probably never will. If it weren't for him, I'd probably be like every other girl, trying to figure out the difference between a curve ball and a change up. Or not be the kind of girl who gets into arguments with strangers on the 4 train about why Jason Varitek is a better catcher than Jorge Posada. I'm glad they won it for me, but deep down I'm glad they won it for him.

More than anything, my father taught me to believe. And not just in the Red Sox, but in myself. Because if my team can come back from down 0-3 to the Yankees, and sweep the Cardinals in the World Series, really, there is no such thing as never.

I guess in the end, my obsession ultimately taught me that good things do come to those who wait. So I sit back and say to the rest of Major League Baseball, sit down; wait 'till next year.