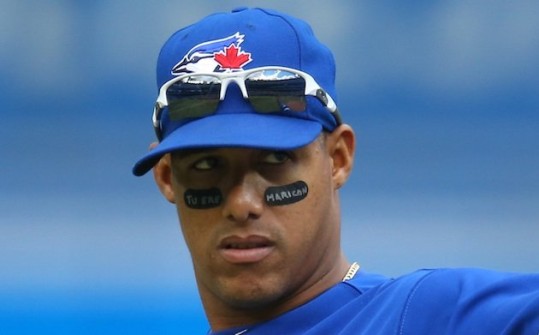 "Tue ere maricon" – "You are a faggot" – Just a joke? Some of his best friends are gay!
I read last night as the story was developing about the Nats trading Tyler Clippard for Yunel Escobar.
I understand that baseball is a business.
I understand there are problems with the Nats at second base.
I understand that Ian Desmond has only one year left on his contract and could go elsewhere. I understand Escobar could play second base this year and move to shortstop next year if that's necessary.
I understand Escobar's hitting has averaged .276 over his career, (tho only .258 in 2014) and he has averaged 145 games a season over that career.
I understand Escobar "has a team-friendly contract that will pay him $5 million in 2015 and $7 million in 2016…(and) the Nationals hold a $7 million club option for 2017."
I understand the trade "saves the Nationals somewhere between $3 million and $4 million, depending on Clippard's arbitration process.
I understand that this is Tyler Clippard's last year of arbitration before being eligible for free agency and that there are ""young arms behind him" in the Nats' organization.
However,
I also understand Tyler Clippard is one of the best (certainly in the top five) at what he does, late inning set up for the closer.
I also understand he has averaged 74 games and 79 2/3 innings in the last five seasons, posting an ERA of 2.18 and a .995 WHIP. (I could go further with what he has done and what he has meant to the Nats out of the bullpen).
I also understand how well Clippard is liked (an understatement) by both the Nats' players and the fans.
I also understand Escobar has been with five teams in eight seasons (including this trade).
I also understand Escobar has played almost no second base and his defense at shortstop (a possible reason he was attractive to the Nats) has fallen off considerably last season ("runs saved above average fell below average for the first time, and he committed 16 errors, fourth most among MLB shortstops).
Now,
I also am reminded of the picture above when Escobar wore black eye strips which the words "Tu ere maricon" ("You are a faggot"). He was suspended for three games and said it was all a joke and some of his best friends are gay.
In a trade that was already questionable in my opinion (and I admit I may not know all of the Nats' thinking on this), trading Clippard for Escobar is simply a terrible move.
Clippard has been part of what has made the Nats' a contending and likeable team. He probably has not reached his prime yet and is valuable in so many ways. (And yes, it costs money to hire the best.)
Escobar's defense is questionable, his batting, while better than what the Nats have now, is not a game changer for the Nats, and most egregious, to me anyway, is who Escobar appears to be.
Just a terrible, terrible decision on the part of the Nats' management.