Tags
8 1/2, AV Ristorante, Best Hamburger, Bobcat Bite, Bonnie & John Eckre, Edo's Squid, Garrett's Desert Inn, Mama 'Zu's, Mitzi Panzer, Sam Wo, Sante Fe, Sante Fe Bite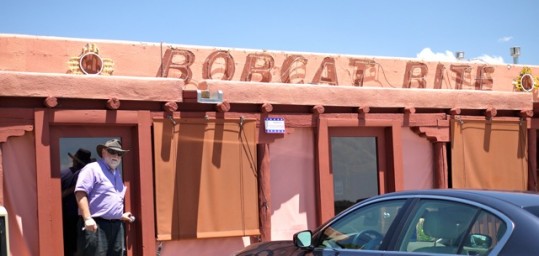 First it was the closure of A.V. Ristorante in Washington, DC, home of the best white pizza ever made, the best tomato and garlic pizza I've ever had, and wonderful soft shells with garlic pasta and seafood platters.
Then it was Sam Wo in San Francisco, home to cheap, filling Chinese food where you entered thru the kitchen and made your way upstairs to one of the two small rooms with formica tables and a limited menu.
Now it's Bobcat Bite, that served that wonderful hamburger with green chile (with or without cheese) on the outskirts of Sante Fe.
All three dives.
All three family owned and operated.
All three now closed.
AV's and Sam Wo have not reopened, tho AV's son ED has three pretty good restaurants in Richmond, VA (Mama 'Zu's, Edo's Squid, and 8 1/2, see Report from Richmond). Actually, he may have opened a fourth recently.
AV's was closed when they sold out to a speculator who wanted to build a hotel near the 'new' DC Convention Center. Ultimately, the hotel was built on other side of the Convention Center, and the AV building is now a night club.
What a tragedy.
Sam Wo's restaurant was closed by the SF Health Department for health and safety code violations and has yet to reopen, tho every so often there are rumors of it resurfacing.
A loss, tho not of the magnitude of AV's, in my humble opinion.
Now, imagine my surprise and dismay (shock and horror) this morning when I opened a link in an email from my daughter that included a reference to the closure of Sante Fe's Bobcat Bite, a roadside cafe opened in 1953 by Mitzi Panzer. It had been serving what some consider the best hamburger in America (there is debate on this point). Certainly, at the very least, their 9.5 ounce freshly ground (every morning) boneless chuck hamburger deserved its placement as one of the top ten hamburgers in this country.
As best as I can tell, the folks who have been operating Bobcat Bite for the past dozen years were asked to sign a new lease for the 'restaurant.' That came as a surprise as they believed they owned the place. (You can read some of the details about the controversy here).
So on June 9, 2013, Bonnie and John Eckre served their last hamburg with cheese and green chile on the Old Las Vegas Highway, donated the proceeds of their final day of operation to a local food bank, and closed the doors.
Now they have reopened in downtown Santa Fe under the name of Santa Fe Bite at Garrett's Desert Inn Hotel, 311 Old Santa Fe Trail. Reportedly they continue to serve the same good hamburger and a number of other new items (they always served a good steak). No longer is their seating limited to 29 nor can the new place be called a dive.
I suspect we will go there on our next trip to Santa Fe (something we do every couple of years), but it will not be the same.
Maybe the hamburger itself will be same, but an important part of Bobcat Bite, Sam Wo, and AV's Ristorante was the place(s) itself.
Enough with all these newly 'minted,' corporate owned, executive chefed restaurants.
(At least Mixtec in DC is still operating in the same rundown, formica tabled, plastic cupped two rooms on Columbia Road.)