I'm not sure if there was a dry spell on good films earlier in the year, or perhaps I was just otherwise engaged. But suddenly it seems as if there are a bunch of good ones out. Here are mini-reviews of three I've seen in the last two weeks, each one suggested to me by a MillersTime reader.
Keep those suggestions coming.
Enough Said ****1/2
I'm not sure I would have seen Enough Said if it had not been so strongly recommended to me.
That would have been a loss.
The story is the tale of two divorced parents in their middle years, each with a child heading out of the house and off to college, each still struggling with the after effects of a failed marriage, and each looking for a new relationship in his/her life, albeit with fears of repeating mistakes from their first marriage. Their stories have enough twists and turns to take the film beyond some of the more usual treatments of this subject.
And then there's the acting, particularly the wonderful performance of James Gandolfini. How can you not love that guy? Julia Louis-Dreyfus, who seems to be more at the center of the film, is not quite as wonderful, either in her acting or in the role itself, but she's still good. And there are also good performances by Catherine Keener, Tracey Fairaway, and Eve Hewson.
Enough Said is a funny film (it has much humor), and it is also a serious one (how we can hurt each other while we are trying to love one another).
It's probably not a film which will appeal to all generations, but I thoroughly enjoyed it and continue to think about it.
Let the Fire Burn *****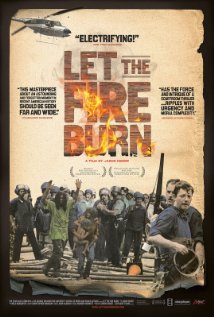 The email that sent me to this film about the events and participants in 1978 and 1985 that led to the fire that killed five children, six adults, and the destruction of 61 houses in Philadelphia tells why Let the Fire Burn is so good:
The best documentary of the year is Let the Fire Burn, now at E Street.

Except for its mopey musical score, it is flawless. No narrator, no filmmaker telling you what to think or telling you what he thinks, The story of the MOVE bombing in Philadelphia speaks for itself in the archival "footage." The word is in Q-marks because a lot of the film isn't film but videotape, a technology that outlived its usefulness. May the force be with that happening to digital work.

Secretly, what makes the film a winner is the editing. The director (Jason Osder) knows how to narrate by cuts and lengths of footage. There is one absolutely amazing series of cuts–watch for it. You'll recognize it because it is silent film at its best: someone asks and question and we see segments of exactly the same length of three different Philadelphia officials (police, fire, mayor) whose silence answers the question more efficiently than anything else could. And there is no music at this point to spoil it (which tells me that the filmmaker knows better).
Another film that stays with me and calls for being seen and discussed, not only for the 'filmmaking' but also (even more?) for the issues raised and for learning from what has gone before.
Dallas Buyers Club ****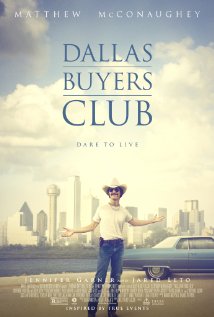 The story of this film is loosely based on the life of a Texas rodeo rider and hustler (Ron Woodroof) who in 1985, to his surprise, is diagnosed as HIV positive and told he has 30 days to live. What he does with that information and his life makes for almost two hours (a bit too long) of an intriguing story.
But the main reason to see this film is for the terrific performance of Matthew McConaughey. He is almost unrecognizable, having lost 40 pounds to make the film, but I suspect you will not forget his portrayal of Woodroof.
There is also a good performance by Jared Leto as Rayon, a transgender women who oddly becomes a business partner to Woodroof.
Not as memorable as the two films mentioned above, except for McConaughey's performance.