Tags
"Her", "Inside Llewyn Davis", "Nebraska", "Tim's Vermeer", Bruce Dern, Ethan & Joel Coen, Films, Joaquin Phoenix, Oscar Davis, Spike Jonze, Teller, Tim Jenison
So many films to see.
Here are four more worthy of your consideration, in my humble opinion.
 Her ****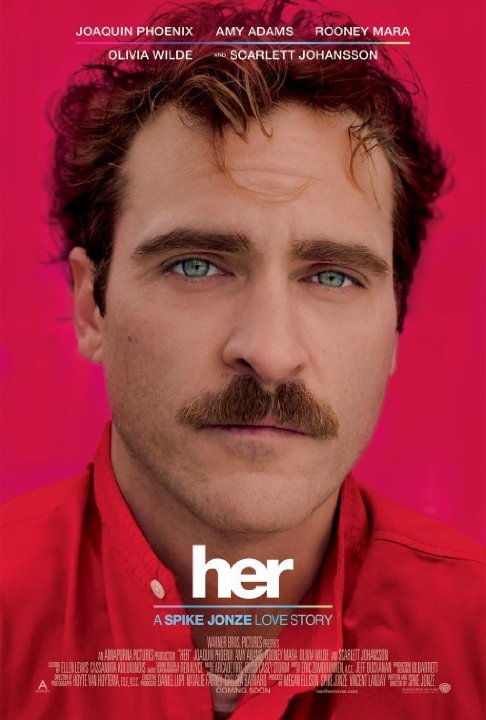 Don't be put off by the seemingly ridiculous premise of this film – falling in love with an operating system, a voice on your computer of someone who does not in fact exist.
I kid you not.
While it may not be the best film of the year as some have written, it is engaging and will capture you despite any attempt you might have to laugh at the premise and the lead character.
Basically, it is a love story, one that is not so dissimilar to Enough Said (see my earlier review). And it follows the course of many love stories, from early infatuation through an intense period of excitement to … (but I won't reveal it all here).
Director Spike Jonze has created a clever, funny, and endearing film.
Lead actor, Joaquin Phoenix is terrific and believable as Theodore who falls in love with Samantha, a voice without a body and 'someone' he never sees because she doesn't in fact exist. Somehow, Phoenix pulls off what could easily be a ridiculous role. And Scarlett Johannson, the voice, is endearing and believable too. (Is it possible to be considered for Best Supporting Actress when the actress never appears?)
I suspect folks older than myself (70+) will probably avoid the film, leaving it to younger generations to watch. Those generations will probably enjoy the technological part of the film. But for any of us who have a few years of relationship experience(s), there is much to like in this somewhat nutty and quirky film that is about relationships, past, present, and future.
Tim's Vermeer **** 1/2
We saw this film in our Sunday Cinema Club, which means it's probably not out yet, but it's one to keep in mind.
It's an unusual documentary, the first one by Teller (of that Penn and Teller), about a friend of his, Tim Jenison, an inventor and technology expert who sets out to discover how the great Dutch painter Vermeer was able to produce such realistic paintings (Girl with a Pearl Earring, etc.).
Over a period of eight years, Jenison, in an amazing feat of invention, experimentation, hard work, and persistence, is able to reproduce Vermeer's The Music Lesson even though Jenison has never painted in his life.
It all sounds a bit weird, but you'll find yourself thinking about Vermeer differently than you ever have before, and you may have to reexamine some of your thinking about art, technology, and creativity.
Teller tells the story of Jenison's work and discovery with clarity and humor, letting his camera follow Jenison over an extended period as he struggles to answer the question, "How did Vermeer do what he did"?
The Sunday audience broke out into applause at the end of this 80 minute documentary. I don't remember that happening very often.
Nebraska ****1/2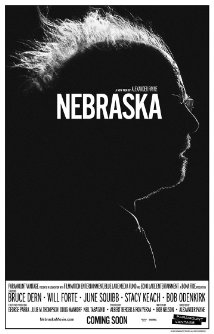 After seeing the previews repeatedly, I didn't expect to like this film, but the various ratings and reviews were very positive.
And now I understand why.
It is the story of an aging father (Woody, played by Bruce Dern) who believes he's won a million dollars when he receives a marketing letter that hints at that possibility. When one of his two sons, David (played by Will Forte), realizes he can't convince Woody it's just a come on, he takes him on a trip from Woody's home in Montana to Nebraska to 'claim' the prize. On the way, they stop in the small Nebraska town where Woody was born and lived for much of his life.
In the process, David learns about his father, his background, who he was, and begins to understand him for the first time. The result of the trip is an unexpected joy.
It is also a film about Nebraska, about a dying town, about people worn down by life and by the realities of their existence.
Nebraska is a simple film, beautifully shot in black and white, with well drawn characters, much humor, wonderful acting, particularly by Bruce Dern, Will Forte, and June Squibb (Woody's outspoken wife) and a plot that is both familiar and surprising.
And most of all, for me at least, despite the starkness of much of the film, it's ultimate message is uplifting.
Inside Llewyn Davis ***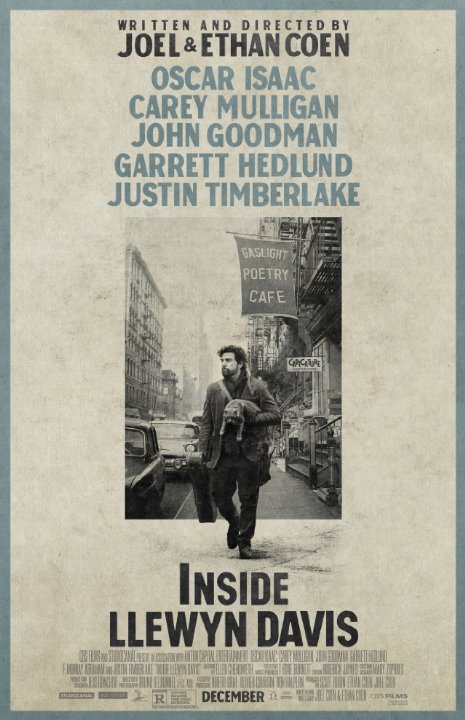 For me, I had the opposite reaction to the one above: I expected to love this film.
That didn't happen.
If I think about Inside Llewyn Davis from the point of view of its writers and directors, the Coen brothers, the film is a success. I think they set out to present an individual, a folk singer, who, though talented is unable to be successful, because of his inability to connect with his audience, because of the nature of the music world, and because of the repeated bad decisions he makes.
If that indeed was the Coen brothers' purpose, they presented it well. Llewyn Davis (played perfectly by Oscar Isaac), is a struggling folk singer in NYC in 1961 (just prior to the emergence of Bob Dylan and the other successful singers of the '60s). Over the period of about a week, we see his repeated inability to overcome the forces against him, both the difficulties of making it in the music world and the personal character difficulties he has.
Perhaps I expected a different movie, or perhaps I'm not so interested in failure. But for me the film had no real plot, no intriguing story. Isaac's singing and acting were excellent, but not only was his character unsympathetic, he was simply not a very interesting, likable person.
But know that I am an outlier here as most of the reviewers and early viewers of the film believe it's one of the best of the year.
Not so for me.
_________________________________________________________
Still to come: Blue Is the Warmest Color, The Great Beauty, Philomena, Before Midnight, The Wolf of Wall Street. Plus, I will post a year end listing of all the films I rated with four, four and a half, and five stars.