There are a lot of US cities where the eating is good (Boston, Miami, LA), very good (New York, San Francisco), and exceptional (New Orleans).
For some reason, Santa Fe does not get included in most of these lists.
That is a mistake.
Not only are the meals memorable and delightful, but also on price, quality, and quantity, Santa Fe can be fulfilling, so to speak. For some of the best values, you have to be willing to like 'funky' decor, and you may need to spread your eating over three days in order to take advantage of what (arguably?) is the best breakfast and the best lunch available in any city and to try some of the very good dinner places.
Café Pasqual's, Water St., Santa Fe – Best Breakfast in the US?
For between $10-$15, you can get as good a breakfast at Café Pasqual's as you can get anywhere.  Your breakfast will be so filling that you need not eat the rest of the day, or certainly not go anywhere special.  Try their Durango Omelette, Chile Relleno Con Huevos Y Frijoles Negros Y Salsa, Huevos Barbacoa Con Chile D'Arbol Salsa, or the Griddles Polenta with sautéed Chorizo, Corn, and Red Chile. Actually, I don't think you can go wrong with any one of their two dozen breakfast offerings (served all day until 3 pm)
Pasqual's also serves lunch and dinners, tho I cannot vouch for those. I have seen their lunch menu and have put it on my 'bucket list' of places to go. Don't know much about their dinners, but I know the breakfasts you will not forget.
Breakfast prices? About $9-$16 dollars. And you don't have to eat again for the rest of the day.
Bobcat Bite, 418 Old Las Vegas Highway, just outside of Santa Fe –  Best Hamburger in the US?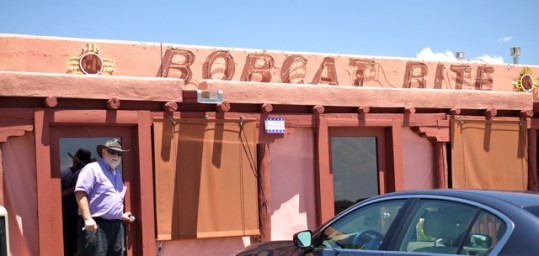 Head out of town just a few miles on the Old Las Vegas Highway to a somewhat rundown roadside place named Bobcat Bite. There, for less than $10.00, you'll get one of the best hamburgers in the US.  Now I know everyone has their own candidate for 'best hamburger,' but if you haven't eat the green chile hamburger (not spicy) or the green chile cheeseburger here, consider yourself deprived.
You get a 10 ounce fresh ground (daily) boneless chuck burger for between $7-$9 (depending what you put on it). Just get the green chile, and cheese if you must. Add a side order of their daily prepared sweet/sour coleslaw, and your eating for the day is over.
We've been going to Bobcat Bite's for at least 35 years, every time we're in Santa Fe, and the quality has never varied. It's a family owned and run restaurant that's been in existence since 1953. There are only about six or seven tables and a counter in a somewhat rundown building (they call it 'historic'), but folks eat and leave rather quickly, so the wait is not too long.
Check it out. At minimum, it belongs in any list of the 10 best hamburgers in the US.
Dinners?
I can suggest three places where you will get an extremely satisfying meal, tho I wouldn't claim that any of these three top some of the best places in other cities.
All three have outside, garden dining, which in the cool of a Santa Fe evening is delightful. You will not be disappointed at any of these three:
Geronimo – 724 Canyon Rd, Santa Fe
Geronimo's is one of our favorite evening restaurants, and we've been frequenting it for about the last 10 years. Eat on the porch and ask about the signature dishes as well as some of the newer additions. This restaurant has never failed to deliver a wonderful meal in the decade we've been eating there.
If their Green Miso Sea Bass is on the menu, order that. Also, consider their Maple Teriyaki Scottish Salmon, the Elk Tenderloin, or whatever shrimp dish is being offered.
The Compound – 635 Canyon Rd., Santa Fe.
Sit in the back overlooking the patio and order their Prickly Pear Margarita (trust me on this one).
Then ask for descriptions and recommendations of the current offerings from their James Beard award winning chef.
On our recent visit, only our second or third, every one of the six of us left thoroughly pleased with his/her choices. Although more expensive than some of the other good Santa Fe restaurants, the Compound has a menu and food that continues to be as good as any restaurant in the area.
Restaurant Martin – 526 Galsteo St., Santa Fe
Our friends had eaten here before, and after a lovely evening, again in an outside area, we wondered how we had not known of it, nor of its chef Martin Rios. Try the Chilled Spring Pea Soup (trust Ellen on this one) and the miso-glazed Atlantic Salmon.
We will return. Probably ahead of the two mentioned above.
Two Others;
I had planned to include Santa Café in the above list of very good places for an evening meal as we have been going to this restaurant for almost 20 years. Sadly, it no longer is a place to recommend. The service has declined, and the food is simply not as good as it once was. We had this view confirmed when we happened to talk to a waiter that had recently left Santa Café. When we mentioned we thought it had 'slipped,' he confirmed changes in management, and I think, the chef too. Too bad, but there are a number of other very good restaurants ready to take it's place.
Consider Harry's Roadhouse on the Old Las Vegas Hwy. A first for us, I'm not sure how we've missed it. It's long been a favorite of folks living in Santa Fe, and the parking lot seems full no matter what time of day you arrive. The inside tables look as if they've been there since the 1950s, at least. The outside garden tables are spaciously arranged and a delightful way to spend an evening, drinking and eating. There are weekly specials that go beyond the ordinary offerings on the menu. We will return here next time we're in town (we seem to go to Santa Fe every couple of years), especially if we're with a group. Not fancy nor expensive but a delightful place to spend an evening with good friends.