Well, I have gone to and returned from Richmond, where I was seeking to regain food tastes from years of enjoying a local family run establishment in DC, A.V.'s Ristorante.
You will probably not be surprised that I found, once more, it's hard to 'go home again.'
No. A.V.'s has not been replicated by his son Ed who now has three places to eat Italian food and a fourth one on the way.
But if I lived in Richmond, I would certainly frequent all three quite often.
Ed's first restaurant, Mamma 'Zu's, named after his mother Assunta (Sue), is in a former working class neighborhood that is now in some kind of transition.  The whole place is smaller than AV's kitchen was in Washington. And the kitchen at Mamma 'Zu's is quite small, with a small pizza oven in the small bar area adjacent to the kitchen.
The menu is on the wall and doesn't mention white pizza or pizza at all. But if you ask for it, you can get it.  The white pizza is decent and has some similarity to that wonderful white pizza that AV served. But it's not as good. I didn't have the red pizza there, but a fellow bar stool patron, a neighborhood regular, did, and it looked terrific. (Note to self: next time someone offers to let you try a slice, don't be a fool, accept the offer.)
The portions here are generous, large actually, and I can recommend the brocolleti, the roasted red peppers with mozzarella and the squid ink pasta with shrimp and crab. The spaghetti with garlic and oil didn't quite match up with either AV's or with the other dishes here. But that was the only slight disappointment. I was sitting with a prime view of the kitchen and able to see, with increasing envy, most of the dishes that the kitchen produced.
Given more time, and not being anxious to try Ed's other restaurants, I could have been quite satisfied eating every meal at Mamma 'Zu's.
Next up was Edo's Squid, a second floor, and a bit hard to find, second restaurant, this one in the VCU area of Richmond.
No pizza oven, which made my choices much easier.  The braised fennel is a dish that AV never offered but was wonderful, as was the carbonara, one of my 'tests' for how good a restaurant is. Edo's passed.
The lunch menu is limited and most of the fish and meat dishes that are listed on the wall are not available then. Still, were I living in Richmond, or a visitor, I would return. The list of offerings on the wall deserves to be explored, at least based on the limited dishes I was able to enjoy.
If you ever go here, check out the pictures on the stairs leading up to the second floor restaurant. You'll see pictures of AV as a young man, including one standing in front of his DC 'establishment', which, according to the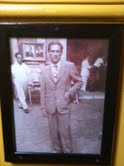 picture, says A.V.'s was once a grocery story. Ed confirms that to be true. There are also pictures of AV's wife in her younger days.  There is not much good lighting on the stairs, and I missed the pictures on my way in to Edo's. Thanx to Alice, the bar tender who has been there 10 years and who told me about the pictures, I saw them as I left.
On my way out of town, I stopped in at 8 ½, Ed's small,
largely pizza and sandwich carryout (it does have two tables in case you need to eat your pizza immediately), in a different neighborhood. The carryout is named after the Fellini movie and coincidentally, has been open almost exactly eight and a half years.).
Good pizza, both the red and the white. Not exactly like A.V.'s, but again, good enough that were I living in Richmond…but I repeat myself.
A few other observations:
As I use to do with AV, I spent some time chatting with Ed the second evening I was at Mamma Zu's, which I gather is Ed's basic hangout as he lives in the neighborhood.
He did work at A.V.'s in his youth, both in the kitchen and as a waiter, tho I don't remember him from that time.  Mamma Zu's has been open about 20 years (?), Edo's Squid about 11, and 8 ½ for 8 ½. He opened 8 ½ to take some of the pizza orders off the load at Mamma Zu's.  He is also in the process of opening another place, one that sounds a bit more café type that will be open for breakfast and also serve Italian food (if I understood him correctly).
All of his existing restaurants have staff that I found extremely friendly and many of the staff have been with him for a long time. I mention that because some of the Yelp and other reviews complain about the service. Not so for me, tho perhaps sitting at the bar meant I was I had a different 'dining experience'.
Ed filled me in on his family, both his immediate one in Richmond and those who ran A.V.'s after his father's death, but I won't bother you with those details, other than to say that AV's grandson, who I had hoped would carry on A.V.'s in a new location in DC, is now a physical therapist in Maryland.
Bah, the choices some folks make.
All of Ed's restaurants have a nice, neighborhood feeling, with many regulars who know Ed and his menu and ways (takes only cash, checks and AM Ex, for example).
And when I was talking with Alice at Edo's and reminiscing about some of AV's ways (closing for three or four weeks in the summer for 'repairs' — mopping the floor for example — and not being too clear or specific about when he'd reopen), she chuckled, saying something about how Ed isn't so different.
Ed did confirm my recollection of his dad's love for train travel and recounted a family story of an Orient Express trip across Russia. Actually, he said, his dad loved all forms of travel.
While I didn't find A.V.'s exact food, I did find good, fresh, plentiful food in settings that I wish existed in DC. There is something being lost here, the family run, small restaurants that do things their own way.
Thanx again to those of you who made suggestions about what I could do between meals in Richmond. I ran into a 'snowstorm' and ended up limiting my exploration beyond the restaurants to trying to find my way around the city and to the Virginia Museum of Fine Arts, where I spent much of an afternoon and more time that I usually do at such places. The Chihuly glass exhibit is unusual, to say the least, and if you're in the area, know that it closes Feb. 10.
I was not able to visit any of the Confederate places suggested by readers, but I suspect I may return to Richmond again.