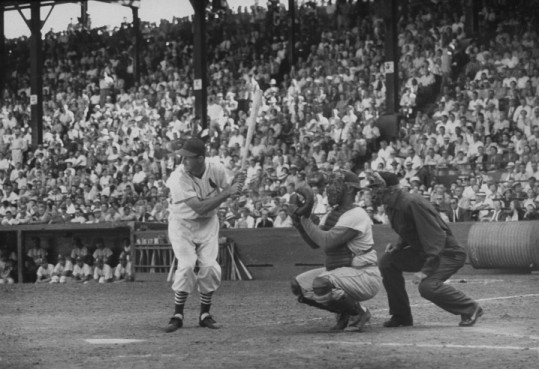 (LIFE with The Man: Rare and Classic Photos of Stan Musial – Click to see all 18 pix)
Let me see if I can explain myself.
As you've perhaps seen from an earlier post, Lance Armstrong: An American Myth?, I'm not (yet) in the category of those who, like my good friend Hugh R., are in a redemptive mood, (and I do know Lance teared up when he talked about what he has done to his son). But what I don't know is if he is still lying.
Armstrong continuously lied, made money as a result of his lies, and crushed anyone who sought to call him on his lies. His actions were not a one time 'fall from grace,' a misstep such as we all make (more than once) in our lives.
For me, his behavior is hard to forgive. With my experience working in the field of human behavior, I believe Armstrong has a character flaw that has been with him for a long time and may continue to be with him.
But, "Time will tell," as Hugh wrote in response to my previous post. Time will tell whether we are witnessing just another one of Armstrong's attempts to "manage his situation" or whether there is, indeed, a genuine and lasting change in the man.
Contrast Armstrong with another athlete, one who died this week at the age of 92, Stan 'The Man' Musial.
Time has already told us what kind of man he was: a genuine genius at what he did, hitting a baseball and playing the game better than 99.9% of all who have played Major League baseball, and he was a mensch at the same time.
But we didn't need time to confirm that.
Ask anyone who knew him, observed him, wrote about him. He was among the best of human beings (aside-he had an opportunity early in his career to make five times as much money by breaking his first contract and going to play in Mexico, but among other reasons, he didn't want his son to know him as a person who would break his word).
If you don't remember Musial or only know him as one of the past 'Greats,' start reading about him.
The contrast with Armstrong is stark.
Musial was truly one of the 'Greats' in baseball, not only because of his record but also because of the kind of man he was as he compiled that record and lived his life.
In this day and age where many are cynical about how we see our sports' heroes, our star athletes, it's refreshing to review some of what Musial accomplished and how he did it.
One of the many sportswriters who have written about Musial is my second most favorite sports writer, Joe Posnanski.
Check out one of the two articles below that he has written about "The Man."  The first was just posted in the last day or so. The second was written two years ago.  But both tell the same story.