Tags
Alex Cora, Andrew Benintendi, Ben Cherington, Boston Red Sox, Brock Holt, Chris Sale, Dave Dombrowski, David Price, Eduardo Nunez, Eduardo Rodriquez. Craig Kimbrel, Ian Kinsler, Jackie Bradley Jr., JD Martinez, John Henry, Mitch Moreland, Mookie Betts, Nathan Eovaldi, NY Yankees, Rafael Devers, Red Sox, Rick Porcello, Sandy Leon, Sox, Theo Epstein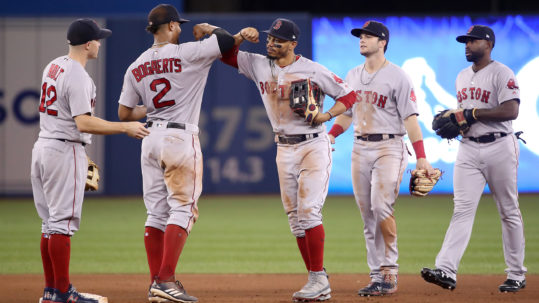 (Photo by Tom Szczerbowski/Getty Images)
With the unexpected weekend sweep of four games over the Yankees Sunday night, the Sox went 9.5 games ahead of their chief rivals, the boys from the Bronx. As of last night, the Sox have a record of 81-35 (.704), and both Sox and Yankee followers are saying the race is over for the AL East Division.
Those of us who have been Sox fans for many years (at least 68 of my 75 years) know the truth of "it's never over 'til it's over." With six games remaining between these two teams in the last 12 games of the season, if the Yankees make up five or so in the meantime, anything can happen.
Nevertheless, to play at a rate of winning seven out of every ten games for the first 115 games of the season is pretty special. Friends and foes alike have been asking me what's making the Sox so good this year and are asking if I think it will it last.
As an obsessed and subjective Sox fan, these are the factors that strike me.