Tags
Alex Cora, Andrew Benintendi, Ben Cherington, Boston Red Sox, Brock Holt, Chris Sale, Dave Dombrowski, David Price, Eduardo Nunez, Eduardo Rodriquez. Craig Kimbrel, Ian Kinsler, Jackie Bradley Jr., JD Martinez, John Henry, Mitch Moreland, Mookie Betts, Nathan Eovaldi, NY Yankees, Rafael Devers, Red Sox, Rick Porcello, Sandy Leon, Sox, Theo Epstein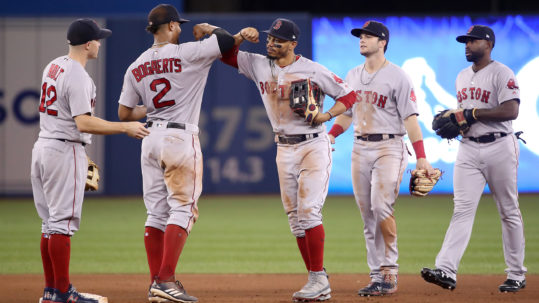 (Photo by Tom Szczerbowski/Getty Images)
With the unexpected weekend sweep of four games over the Yankees Sunday night, the Sox went 9.5 games ahead of their chief rivals, the boys from the Bronx. As of last night, the Sox have a record of 81-35 (.704), and both Sox and Yankee followers are saying the race is over for the AL East Division.
Those of us who have been Sox fans for many years (at least 68 of my 75 years) know the truth of "it's never over 'til it's over." With six games remaining between these two teams in the last 12 games of the season, if the Yankees make up five or so in the meantime, anything can happen.
Nevertheless, to play at a rate of winning seven out of every ten games for the first 115 games of the season is pretty special. Friends and foes alike have been asking me what's making the Sox so good this year and are asking if I think it will it last.
As an obsessed and subjective Sox fan, these are the factors that strike me.
1. It all starts with the ownership, led by John Henry. He and his fellow investors are thoroughly engaged and willing to invest money, time, and management expertise to set the team up for victory. When they took over ownership, they focused on rebuilding the team and updating stadium. They hired a very young Theo Epstein as GM (with Ben Cherington as his assistant), subsequently winning three World Series in ten years, after having had a 'bad century' (not winning the WS for the previous 86 years). Cherington was largely responsible for developing Mookie Betts, Jackie Bradley, Jr. Xander Bogaerts, Andrew Benintendi, Christian Vasquez, Blake Swinehart, and Matt Barnes, plus acquiring Eduardo Rodriquez, Joe Kelly, and Rick Porcello. These players make up much of the core of today's roster.
More recently, in 2016, after finishing with a losing record and last in the AL East in 2014 & 2015, they fired Cherington and hired Dave Dombrowski as President of Baseball Operations (i.e., GM) and gave him wide latitude to rebuild the team. In 2016 & 2017 they made the playoffs but lost in their first round. For 2018 they supported his choice of a new, young, first year manager, Alex Cora, and spending more than any other MLB team on salaries in 2018. (They are $38+ million over the luxury tax threshold, $42 million of their total salaries in 2018 is 'dead' money, largely salaries owed to two players no longer on the roster – Hanley Ramirez and Pablo Sandoval. (These turned out to be probably Cherington's worst moves.)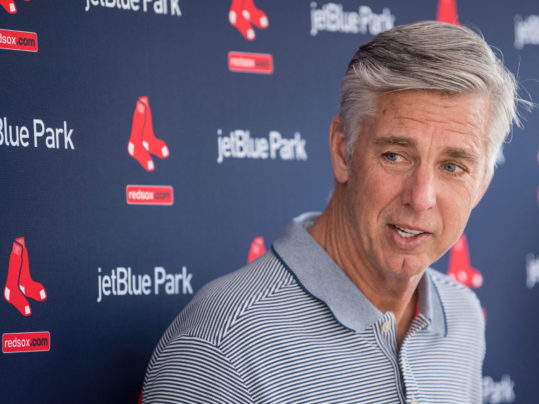 2. Dombrowski, his general management leadership, his trade for Chris Sale, his hiring of Alex Cora, his 2018 off season signing of JD Martinez, and recently his three July additions to the team (Nathan Eovaldi, Steve Pearce, and Ian Kinsler) have largely been the next most important factors in why the Sox are doing so well so far. He seems to have the ability to rebuild teams and/or to add the crucial pieces necessary to make his teams competitive and winners. (See: Dave Dombrowski Fixed The Red Sox – But He Didn't Do It Alone, by Neal Paine, FiveThirtyEight, Aug. 7, 2018). Perhaps his best decision over these last three years has been choice of Cora to manage the team.
3. Cora, age 42 and in his first year in charge, has taken a team that already had talent and with the additions from Dombrowski has led them to what to date has been the Sox most wins ever through 115 games. (If they win just 24 of their last 47 games, they will have the most wins ever in the history of heir team – 105. Note, they haven't won 100 games since 1946, which they will do if they win just 19 of their last 47 games.)
Starting with a Spring Training record of 22-9-1 Cora has connected with the players. According to pitcher Rick Porcello, "Alex has been our emotional leader all season. It goes back to then – Spring Training." Don't believe that those games and Spring Training in general don't matter. Maybe not in the regular season standings, but they said something about what was happening with team. When the Sox then won 17 of their first 19 games, the baseball world began to pay attention.
Much has been and will be written about how this young, first year manager has been able to accomplish so much so soon (more than any other first year manager has done). There is good chemistry in that club house by all accounts. Additionally, Cora has been able to take data now available and present it to the players in a way that they have accepted it and are using it. And while he is focused on each day's game, he also has a longer view of what his players need (rest) in order to make it through the long 162 regular season games…and hopefully the playoffs.
Two examples of what Cora says and does give a sense of who this guy is:
Cora has taken to posting large photos on the walls in his office highlighting the key moment in each of their 81 wins to date. If they continue on this course, he will only have room for 94 pictures before he has to use the ceiling.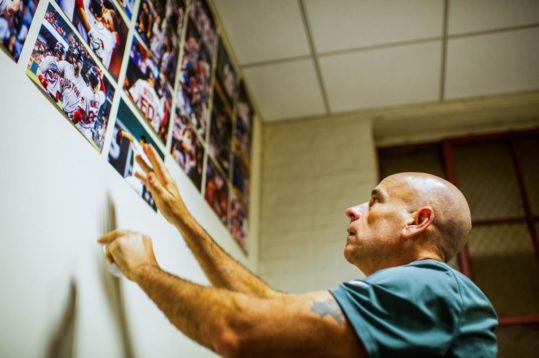 (At Cora's request, Tommy McLaughlin hangs a photo of each key moment in each of the Sox wins to date. Photo above by Reginald Thomas II/Boston Red Sox)
And when he was asked if his (first and only) ejection fired up the team a few nights ago, he responded:
"They're ready to play every day," he said. "They don't need quotes, they don't need a manager to be ejected, they don't need a race to show up every day and play the game the right way. We don't need to have team meetings to fire them up. They know where they're at, they know what they're doing, and on a nightly basis I can sleep well because I know my team is going to show up and play the right way."
4. The team is led by three players who are having outstanding seasons and are leaders both on the field and in the clubhouse with what they do everyday: JD Martinez, Mookie Betts, and Chris Sale. The first two are both legitimate picks for MVP and lead all of MLB in hitting. (Betts, with a BA of .340, 26 HRs, 58 RBIs for a leadoff hitter, has scored 93 runs and has an OPS of 1.076. Martinez is hitting .332 with 34 HRs, 98 RBIs and an OPS of 1.053.) Sale started his third straight All Star game this year and is 11-4 with a 2.04 ERA, and 207 strikeouts.
But they are not alone. The Sox lead all of MLB in virtually every hitting statistic. After Betts and Martinez, Andrew Benintendi (.305) leads the others (Bogaerts, Moreland, Devers, Kinsler, Pearce, etc.), all of whom in various ways have been responsible for the Sox high run production, 40 more than the next closest MLB team.
And Sale is not the only pitcher who is having an outstanding season. Rick Porcello is 14-4, Eduardo Rodriquez is 11-3, and David Price is 11-6. Relief? Sox are third in the MLB with a 75% save rate, lead by Craig Kimbrel with 31 saves (though he seems to be struggling in his last few outings).
The outfield defense is strong, if not the best in the AL, led by Betts and Bradley with both Benintendi and Martinez playing well also. Sandy Leon provides stability and leadership behind the plate. The infield defensive weakness is largely at third where youngster Rafael Devers leads MLB with 20 errors (but his bat is worth it, according to Cora, who also says Devers is learning every day). The Sox miss Dustin Pedroia but now have Ian Kinsler to take over from Holt and Nunez.
While injuries have hit the Sox just like they have most other teams (Pedroia, Sale, Rodriquez, Wright, Bogaerts, Devers, Vasquez, Swihart, and Smith),  Dombrowski and Cora have managed to cover those loses well (Brock Holt, Eduardo Nunez, Ryan Brasier, and now Nathan Eovaldi, Ian Kinsler, and Steve Pearce).
So will the Sox continue to play out their final 47 games at a .704 rate? I doubt it, but even though I am a Sox pessimist by training, I can't help but believe this 2018 collection of ownership, management, and players will continue to lead their Division.
As for the playoffs and the Sox miserable record in those the last two years, let's leave that for October.
These guys are all having a truly outstanding year and are fun to watch.
Let's simply enjoy this remarkable season while it is in progress.