Tags
"The Atlantic", baseball, Brian Mills, Doc Ellis, Hitting, MLB, No-Hitter, Pirates, Pitch f/x, Pitching, Strike Zone, Umpires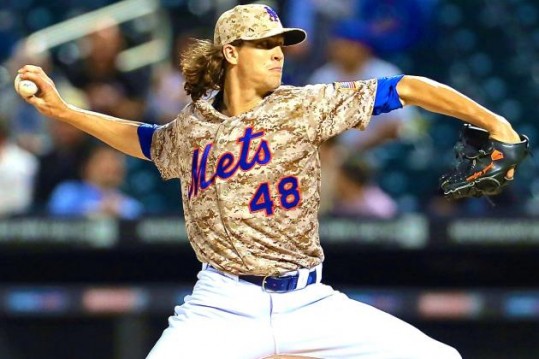 (Jacob deGrom Ties MLB Record, Strikes Out 8 Straight. Pix-USA Today)
Have you noticed how it seems hitting has been trumped by pitching in baseball, not only this year but for a number of years now?
With Red Sox in last place, 26 games behind the AL East winner Orioles, I have had a good deal of time to think about more than just my beloved team and their miseries. While I have enjoyed the Nats' good season, it's not the same as rooting for Boston.
Looking at some box scores a few weeks ago, I was struck by what seemed to me to be low batting averages, even of the best players for the best teams in baseball. In fact, when I looked at the six leading teams in all the MLB Divisions, only two clubs had anyone hitting over .300 (one of those two teams just had one player hitting .301, and he is now below .300).
I began looking at other statistics, going back as far as 2000. Here are just some of the things I found when I looked at every year from 2000-2014 (being retired and having a losing baseball team allows for spending time on such matters):