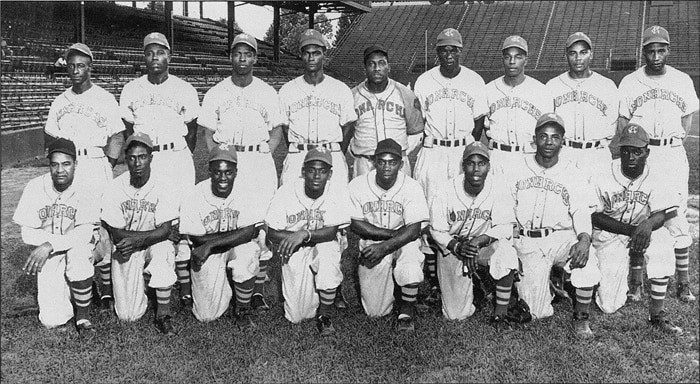 Tip your cap to help honor the Negro Leagues in its centennial year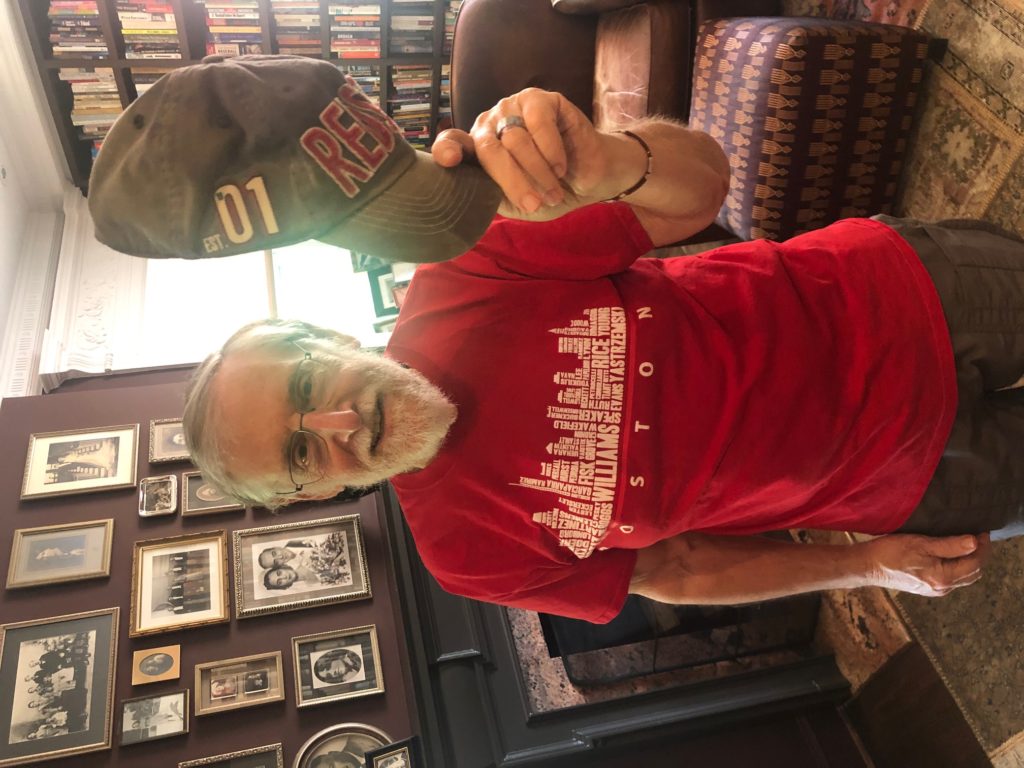 Joe Posnanski – The Athletic, June 22, 2020
"The goal here is simple: We want you to take a moment and tip your cap to the Negro Leagues. We want you to take a moment to commemorate those baseball players who were denied even the hope of playing in the Major Leagues. They played baseball anyway, played it joyously and with breathtaking skill, played it because they loved the game and wanted to show their talents and because they refused to be defined by the segregation that marked baseball and America.
"Normally, for a campaign like this, you make the case and then ask for action.
"But I am asking for action first because you can feel the power of this moment. This year marks the 100th anniversary of the Negro Leagues. And in celebration, we want you to take a photo or a short video of you tipping your cap to the Negro Leagues — it can be any cap at all — and add a few words and send it to photos@tippingyourcap.com.
"We want you to join an extraordinary group of people who have already sent in their photos and videos and thoughts — we are officially launching the campaign this week at tippingyourcap.com and I think you will be a little bit blown away by some of the people you see joining us in this celebration.
"And then we hope you will tip your cap, challenge your friends and family to tip theirs, send us your photos and videos, post them on your social media platforms, and also consider donating some money to the Negro Leagues Baseball Museum in Kansas City.
"One hundred years ago, in 1920, a group of men met at the Paseo YMCA in Kansas City — right around the corner from where the museum now stands — and created a league for African Americans and dark-skinned Latin players who did not have a league. This centennial year was going to be a very special year for the Negro Leagues. Major League Baseball and the Players Association donated $1 million to the museum and announced what was supposed to be a yearlong celebration, including a day when every MLB player would tip his cap to the Negro Leagues players who helped baseball become a true national pastime.
"Obviously, the global pandemic shattered those plans.
"But it hasn't stopped the goal. As Bob Kendrick, president of the Negro Leagues Museum, says, those Negro Leagues players didn't spend time feeling sorry for themselves. They played ball, even when denied a place to sleep, even when restaurants turned them away, even when they were told they couldn't use a gas station bathroom. They played doubleheaders, tripleheaders, sometimes even quadrupleheaders.
"They played in big towns and small ones, they played in big league stadiums and on rock-strewn fields, they played in front of enormous crowds of people dressed in their church clothes and in front of sparse crowds of people who came to root against them. They played under makeshift lights that sounded like lawnmowers eating up sticks and they played exhibitions against Major League players, who mostly came to understand just how good they were.
"They played so well that — even though it took too long — Major League Baseball could no longer ignore Black ballplayers and the Dodgers signed Jackie Robinson and Don Newcombe and Roy Campanella, Cleveland signed Larry Doby and Satchel Paige and over the next few years the Giants signed Monte Irvin and Willie Mays, the Braves signed Henry Aaron, the Cubs signed Ernie Banks, the Yankees signed Elston Howard and on.
"And so, as a tribute to their spirit, we have created this campaign. We hope you will be a part of it. Take a photo or video. Send it in. Encourage your friends. Visit the website. Donate if you can.
"Now, we can talk about why the story of the Negro Leagues matters now more than ever.
---
"More than a dozen years ago, I wrote a book called "The Soul of Baseball: A Road Trip Through Buck O'Neil's America." In it, I traveled around the country with Buck, who played and managed in the Negro Leagues and who dedicated his life to keeping the memory of those players alive.
"We were good!" Buck used to say, and it always warmed my heart that by the end of his life people believed him. That wasn't always true. When Buck first started telling the story, back in the 1960s and '70s and '80s and into the '90s, people would shrug when he talked about how good those Negro Leagues players were. They would roll their eyes. He used to say that in those days more people would tell him how it was, an astonishing thing if you think about it.
"I would tell them, 'That's not true, I was there,'" Buck said. "But they wouldn't listen."
"When Buck and a few others started the Negro Leagues Baseball Museum, it was a one-room office in a nondescript Kansas City office building. There were no visitors … there was nothing to see. The few archives were locked in filing cabinets. It was more an idea than a place, more a dream than a reality. Buck and the other co-founders used to take turns paying the monthly rent.
"Their goals were modest: They wanted only to share the story of these great players who were never given the opportunity to display their talents. It was such a rarely told story at the time. When I was writing "The Soul of Baseball," I came across a story about a dark-skinned Cuban player named Luis Bustamante, who played in the early 1900s. Even now you can find almost nothing about him, even though John McGraw reportedly once called him "the perfect shortstop." Bustamante was apparentlly an alcoholic, and he died young … it's unclear how he died.
"According to one story I read, he died by suicide and left behind a note that said, simply: "They won't let us prove."
"Those five words are so haunting — and so important. For years, even after the Negro Leagues stopped, Buck found that people still refused to believe just how great so many of those players were. It's hard to understand how anyone could miss the obvious. In the dozen or so years after Robinson broke through, an extraordinary collection of dark-skinned players played in the Major Leagues — Doby, Campanella, Paige, Irvin, Mays, Minnie Miñoso, Aaron, Banks, Roberto Clemente, Frank Robinson, Bob Gibson, Willie McCovey. These are not just great players, they are, for the most part, inner-circle Hall of Famers, some of the greatest players in the history of the game.
"Every one of them would have spent their career in the Negro Leagues had they been born a few years earlier.
"So what does that say about the great players who were born a few years earlier? Josh Gibson, Cool Papa Bell, Turkey Stearnes, Ray Brown, Mule Suttles, Martín Dihigo, Ray Dandridge, Willie Wells, Buck Leonard, Biz Mackey, Newt Allen, Hilton Smith, Sam Bankhead, on and on and on.
"Buck found himself telling the story again and again to impassive faces. He kept meeting baseball fans who simply could not accept that these players who were denied their chance could have been the equals of the legendary major-league players fans had grown up believing in. Buck kept meeting people who had their own impressions of the Negro Leagues as a ragtag collection of semipro players who mostly clowned around and found them unwilling to take the players or Black baseball seriously.
"Negro Leagues baseball was probably the third-largest Black-owned business in the country," he used to tell people, and he would talk about the pride that echoed throughout Black communities because of their baseball teams. He would tell of his personal experiences of playing baseball with Paige during the day, then going to see Count Basie or Billie Holiday perform in the evening, and how extraordinary it all was.
"And people didn't listen … until Ken Burns featured Buck O'Neil on his "Baseball" PBS miniseries.
"Burns, Buck used to say, was the first prominent person he met who said, "Please just tell me your story."
"If you have seen "Baseball," you know just how magical Buck was.
"And you know what? After that, people started listening to him. The Negro Leagues Baseball Museum became something more than just an idea — it grew into this beautiful place on the corner of 18th and Vine, a famous place in the world of jazz and baseball.
"Buck died in 2006, just a couple of months before President George W. Bush awarded him with the Presidential Medal of Freedom. I know that if he was with us today, in this unique American moment, he would be doing all he could to lead the charge for social justice. He was the most optimistic person I have ever known, and he believed deeply in the power good people have to change the world. I know he would be, once again, telling that timeless story of those players who followed their dreams, even when everything was against them.
"I've seen the world change so much," Buck used to say. "People always ask, 'Were you sad that you couldn't play in the Major Leagues?' We didn't even think about it. There was no reason to think about something that wasn't possible.
"You have to remember, when Jackie went to the Dodgers, that was before Brown vs. Board of Education. That was before Sister Rosa Parks said, 'I don't feel like going to the back of the bus.' Martin Luther King was a sophomore at Morehouse. Jackie Robinson went to the Major Leagues and that's what started the ball rolling. And Jackie was a product of all those players who didn't get that chance, who played baseball because we loved the game.
"So, yes, we still have a long way to go. But we also have come a long way. That's why I tell their story. Those players changed this country. They're still changing this country."