Tags
"Althogh Of Course You End Up Becoming Yourself", "Infinite Jest", "Mission: Impossible Rogue Nation", "Phoenix", "Rolling Stone", "Rosenwald", Avalon Theatre, Aviva Kempner, Christian Petzoid, Conrad Anker, David Foster Wallace, David Lipsky, DC Shorts Film Festival, Documentarties, Films, Jason Siegel, Jesse Eisenberg, Jimmy Chin, Julius Rosenwald, Mount Meru, Movies, Nina Hoss, Renan Oztruk, Ronald Zehrfeld, Rosenwald Fund, Rosenwald Schools, Sears. Roebuck & Co., Shark's Fin, The Ciesla Foundation, Tom Cruise
Five more films to consider, including at least one that is available everywhere.
Phoenix ****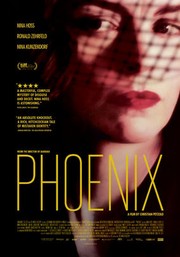 Good filmmaking and very good acting make this suspense filled drama engrossing.
Writer and director Christian Petzold creates and tells a story about a woman who returns from a concentration camp badly disfigured and who undergoes facial reconstructive surgery. She then sets out to find her husband, who may or may not have been responsible for her arrest and imprisonment.
While the story has some implausible aspects, it nevertheless grabbed me and held me throughout. Both the women, Nelly (Nina Hoss) and her 'perhaps' husband, Johnny (Ronald Zehrfeld), are intriguing characters, strikingly portrayed, and well acted, particularly Nelly.
Phoenix is not a thriller tho it is filled with suspense. Post-war Berlin is the setting, and there is something about the filmmaking that makes it compelling and enthralling.
Rosenwald****
Rosenwald is documentary celebrating the life and work of a philanthropist, one who I suspect is largely unknown today.
Up to a point, Julius Rosenwald's story is a familiar one. He was the son of a Jewish immigrant whose father, Samuel, had come to this country with $20 and began his life here as a peddler. Julius himself never finished school and went to work with his father. In 1895 he became a partner of Richard Sears and eventually became the President and Chairman of the Board of Sears, Roebuck & Co. until his death in 1932. It was his management skills and vision that propelled the company from a small catalog outfit to a hugely successful and publicly traded retail giant.
The documentary, however, is largely about Rosenwald's philanthropy. It tells about where his money went, how he distributed it, what it accomplished, and, to a lesser degree, why he did what he did. He was responsible for the building of more than 5,000 schools for African American children throughout the South. He contributed one-third of the cost of building each school and required that the African American community contribute a third, and the final third had to come from the white community. These schools were known as Rosenwald Schools, and, according to the film, educated more than a third of the black children in the South.
Among a number of other philanthropic activities, he created the Rosenwald Fund, which were fellowships that largely sponsored young, talented African Americans to pursue their careers. The list of recipients is astounding, "including singer Marian Anderson, educator W.E.B. DuBois, future Nobel laureate Ralph Bunche, and writers such as Ralph Ellison, Langston Hughes, Zora Neale Huston, James Baldwin and Maya Angelou."
What I found most intriguing and what I wanted to know more about was why he chose to spend his philanthropic funds as he did. The documentary only gives some clues but never really explores this issue.
Filmmaker Aviva Kempner and The Ciesla Foundation have done a service to us all by bringing Julius Rosenwald, his story, and his accomplishments to our attention. It is an inspirational and instructive narrative.
(For those those of you living in the DC area, Rosenwald is being shown at the Avalon Theatre, but it is also opening in numerous other cities around the country.)
The End of the Tour ***

Critics and audiences have liked this film: "Brilliantly performed and smartly unconventional, The End of the Tour pays fitting tribute to a singular talent while offering profoundly poignant observations on the human condition."
Basically it is the recreation of a five-day interview by Rolling Stone reporter David Lipsky, of author, David Foster Wallace, who had just published a highly praised 1000+ page novel (Infinite Jest).
The interview which took place in 1996 was not published then and only came to light 12 years later when Wallace committed suicide. Then, Lipsky retrieved his tapes from the interview and wrote a best-selling memoir, Although Of Course You End Up Becoming Yourself, based on those interviews.
I must admit I had never heard of Infinite Jest, David Foster Wallace, David Lipsky, or of Lipsky's book. The End of the Tour is well acted by Jesse Eisenberg as Lipsky and Jason Segel as Wallace. Perhaps that is the reason the film is so well received.
Not so much by me, however. It is never clear to me how real either Lipsky or Wallace is being in the interview and whether the relationship that builds between them is real or not.
While I left the film wanting to know more about Infinite Jest, I really wanted to know more about Wallace and what happened to him in those 12 years following the publication of his book.
Meru ****1/2

Meru is the story of three climbers — Conrad Aker, Jimmy Chin, and Renan Ozturk — who twice attempted to climb the 21,000 foot Mount Meru and its 1500 Shark's Fin top, a vertical rock wall.

This climb is not like climbing Everest. As author Jon Krakauer tells us in this documentary, there are no Sherpas to carry your equipment, and much equipment is necessary, up to 200 pounds per man. Plus, the temperature is often as cold as -20 degrees and the technical climbing is far more difficult that what is necessary to make it to the top of Everest. Also, no one had succeeded 'conquering' Meru.
What makes this documentary so fascinating and so outstanding (nominated for the Sundance 's Grand Jury Award for documentary films and winner of its Audience Award) is the cinematography. Two of the three climbers — Chin and Ozturk – not only undertook the challenge of Meru and Shark's Fin, they also took the pictures of both climbs.
As a result, we get superb views of Meru and of the climbs, and we also are witness to what happens to each of the three climbers — what they are attempting, what they accomplish, what they are thinking, and what happens to the team of three.
If you are interested in climbing at any level, if you are interested in (outdoor) challenges of any kind, if you just enjoy wonderful photography, or if want to know more about individuals who undertake life-risking challenges, put Meru on your 'to see' list.
Mission: Impossible Rogue Nation ****

Finally one that I know is available everywhere.
Looking for an escapist movie that will hold you throughout its entire 2 hours and 12 minutes?
This one is does that, and Tom Cruise, whatever you might think of him, is good at what he does.
This movie has all the usual components of a MI film and is thoroughly entertaining, if you like that sort of thing.
We do.
**               **               **               **               **               **
Note for DC area residents: DC Shorts, a film festival & screenplay competition that involves 125 films and six screenplays from 24 countries is being held here September 10-20. See DC Shorts for full details.
You can also watch a number of these shorts from home. See DC Shorts Online Festival.