Tags
"Althogh Of Course You End Up Becoming Yourself", "Infinite Jest", "Mission: Impossible Rogue Nation", "Phoenix", "Rolling Stone", "Rosenwald", Avalon Theatre, Aviva Kempner, Christian Petzoid, Conrad Anker, David Foster Wallace, David Lipsky, DC Shorts Film Festival, Documentarties, Films, Jason Siegel, Jesse Eisenberg, Jimmy Chin, Julius Rosenwald, Mount Meru, Movies, Nina Hoss, Renan Oztruk, Ronald Zehrfeld, Rosenwald Fund, Rosenwald Schools, Sears. Roebuck & Co., Shark's Fin, The Ciesla Foundation, Tom Cruise
Five more films to consider, including at least one that is available everywhere.
Phoenix ****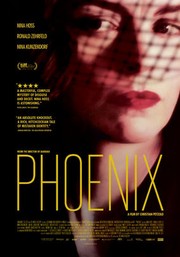 Good filmmaking and very good acting make this suspense filled drama engrossing.
Writer and director Christian Petzold creates and tells a story about a woman who returns from a concentration camp badly disfigured and who undergoes facial reconstructive surgery. She then sets out to find her husband, who may or may not have been responsible for her arrest and imprisonment.
While the story has some implausible aspects, it nevertheless grabbed me and held me throughout. Both the women, Nelly (Nina Hoss) and her 'perhaps' husband, Johnny (Ronald Zehrfeld), are intriguing characters, strikingly portrayed, and well acted, particularly Nelly.
Phoenix is not a thriller tho it is filled with suspense. Post-war Berlin is the setting, and there is something about the filmmaking that makes it compelling and enthralling.
Rosenwald****