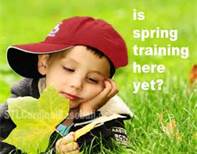 Yes.
And none too soon.
Which means it's time for:
2018 MillersTime Baseball Contests
Contest #1:
Pick your favorite MLB team (or the team you know the best) and answer the following questions to prove whether you're just a homer ("Someone who shows blind loyalty to a team or organization, typically ignoring any shortcomings or faults they have") or whether you really know something about your team and can honestly evaluate its strengths and weaknesses. Please answer all three parts of the question.
What will your team's regular season 162 game record be in 2018?
Will they make the playoffs, and if so, how far will they go?
What will be the most important SINGLE factor (hitting, starting pitching, bullpen, an individual's performance, the manager, injuries, etc.) in determining their season?
Prize: Two tickets to a regular season game with your favorite team (details to be negotiated with moi.)
Contest #2:
Which League will win the All Star Game in 2018?
Tie-Breakers: Name the first MLB player to hit 30 HRs and the first MLB pitcher to win 12 games.
Prize: Join me after the All Star break to see a Nats' game in wonderful seats. If you don't live in this area or can't get here, we can work out seats to a game somewhere that you can attend.
Contest #3: True or False:
A. The new MLB rules (shorter commercial breaks and limit of six non pitching visits to the mound by manager, coach or other players) will NOT result in reducing the average game time to under three hours. (Average time in 2017 was 3:05.)
B. The New York Yankees WILL win the AL East in 2018.
C. The Washington Nationals WILL NOT win the NL East in 2018.
D. There will be no 20 game winning pitchers in either league in 2018. (There were none in 2017 and three in 2016.)
E. At least one pitcher in the regular 2018 MLB season will have an ERA under 2.0. (There were none in 2017 or 2016. One did it in 2015 and two in 2014.)
F. Giancarlo Stanton and Aaron Judge together will hit at least 115 regular season HRs in 2018. (In 2017 they 'combined' for 111.)
G. At least one MLB batter will strike out 220 times or more in 2018 regular season play. (Aaron Judge struck out 208 times in 2017, and Chris Davis struck out 217 times in 2016.)
H. There will be at least 8 Triple Plays in the MLB this year. (Over the last 10 years the average has been 4.1 per year, and in each of the last two years there were 7 each year.)
I. At least three teams will win 100 games or more in 2018. (Three teams did so in 2017: Astros – 101, Indians – 102, Dodgers – 104).
J. One of Grand Papa's (c'est moi) grandchildren will witness in person (at an MLB game) a grand slam, a triple play, a no hitter, an extra inning game, or Teddy win the President's race at the Nats' stadium.
Prize: Your choice of one of these books: The 20 Best Books Ever Written About Baseball.
Contest #4 :
Who will be the two teams in the World Series in 2018 and which team will win it all?
Tie-Breaker: Name the five teams in each league who will make the playoffs.
Prize: One ticket to the 2018 World Series.
Additional Details:
All winners get the 'one-of-a-kind,' specially designed and updated MillersTime Baseball Winner T-Shirt in addition to the prizes outlined above.
Enter as many or as few of the contests as you want.
Be sure to answer all parts of each contest you do enter.
If you get a friend (or a foe) to participate in these contests, and he/she wins and has mentioned your name in their submission, you will get a prize also.
First time entrants who are runners up in any contest will get THE T-shirt.
Any two-generation submissions (mother/daughter, grandfather/grandson, etc.) who are runners up will also get THE T-Shirt.
Get your predictions in soon. In case of ties in any contest, the individual who submitted his/her prediction(s) first will be the winner.
Submissions should be sent to me in an email – samesty84@gmail.com
Deadline for Submissions: Opening Day: March 29, 2:40 PM, EST