First, permit me a moment of digression: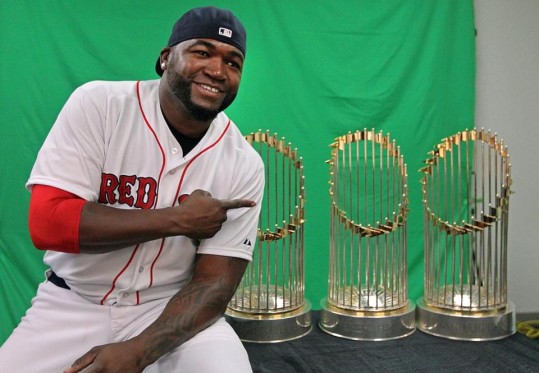 Photo by Jim Davis/Boston Globe
One of my father's useful pieces of advice was "There's a time to leave the party."
David Ortiz seems to agree.
As he turned 40 yesterday, he announced that the 2016 MLB season would be his last. Despite having an excellent season in 2015 (BA – .273, HRs – 37, RBIs – 108), he has chosen to "leave the party" next year, and thus forgo a likely $11 million paycheck for 2017. (Don't feel sorry for him, though, he made $16 million dollars last year and will do so again in his final season.)
Better to leave before the inevitable decline (Derek Jeter, for example, was not so wise).
As the picture above indicates, Ortiz was involved in all three of the Sox World Series victories, victories that would not have happened without him. Plus, he has given Sox fans endless opportunities to cheer and ward off that hopelessness and pessimism that all of us who have been raised to be obsessed with the Sox have had to endure.
Thank you Papi for all you've given us, and thank you for choosing a good time to leave the party.
Now, on to the original purpose for today's post — announcing the final two winners of the 2015 MillersTime Baseball Contest.
The polls are closed, and your ballots have been counted.
The Winner Contest #2 – Best Prediction about the 2015 season is Yankee fan Jim Kerrigan. He said A-Rod would have 25 HRs and 85 RBIs. In fact, A-Rod had 33 HRs and 86 RBIs.
The Winner for Contest #2 – Worst Prediction about the 2015 season is another Yankee fan David Price, who said, "Bryce Harper will be revealed to be a "juicer". (I really do wonder what the reaction would be in our Nation's Capitol when the MLB finally unveils that Bryce has been taking a new, previously untraceable, animal hormone that both rapidly increases physical growth and at the same time lowers mental intelligence – a difficult thing to do given the individual concerned!….When exposed, he'll be banned for a season, claim his innocence, apologize for being guilty, cry, then retire from baseball completely to join his like on the NASCAR circuit.)
When he had to face the reality of the MVP season Harper had (BA.-.330, HRs – 42, RBIs -99, Runs – 118, OPS – 1.109), the ever loquacious Mr. Price wrote, "Fantasy or not, it beggars belief how this obstinate 'boy' standing out in a team of relative no-bodies (yep including the declining Scherzer) suddenly started hitting home run after home run after home run? Does anyone recall the photograph of him on the front cover of Sports Illustrated in March or April this year looking like a smaller version of 'The Rock'? Very strange. As they say 'there's no smoke without fire' so lets see what becomes of Harper and his over-hyped career in the future. Most fans in NYC who I have spoken to simply don't want him to head north at the end of his contract. Why? It's because his ego is out of control. Perhaps send him to Boston where he might fit in? Papelbon should be praised for correcting him (with force) last season for not running out the bases not frowned upon by the trigger happy Nationals GM. Also, is any real admirer of the game over these airwaves 100% certain that Harper should be named MVP? Now Jeter has retired, the collective MLB diaspora are looking for a new face of the game so why does it have to be this imbecile? Like it or not Nats fans, Harper and your team have actually achieved nothing but of-course next year, you're going to win the WS right?"
So Jim Kerrigan and David Price each get to choose one of these 20 Best Baseball Books Ever Written. Also, please send me your T-Shirt size so you can get the new, highly 'prized' MillersTime Baseball Contest T-shirt.
To recap the other winners already announced:
Contest #1 – Pick your favorite MLB tean and predict their 2015 regular season record. Plus will they make the playsoffs, and how far will they go. Justin Barasso won for predicting the Yankees record would be 88-74, they'd make playoffs and lose in first round.
Contest #3A – Will the combined batting averages of the three top MLB hitters in 2015 be above or below 1.000? (Last year it was 1.003). Jeff Friedman  was the winner because he submitted the earliest, correct prediction — over 1.000 — on Mar. 1 at 9:50 AM, beating out Runner Up Rob Higdon by two hours and three minutes.
Contest #3B – Will the combined wins of the top three MLB pitchers be above or below the 61 wins in 2014? Jon Frank correctly predicted a Push and is declared the winner, getting one ticket to his choice of an ALCS or NLCS game in 2016 and a MillersTime Baseball Contest Winner T-Shirt. (However, Mr. Frank has yet to acknowledge his win. If you know this individual, I suggest you tell him he must claim the proze and send me his T-shirt size.)
(Note: Jere Smith also wisely (?) questioned why Parts A & B weren't similar in asking the above/below question as above/below the 2014 results, an 'obscure' but accurate question. And because he won one of the first MillersTime Baseball Contests but never claimed his prize, he was awarded a MillersTime Baseball Winner T-Shirt.)
Contest #4: Choose two teams who combined won/loss record will be closest to .500. The Winner was Cory Kessler – Nats (83-79) & O's (81-81) = 164-160 or 50.62% – Submitted 3/17 at 10:24 AM. Because of his earliest submission date, he wins his choice of one of these 20 Best Books Ever Written and a Winner, MillersTime Baseball T-Shirt. However, Mr. Kessler has also not acknowledged his win. If you know this individual, I suggest you tell him he must claim the prize and send me his T-shirt size.
Contest # 5: Predict who will lead the AL and who will lead the NL in getting the most All Star votes in 2015. Which of the two will receive more votes? Justin Stoyer,  came closest — he had Bryce Harper in the NL right (Justin was the only contestant to choose Harper), and he had Mike Trout (no one had Josh Donaldson) in the AL. So Justin easily wins this contest and gets two tickets to a Nats' regular season game in 2016 and a MillersTime Baseball Contest Winner T-Shirt. Mr. Stoyer has already asked for either Opening Day tickets, Nats v O's tickets, or Nats vs Cubs tickets.
Contest # 6 – Predict the 10 teams who will be in the 2015 playoffs. Which two will be in the WS or who will win it all? Tiffany Lopez is the winner as she had five of the teams in the playoffs, one of the teams in the WS, and correctly identified the Royals as the eventual WS Winner. Ms. Lopez has won multiple times over the years in these contests, despite (or because?) of her handicap (of) being born and growing up in Kansas.
PS – A specially designed MillersTime Baseball Contest T-Shirt will be awarded to the individual who submits the BEST Hot Stove League prediction for 2015/2016.