Tags
"samoborska kremsnita", "Sarajevo Rose", "The Cellist of Sarajevo", Bosnia-Herzegovina, Crossroads of the Adriatic, Dubrovnik, Istria, Karanac, Kotor, Kumrovec, Ljubjlana, Marshal Tito, Montenegro, OAT, Opatija, Overland Adventure Travel, Postojna, Samobor, Sarajevo, Slavonia, Slovakia, Slovenia, Srebrenica, The Balkans. Croatia, truffle hunting, Tunnel of Hope, UNESCO World Heritage Sites, Zagreb
("Sarajevo Rose" – Ellen Miller)
Now that Ellen's Balkan photos are posted (The Balkans: Thru Ellen's Lens), I can't delay any longer trying to capture in writing a bit of our recent trip.
We were invited by my cousin and his spouse to join five other couples and a single woman on an OAT — Overseas Adventure Travel — Crossroads of the Adriatic trip through Croatia, Montenegro, Bosnia-Herzegovinia, and Slovenia. Although we each read a half dozen fiction and nonfiction books about the areas we would visit prior to the trip, in many ways we didn't know quite what to expect.
Most of our prior knowledge about this part of the world had to do with post WWII events and Marshal Tito's attempts at building a united country, Yugoslavia, made up of various regions in the Balkans. We knew that after he died in 1980, the area had broken apart, violently in some of the areas, and in place of one country, there were now at least a half dozen.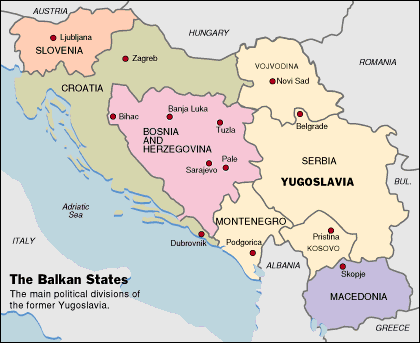 We didn't even know what country Dubrovnik was in now, much less which country Zagreb was the capital of, or even whether Kosovo was a city or a country (the latter.) Of course, we knew that bloodshed followed the breakup of Yugoslavia. But we had no sense of the depth of devastation the wars of the early and mid-1990s wrought in terms of deaths, destruction of culture, religious friction, and governmental dysfunction. We were probably less knowledgeable about this part of the world than any previous place we had traveled. We knew we had a lot to learn.
And that we did.
We learned that much of this area, going back centuries, had never ruled themselves. At one time or another — and often sequentially — all the countries we visited were ruled by outsiders. The Bulgars and Slavs arrived in the 6th-century and formed the Bulgarian Empire. The Ottoman and Roman Empires expanded in this region later, and the Austro-Hungarians, Germans and Italians after that. All of the countries we visited became allies of Nazi Germany, and the entire region was left in ruins at the end of World War II. Then, following Tito's death when no one emerged in his place to hold the region together, the nation states saw their chance for independence.
Fast forward to contemporary times, and the politics and economics remain different and difficult in each country. Thanks to some former colleagues of Ellen's, and several speakers arranged by OAT and our travel guide, we had a number of very interesting off-the-record conversations in Sarajevo (Bosnia and Herzegovina) and Zagreb (Croatia) about the issues confronting those two fledgling democracies, including governmental corruption and poorly functioning economies. We wondered about the future survival for several of these countries.
Two weeks in four countries is clearly not sufficient time to do more than scratch the surface, especially in an area that has such a complicated history. (The most frequent responses to our questions about various places, events, history, etc. was "It's complicated.") We certainly came to understand how appropriate the term "Balkans/Balkanization" is for this region.
Here are some observations and impressions about various aspects of where we went and what we did.
Dubrovnik (Croatia)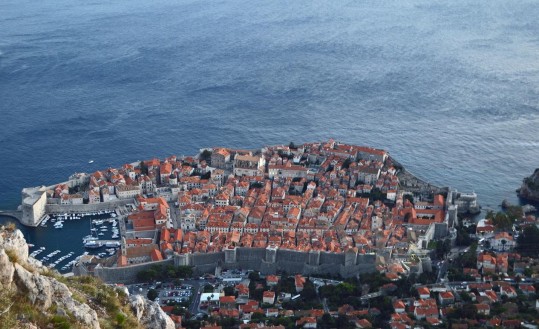 What we most enjoyed here was the walled city, Old Town, where we wandered for a day and also an evening. There were many tourists during the day and only a few at night. Dubrovnik is on the Croatian coast overlooking the Adriatic. A fortressed city – looking almost like a setting for a Disney movie — it has a long history of trade between Europe and the Middle East, and although it was heavily damaged in the breakup of Yugoslavia, it has been rebuilt with the help of UNESCO. We had a wonderful dinner at Restaurant 360 overlooking the harbor in Old Town, but we didn't explore much of the newer part of Dubrovnik, other than a sunset stroll on a long, lovely boardwalk overlooking the Adriatic.
Dalmatian Coast to Kotor (Montenegro)
Croatia has a long coastline, and most travelers go north from Dubrovnik to Split, to one of the many islands off the coast, or perhaps on to Istria and Slovenia. Because of its Mediterranean climate and because it is generally less expensive than the Italian coast across the Adriatic, it has increasingly become a popular tourist destination. We, however, went south from Dubrovnik along the coast to Montenegro where we stopped at the village of Perast and visited the Our Lady of the Rocks shrine on a man-made island in the Bay of Kotor. Most enjoyable was our time wandering the cobblestone streets in the medieval town of Kotor (a UNESCO World Heritage Site) and drinking our first Turkish coffee. The more hardy members of our group climbed up the city walls on a trail overlooking the red roofs of Kotor and the bay and were enthralled by what they saw.
Sarajevo (Bosnia & Herzegovina)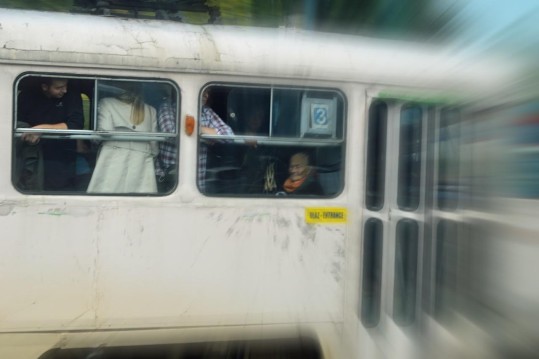 Unlike Croatia, Bosnia & Herzegovina (that is a single country) has not prospered in the 20 years since the breakup of Yugoslavia and the war that ensued. Sarajevo was once the most important city in the Balkans (after Istanbul), and Muslims, Serbs, Croats, Turks, Christians, and even Jews (prior to WW II) co-existed for hundreds and hundreds of years.  While much of the city has been rebuilt since the 'Recent War', when the Serbians shelled the city for almost four years in the early 1990s and killed more than 11,000 inhabitants of Sarajevo, there remain physical and psychological wounds that clearly have not healed. There are red markers ("Sarajevo Roses") on the ground throughout the city that identify and are reminders of where people died during the 44-month Serbian siege of the city (see photo above). The politics of the country are too complex to go into here, but suffice it to say: It's complicated. Very complicated.
And it's sad.
We visited the Sarajevo Tunnel (the "Tunnel of Hope"), an underground passage dug in 1993 to get people out of the city and supplies into those trapped in the city. This featured prominently in one of my most enjoyable reads about the city, The Cellist of Sarajevo by Steve Galloway.

We spent a sobering few hours at an exhibit that detailed the 1995 'ethnic cleansing' of Srebrenica where more than 8,000 Bosnian Muslim males over the age of 16 were massacred in a modern day holocaust on the Bosnian-Serbian border (the worst such massacre in Europe since WWII). Mass graves are still being discovered throughout this region. So much for "never again."
One evening we and several others from our group had dinner in the apartment of a Muslim woman and her daughter. We learned first hand how the war had impacted their lives and destroyed the multicultural co-existence that had long been the hallmark of Sarajevo. This 'home-hosted visit' is just one of the special features of OAT's travel experiences.
On another evening we had the good fortune to spend time with a political activist friend of Ellen's who helped us understand what it was like for his family to live through the "Recent War," the slowness of the country's recovery and the continuing political dysfunction. Of the four former Yugoslavia countries we visited, Bosnia & Herzegovina seems to be the most challenging and least stable area in the Balkans.
(If you find yourself wandering through Sarajevo, on the popular steet filled with outdoor cafes and coffee shops, near the mosque, do not, under any circumstances, miss tasting Bosnia pite, a flaky, doughy pastry (yufka) which can be filled with cheese or meat (then known as burek). The best place to indulge is at Buregdzinica Sac which you can find in the street connecting the Sebilj Square and Old City Hall. Trust me on this one.)
Karanac (Croatia)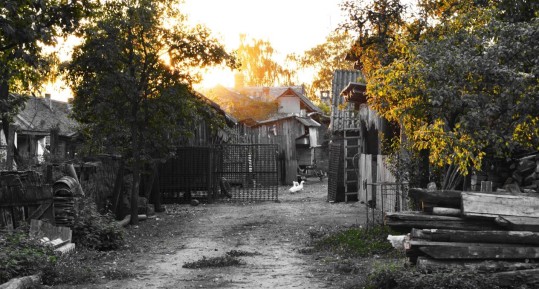 We then headed to the Croatian province of Slavonia (not to be confused — though easily done — with the countries of Slovenia or Slovakia). Near the Serbian and  Hungarian borders, this is a fertile agriculture region known as the "breadbasket" of Croatia. We stayed in the small, lovely farming village of Karanac where we visited a school, met with a struggling dairy farmer and village representative, and toured a prosperous winery. Since Croatia has joined the EU, it's been difficult, we learned, for small dairy farmers to sell their produce at a profit, while larger agricultural corporations are doing quite well. We enjoyed another home-hosted meal with a local, hardworking family that seemed to be prospering.
Zagreb (Croatia)
In Croatia's capital city and seat of its government (more stable than the one in Bosnia), we had the good fortune to meet with another activist colleague of Ellen's as well as with a news anchor of the state owned TV station. From the former we learned that corruption, while a problem, was not as crippling as in Sarajevo. From the latter, we learned that although s/he had some independence to report the news, s/he was likely to lose her job when/if a new party was victorious in the upcoming elections. The old city of Zagreb itself was lovely — with hand-lit gas lanterns, cobblestone streets, lovely churches, markets, and narrow streets. We also had several excellent meals there featuring local dishes (at the Didov San restaurant try the sauteed frog legs with prosciutto and Grandfather's pan).
We spent a day in the countryside outside of Zagreb that included a visit to Kumrovec, a preserved village and the birthplace and home of Marshal Tito. Throughout our time in the Balkans, we learned of a clear nostalgia for Tito by the elder generation who longed for his 'success' in holding the region together, guaranteed jobs, a working  economy and providing general stability. The younger generations, however, appeared to prefer the opportunity to have more control over their own lives.
On the food front we were treated to a local custard cake, samoborska kremsnita, which we tasted in the small town of Samobor, and should you ever be in the area, be sure to indulge. You'll thank us for this advice. This pastry is available in other areas of Croatia, but none that we tried was equal to the one from Samobor.
Plitvice Lakes, Croatia
Rain, mist, and even the throngs of visitors couldn't spoil the day we spent wandering through this 114-square mile national park the day we left Zagreb. Some of the most wonderful photos you see in Ellen's slide show come from this area that is filled with lakes and more waterfalls than I've ever seen in one area. Now a UNESCO World Heritage Site, this park with its lakes and waterfalls is simply stunning and magical.
Opatija and the Hill Towns of Istria, Croatia
I think Opatija was my favorite seaside town of this trip. Even though we didn't have enough time to explore it fully, we loved the evening we took an extended walk along the 7.5 mile waterfront promenade (Lungomare) linking this town with the nearby town Lovran. There we had a terrific dinner in a cave-like restaurant with fish that was so fresh we were pretty certain it had still been in the Adriatic when we had entered the restaurant.
We also delighted in a day visiting various hilltop villages and towns that are outside of Opatija. Here we had the unique experience of the trip when we had the good fortune to spend an hour with a truffle hunter and his dog. We watched as this newly trained dog indeed was able to lead his master (and us) to two sites where truffles were growing. Such fun. Of course we then went to a restaurant where we could indulge in truffle eating ourselves.
Istria is near Trieste (Italy), dotted with parks, gardens, and large villas, and attracts tourists and travelers from all over Europe. We could have been in the hill towns of Italy, and in the past we might have been. We wished we had more time to explore this area.
Ljubljana, and Lake Bled, Slovenia
Largely inland, Slovenia was the first country to leave the Yugoslavia federation, and it mostly escaped the Balkan wars that ensued from that breakup. The drive from Opatija to Slovenia's capital, Ljubljana was lovely with its forests, meadows, villages, mountains, and a cave (Postojna) that extended for 12 miles underground. While this cave apparently isn't even in the top 100 largest caves in the world, we've never seen anything quite so fascinating and extraordinary.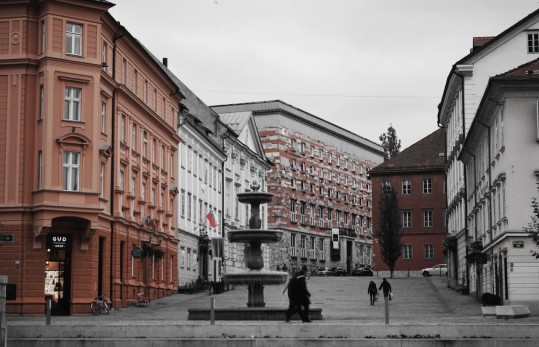 Ljubljana – the capital of Solvenia — is a delightful, beautiful city, particularly the Old Town. It is a walking city, filled with cafes, small restaurants, numerous bridges, and intriguing architecture. We had wonderful food there and time to stroll through this peaceful town and its castle on the Hill both during the day and in the evenings.
We also went on an excursion outside of the capital to the resort town of Lake Bled, where Ellen was able to capture much of the charm of the area with its churches, one in the middle of a lake) and castles, one high on a rocky cliff. (Note: the custard cake mentioned above was not as good here as in Samobar, though there was some disagreement in our group on this point.)
The Overland Adventure Trip Experience
While others in our group had traveled with OAT a number of times, it was our first experience both with OAT and with a group for an entire trip. We found that OAT, which specializes in small group travel, had created a very thoughtful itinerary, including urban and rural areas, ancient and modern sites, and a 16-day itinerary that consisted of full day guided tours as well as plenty of time on our own for exploration during some afternoons and evenings. Additionally, the cost of the trip was modest.
Once we arrived by plane in Dubrovnik, we traveled by coach, and although there were a few long driving days, we were able to see much more of the four countries than if we had flown from city to city. The guide who was with us throughout the entire trip was as good a guide as we've ever had. She was relaxed, thoughtful, organized, well informed, humorous, and flexible.
It was indeed an engaging and memorable trip.