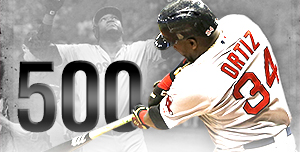 No doubt by now many of you know that David Ortiz last night hit two home runs to get to his 500th home run, a 'feat' accomplished by 27 other major league players.
Here are a few other bits of information for you:
*Otriz is 39 years and 298 days old and this is his 19th season in the majors.
*If he hits two more home runs in the final 22 games, he'll have one of his most productive home run seasons (other than when he hit 54,  47, and 41).
*He has hit 30 or more HRs in 9 of his 19 seasons in the majors.
*Only two other active players have hit 500 — Alex Rodriquez (685) and Albert Pujols (555).
*His two home runs last night at the Tampa Bay Rays' Tropicana Field raised his HRs there to 33, the most by any visiting player. And he's hit his most HRs against the Toronto Blue Jays (48).
*He is one of four Red Sox players to get to 500 HRs (Jimmy Foxx, Ted Williams, Manny Ramirez). Four attaining the 500 mark is more than any other team has done.
*He's hit most of his HRs while playing for the Sox (442) and only Ted Williams (521) and Carl Yastrzemski (452) have hit more for Boston.
*More than half of his HRs have been on the road (280).
*Most of his HRs have come in games the Sox eventually won (347/500, almost 69.4%).
*He is only the second player to hit two home runs to get to 500, and he has 50 multi home run games.
*If he hits 22 more HRs before he retires (he's planning to play for the Sox next year), he will move up to number 18 on the list of all time HR's hit, passing Eddie Murray, Gary Sheffield, Mel Ott, Eddie Mathews, Ernie Banks, Ted Williams, Frank Thomas, and Willie McCovey.
*In addition to the HRs and his other hitting accomplishments, he's a pretty nice guy, is well liked by other players, and has won the Roberto Clemente Award (2011), baseball's "highest honor for players who have made charitable work a priority.
Here's a link to more info on his HRs: http://bit.ly/1ONbMWe
(Feel free to add to this list.)