Self-Portrait – October 18, 1953, New York, NY
Finding Vivian Maier *****
It seems as if it's been a while since I've seen a film I wanted to write about and to recommend for your consideration, only one in March (Child's Pose) and one in April (The Rocket). Even our movie club seems to have hit a dry spell.
Yesterday, however, we saw one that I can enthusiastically suggest you add to your 'to see' list, Finding Vivian Maier.
It is several stories.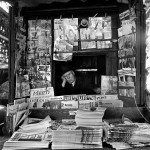 For one, it's the story of a woman, a nanny, who took more than 150,000 photos, plus numerous moving pictures, and no one ever saw them or even knew about them until after she died.
It's also the story of John Maloof who almost accidentally discovered the photos (and much more) and has made a documentary about about that discovery, about the photos, and about Vivian Maier.
The documentary will introduce you to a photographer about whom you (probably) have never heard but whose work deserves to be seen and is being seen here and around the world, thanks to John Maloof's persistence and obsessive desire to show the world these photos, to uncover the story behind them and to piece together a portrait of the individual who took them
It is a mystery of sorts.
It is a thought-provoking film.
It is a wonderfully made and told documentary that will stay with you long after you leave the theater.
And, I suspect, it will make you want to search out the photographs of this most unusual woman, particularly if photography is an interest for you.
At least, I know, I have begun to search for her photos (there are many avenues to find and to see these) and also to wonder about the person who was Vivian Maier.
If you have two and a half minutes, check out this trailer of the film:
(Pictures above are available for purchase at Howard Greenberg Gallery.
PS – Rose Lichter-Marck wrote a thoughtful piece about the film, and particularly the subject of the film, in the current New Yorker, but perhaps save that until after you've seen Finding Vivian Maier.