Whenever I attend a baseball game or watch one via the various electronic mediums, I'm always looking for something I've never seen before. My 'baseball bucket list' is down to five: I want to see, live, a no-hitter, a perfect game, a triple play, an unassisted triple play, and a successful suicide squeeze play. (I may have witnessed a no-hitter, but I can't swear to it.)
Last night, which actually includes this morning, I saw two 'events' I'd never seen before, ones that were not on my must see list.
My wife Ellen was out of town working (if you call being at Google-Land working), which meant I could watch the Red Sox-Mariner game with no fear of disparaging remarks or 'that look' that wives give when they suppress the urge to tell you what an idiot you really are.
I settled into a comfortable chair, and when in the bottom of the first, the Sox loaded the bases, I think with no outs, and then failed to score, I knew it was going to be a long and difficult night.
But I had no idea how long and how difficult.
The Mariners scored first, the Sox went ahead a few innings later, and the game was close. In the 8th the Sox were ahead by one, and I, foolishly of course, thought they might squeeze this one out. But they gave up a home run that tied the game and then failed to score themselves in the bottom of the 8th or 9th.
So I made a 'promise' to myself that if the Sox won in extra innings, I'd get back (after a long absence) on the treadmill and walk a mile the next morning. The game continued past midnight when I realized I was watching a game that started in July and would end, hopefully, in August (thus, one of the two things I'd never seen: a continuous game that began one month and ended in the next month). The Mariners had some opportunities to go ahead, but good Sox fielding, pitching, and some luck kept the score tied at 4-4 through the 14th inning.
In the Mariner top of the 15th, it looked as if Seattle would score, and I upped my 'promise' to walking two miles. Then something quite unusual, tho not unique, happened. With a Mariner on second base, a low line drive was hit to left, and the runner judged it would fall in for a hit and so took off for third and home.
The Sox left fielder Jonny Gomes, not the swiftest of foot, timed his run and dive and caught the ball before it hit the ground. Getting up, showing he had the ball in his glove and realizing the runner was rounding third, Gomes trotted in, touching second base and completed an unassisted double play, (thus my second never seen before play.) See the replay.
(I said "unusual tho not unique" because this unassisted double play by an outfielder happens on occasion. Rays center fielder Desmond Jennings completed such a play in April of this year. The outfielder who holds the record for the most unassisted double plays is Tris Speaker who did it six times, once in a World Series.)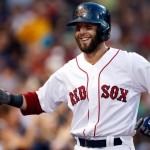 On to the bottom of the 15th and my hero Dustin Pedroia works a walk, the Sox eventually load the bases with one out. I upped my 'promise' to three miles, and Stephen Drew lined a shot to right that bounced in fair territory, and I think then went into the stands, traditionally a ground rule double. But that part didn't matter. Pedroia scored and even tho a second run came in also, the game was declared over with the Sox winning 5-4, and my heroes regained first place in the AL East.
So this morning I kept my 'promise', walking 3.15 miles on the treadmill.
Why the extra .15 you might ask?
Well, Pedroia's number on his uniform is #15, and while he didn't single handedly win the game, without his fielding, his two run homer in the 7th, and his working a lead off walk in the 15th (that number again), the Sox would not have won.
I love that guy.