The Best Exotic Marigold Hotel (for the Elderly & Beautiful) *** (1/2)
The previews and descriptions of this film made me uncertain I wanted to see it, even though it is about a favorite place of mine in India – Jaipur. But something got me to go, perhaps a review or perhaps because we couldn't find anything else we wanted to see.
It's the story of seven retired aging English individuals (two of the seven are a couple) who go to India on an extended stay, each for his or her own reason but all because they are at a stage in life where they are living alone, aging, and want something more than a lonely ending to their life. They are attracted by a brochure to the" The Best Exotic Marigold Hotel," which they find is anything but what the name suggests.
Very little goes as they expected, and you can imagine their various reactions. Somehow, however, the film walks a fine line and becomes not only interesting but involving as you learn about each of the seven characters.
But it's primarily the acting, I think, that makes the film worth seeing. The cast is led by Judi Dench and includes Maggie Smith, Tom Wilkinson, Penelope Wilton, Bill Nighy, an Ronald Pick Up. Indian actor Dev Patel (the lead in Slumdog Millionaire) adds to the strong cast.
For me, there was not enough of the wonderful Jaipur scenery and way of life, but somehow the film overcomes being trite and cliched and draws you in and keeps from going over the line into the predictable.
The Best Exotic Marigold Hotel won't make it into my top films of the year, but you might just like it.

Where Do We Go Now ****
Another foreign film we saw in our Sunday Cinema club, this one takes place in a somewhat isolated village, probably in Lebanon.
Much of the time the Christian and the Muslim inhabitants of the village get along with each, that is until some event occurs (usually from outside the village) that results in the men getting worked up. Then hatreds break out, and usually someone gets hurt. Finally, the women get fed up with their husbands' actions and decide to do something about the situation.
The women unite and come up with a series of antics that seem ridiculous, but probably no more ridiculous than the religious wars in which their husbands engage.
I'm not sure if you call the movie a fable, a comedy, a drama, or a fantasy, but it is not meant to be realistic. It is meant to get the audience to see the foolishness, mostly of men, of any civil conflict, religious, political, etc. The women, often the ones who survive these conflicts and have lost their husbands, sons, fathers, are the 'heroes' of the film.
Written and directed by Nadine Labaki, the film is in English and in Arabic and Russian with English subtitles. Most of the actors and actresses are not professional, but many of them are terrific.
Where Do We Go Now has been a box office success in Lebanon, generally liked by audiences everywhere, and not so well liked by film critics, who have been mixed in their reviews. It was the winner of the Toronto film festival's "People's Choice Award."
Clybourne Park****1/2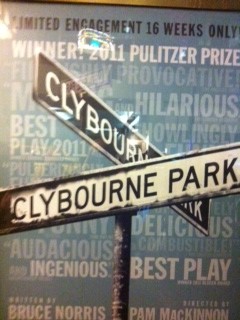 We recently saw this play on Broadway where it is now ensconced after being Off-Broadway, in DC, in London, in Philly and in LA. The Broadway cast of seven is the same one that has been together previously.
Briefly, Clybourne Park, written by Bruce Norris, picks up in 1959 just about where Lorraine Hansberry's A Raisin in the Sun left off. A white couple is selling their Chicago home in an all white middle class neighborhood. The buyers are a black family. The white couple gets pressure from various people in the neighborhood not to sell for fear their property values will decline.
In the second act, now 2009, the neighborhood has become all black, and a young white, couple wants to buy the home and enlarge it as the neighborhood is ripe for gentrification. This time the black residents are against losing what they have created and fear they will all be pushed out.
Largely it is a play about race relations, class resentments, prejudices, all taking place over a period of 50 years and revolving around where people live and what they believe about each other. It is done with such humor and witty dialogue that rather than becoming a dark play or too provocative it becomes almost more entertaining than thought provoking. But there's plenty to think about, and the cast is terrific. The second act (both acts actually) starts a bit slowly and gradually becomes 45 minutes you will not forget.

Clybourne Park won 2011 Pulitzer Prize for Drama, the 2011 Laurence Oliver award for Best New Play, and has been nominated for the 2012 Tony Awards in the categories of Best Director, Best New Play, Best Actor, and Best Scenic Design.
It's a good evening at the theater.