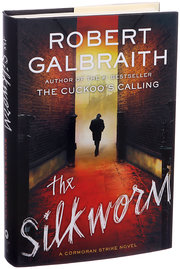 If you're looking for a book or two to add to your summer book bag and travels, and if you enjoy thrillers/mysteries/crime/detective/whodunit stories, Robert Galbraith, who is actually J.K. Rowling, has a new one just out.
Yes. That J.K. Rowling, the Harry Potter lady.
If you missed it, Rowling has turned her pen (computer?) to detective stories, and The Silkworm is the second in a series (reported to number seven). I reviewed her first one, Cuckoo's Calling, earlier on MillersTime and wrote:
It's good.

Maybe not as good as an Agatha Christy mystery, but if you're looking for something along the line of a Steig Larsson book, you'll probably like it, tho it's not quite as good as Larsson's first one, The Girl with the Dragon Tatoo.
The Silkworm is perhaps a bit better than Cuckoo's Nest, but then when one races through one of these page turners, I'm not sure it's about good literature, but more about entertainment.