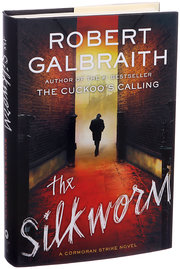 If you're looking for a book or two to add to your summer book bag and travels, and if you enjoy thrillers/mysteries/crime/detective/whodunit stories, Robert Galbraith, who is actually J.K. Rowling, has a new one just out.
Yes. That J.K. Rowling, the Harry Potter lady.
If you missed it, Rowling has turned her pen (computer?) to detective stories, and The Silkworm is the second in a series (reported to number seven). I reviewed her first one, Cuckoo's Calling, earlier on MillersTime and wrote:
It's good.

Maybe not as good as an Agatha Christy mystery, but if you're looking for something along the line of a Steig Larsson book, you'll probably like it, tho it's not quite as good as Larsson's first one, The Girl with the Dragon Tatoo.
The Silkworm is perhaps a bit better than Cuckoo's Nest, but then when one races through one of these page turners, I'm not sure it's about good literature, but more about entertainment.
As in her first of this series, the story centers around Cormoran Strike, a private detective who, partially because of a serious war wound, must use his brains more than his brawn. He's a likeable character, perhaps along the lines of Lee Child's Jack Reacher or Robert Parker's private eye Spenser. Maybe a bit of a cross between them and Steig Larsson's Mikael Blomkvist.
Also reappearing in this, and no doubt the next one Rowling writes, is Robin Ellacott, Strike's one employee who wants to do more than just be an office assistant and who clearly has potential and who proves herself an important assistant.
The story takes place in London, and, aside from a mystery that is not solved until the final pages (let me know if you figured it out earlier – I sure didn't), it focuses on the disappearance of a writer whose wife initially comes to Strike to find her husband. Rowling takes no prisoners as she sets the story within the world of British writers, publishers, and editors.
I'm not an expert by any means in detective stories, and I'm probably prone to like Rowling because I thoroughly enjoyed the Harry Potter series (tho I didn't particularly like her first post Potter book, The Casual Vacancy, not a whodunit but a story about an English small town with no likeable characters; Ellen, however, liked that one very much.).
But if you're simply looking for a good detective story with an intriguing and likeable main character that will keep you occupied for a day or two, try either Cuckoo's Calling or The Silkworm.