Lagniappe: n. Chiefly Southern Louisiana & Mississippi
         1. A small gift presented by a store owner to a customer with the customer's purchase.
         2. An extra or unexpected gift or benefit.
I've just returned from a week on the 'left' coast, where everyone is younger, smarter, more beautiful, more athletic, and more hip (do people still use that word?) than those of us back east. I went to visit some friends and to cheer on my Red Sox in their games against the Giants and the Dodgers (my heroes did well for those of you who do not follow such important events).
But this post is not about baseball. It's about an unexpected, and delightful, discovery.
Since I had a few days between games in SF and LA, I went to Portland to visit a friend and to observe the Thirsters, a group that has been meeting (almost) every Thursday of the year for the past 10 years to talk about whatever interests them. I had wondered about the possibility of getting such a group underway in DC.
It was in Portland that I received a lagniappe, an unexpected gift, a benefit: an afternoon at Lan Su Yuan, The Portland Classical Chinese Garden.
More than 25 years ago, on the first of several trips to China, I fell in love with the gardens of Suzhou and classical Chinese gardens. Tho I've never been particularly interested in plants, flowers, and the like, there was something about these gardens that fascinated me. So much so, that for the past 25 years I've thought about importing some aspects of these classical gardens to the two outdoor spaces at our home in DC.
When we recently redid our kitchen, I took the opportunity to create here something along the lines of what I found so pleasing about the gardens of Suzhou. With the work of a wonderful landscape gardener, Tom Virnston, and the help of my wife and several friends, we are nearing completion of our very own two Chinese-like gardens, The Fragrant Reader's Garden and The Humble Blogger's Garden. (In another post, at another time, I will write about what we have created and have Ellen take some pictures of it.)
But back to Portland and last week.
I had forgotten that in Portland, OR there was what is probably the most authentic  example of a classical Chinese garden that exists anywhere outside of China.  Portland, as a result of being a sister city to Suzhou and through the vision of its citizens, businessmen, and politicians, raised the money, brought artisans from Suzhou, and turned a former block long parking lot in the middle of the city into Lan Su Yuan.
It's simply superb.
In fact, for me it had the one element that was missing from my visits to the gardens in China, the ability to get a feel of what these gardens are truly like. Because of their popularity in Suzhou, the gardens there are filled with visitors, and I always found myself wishing everyone would leave so I could experience them as they were meant to be.
While the replica in Portland was not devoid of visitors, it was possible to get a sense of the peace and harmony and splendor of a classical Chinese garden.
A few pictures below from my iPhone can serve as an introduction (Ellen was not with me so I didn't have the benefit of her wonderful photography, tho I do plan to return there, with her and her photographic skills.)
If you're ever in or near Portland, consider spending a morning or afternoon at Lan Su Yuan. You're in for a treat.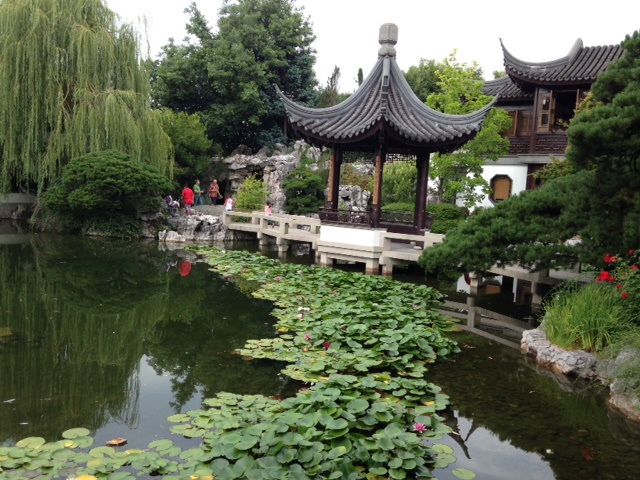 To see more of Lan Su Yuan, check out this 2:34 minute YouTube video.
To read more about Lan Su Yuan and visiting it, check out their website.