Tags
"fais do-do", Breaux Bridge, Cajun Country Swamp Tours, Cajun Man Swamp Cruise, Donaldsonville, Gibson, Grapevine Cafe, La Poussiere, Lagniappe, Louisiana swamps, Maison Madeliene's Guest House, QuirkyYurt, Southern Louisiana
Whenever we travel, we try to add something on to the main trip, either at the beginning or at the end, something extra on the way or on the way home. We call this "A Travel Lagniappe".*
We recently celebrated two family gatherings, one in Jamaica, followed immediately by one in New Orleans. So as usual, we added something at the end, spending 26 hours in southern Louisiana, where we enjoyed two swamp tours (Cajun Country Swamp Tours at Lake Morten, Breaux Bridge, LA and Cajun Man Swamp Cruise, Gibson, LA), one terrific meal (Grapevine Cafe, Donaldsonville, LA), an overnight at Maison Madeleine's Guest House, QuirkyYurt, and a fais-do-do** (La Poussiere, in Breaux Bridge).
(*Lagniappe is a Cajun/French term used in the south and referring to "something extra thrown in." Not sure if anyone has ever used it in conjunction with traveling, but why not?)
(**Fais-do-do generally refers to a Cajun dance party, and the origins of the term could have something to do with putting a baby to sleep in a cry room off the dance floor so the mother could get back to her husband before he danced with someone else, or it could just mean 'make a dance,' as in 'make a dos-a-dos'. For more on this, see The Fais Do-Do)
Here are a dozen pictures from this "Travel Lagniappe," followed by a link to a slide show with more pictures if these 12 are not enough for you.
PS – One of the alligators in these photos did blink while Ellen was 'capturing' him/her with her camera. Ellen didn't.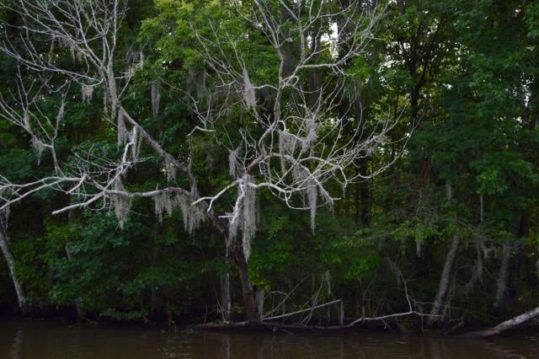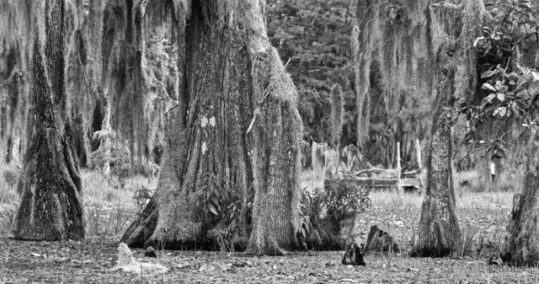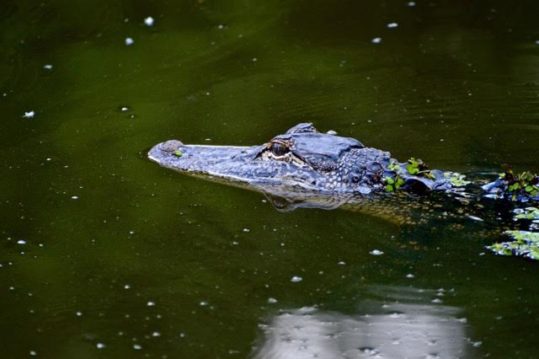 To see Ellen's entire slide show (59 photos), use this link: Southern Louisiana & the Swamps.
For the best viewing, click on the little arrow at the top right of the first page of the link to start the slide show and see all the photos in the largest size possible (use a laptop or desktop computer if you have access to either).