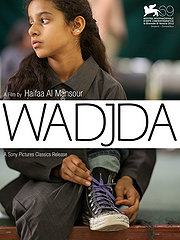 Wadjda *****
This film is one that you will have to seek out as it is not in the main movie theaters and probably will not be around too long.
That's too bad.
It's another very good one, and I believe you will be 'rewarded' for making the effort to see it.
(No spoilers.)
Briefly, it is a gentle, charming film about a young girl in a suburb of Riyadh, Saudi Arabia who wants to buy a bicycle and to race a boy about her own age who has befriended her.
Wadjda (Waad Mohammed) is a 10 year-old girl who lives primarily with her mother who is worried about her daughter not conforming to society. Additionally, her mother is worried her own husband will take a second wife in order to have a male heir.
A bit of a tomboy whose behaviors draw the attention of a strict headmistress at her religious girls' school, Wadjda comes up with a plan to earn the money for the bicycle she so badly wants.
The film is shot in Saudia Arabia and written and directed by a woman (Haifaa Al Mansour), quite an achievement in a society where cinemas are banned and women cannot vote or drive.
There are so many wonderful things about this film.  Wadjda herself is simply delightful. Her story is about being female in Saudi Arabia and at the same time it is a universal story about generational differences and adolescent urges to do things differently than parents and society 'dictate'. Mansour lets it unfold slowly and in subtle ways without screaming anti-Saudi messages.
It is also a look inside a society that is barely familiar to most of us.  It reminded me of one of my favorite films last year, A Separation, which gave viewers an insight into a similarly unfamiliar society.
And I look forward to seeing it a second time as I (mistakenly?) saw it last week when my wife was out of town.